Tutuban Mall fire may last three days, BFP says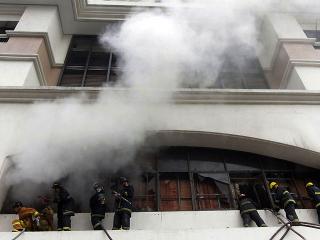 Fire hits Tutuban mall in Manila's Divisoria district. Firefighters try to enter the burning Cluster 1 of the Tutuban mall in Manila's Divisoria district on Wednesday. A fire of undetermined origin hit the ground floor of the mall at 12:41 a.m. Danny Pata
The fire that hit the Tutuban Mall in Manila's busy Divisoria district early Wednesday may last for three days or into the weekend, the Bureau of Fire Protection warned.
Firefighters also continued to battle the blaze early Thursday, trying to keep it from reaching nearby buildings, radio dzBB's Manny Vargas reported.
Arson investigators theorized the fire may last because of flammable materials such as textiles inside the building of the Tutuban Mall in Divisoria.
The fire started at about 12:42 a.m. Wednesday. It quickly went up to Task Force Charlie and reached Task Force Delta after 5 p.m. Wednesday.
A report by dzBB's Manny Vargas said the firefighters have started using portable water pumps to sustain their efforts against the blaze.
But some of them are also suffering from fatigue and chest pains due to the toxic fumes from the burning building, the report added.
The fire affected traffic in nearby streets, including parts of C.M. Recto Avenue.
Meanwhile, many tenants of the mall would not leave the area, trying to guard the area against looters.



— ELR, GMA News