In Taguig, open spaces artists, performers can call their own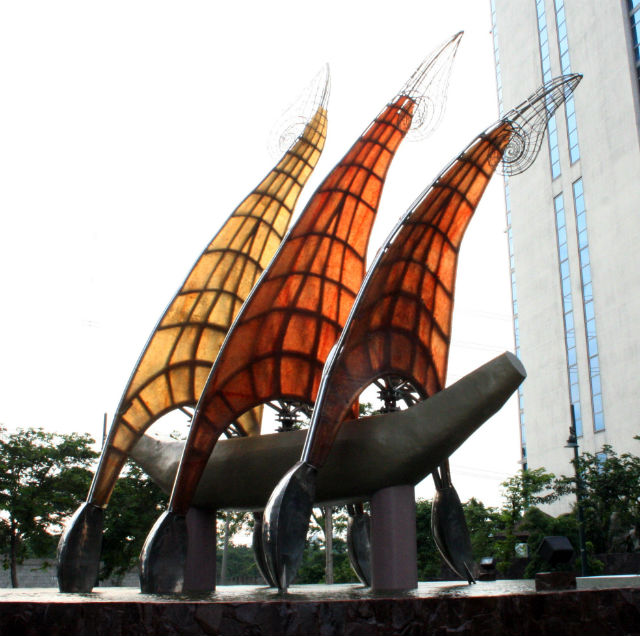 "Balanghai" by Leo Gerardo Leonardo pays tribute to the spirit of community. Photo courtesy of BGC
There is perhaps nothing more frustrating for a performer than to not have a stage, a place to practice their craft, a platform to have an adoring audience behold them.
But now headliners and hams seeking a stage and an audience have an entire commercial district to unleash their art on — Bonifacio Global City (BGC), to be exact — not really a city but a former army camp converted into high-priced real estate.
As part of their public art program, the Taguig development more popularly known as a retail and nightspot destination has opened its outdoor spaces to buskers and street artists of all kinds — jugglers, magicians, musicians, even stand-up comedians. They call it the BGC Impromptu.
"The BGC Impromptu is, we provide Bonifacio High Street as your stage," said Manny Blas, BGC commercial operations head.
Blas explained that they give free special permits to selected performers and give them a designated spot along Bonifacio High Street, BGC's lane of boutiques and restaurants where even dogs accompanying their owners are well-dressed.
"If you want to put a tip hat, in other words put a hat and maybe some people will give you money, we don't mind. I mean if they appreciate your talent and they want to show it by way of some token money, then that's okay also," he added.
"If you have talent, then show it off," he said.
Art haven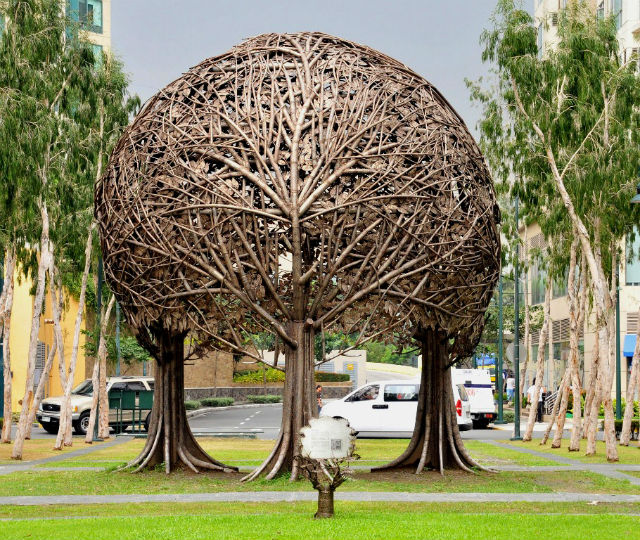 Reynato Paz Contreras' brass and bronze masterpiece, "The Trees." Photo courtesy of BGC
The program is part of BGC's initiative to promote Filipino art and culture. The district also launched their Hop On, Hop Off Bus Tour on September 4, which brings visitors around BGC for P25.

People can start the tour at any of the five stops: Bonifacio High Street, The Mind Museum, The BGC Offsite Gallery, Serendra, and Turf BGC. A bus arrives at the stop approximately every 30 minutes. Tickets are available at the B-7 Concierge, or even on the bus itself.

Stops on the tour include several monuments by Filipino sculptors.
"Ang Supremo" by Ben-Hur G. Villanueva renders BGC's namesake Andres Bonifacio in brass and bronze, capturing the moment when he and the Katipuneros tore their cedulas and thereby started the Philippine revolution.
"The Trees" by Reynato Paz Contreras is another brass and bronze sculpture of three interlocking trees standing 6.5 meters tall in the midst of a grove in BGC's Burgos Circle.
Ferdie Cacnio's "Pasasalamat," as well as Leo Gerard Leonardo's "Balanghai" are both centered on the seafaring aspect of Filipino culture, though the former shows two fishermen and their bounty, and the latter is a stylized rendition of the ancient Balanghai boats of our ancient history.
A sculpture both functional and visually interesting is Juan Sajid de Leon Imao's "Kasaysayan Bawat Oras," a stone's throw away from the Singapore embassy. The big, brass and cement sculpture that features several standing figures is actually an interactive sundial.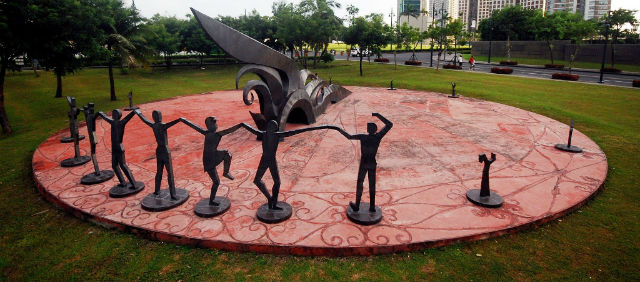 Juan Sajid de Leon Imao's sculpture is an interactive artpiece. Photo courtesy of BGC
Also part of the tour is an off-site open-air gallery where young contemporary artists can exhibit their art installations. On exhibit at the time of the launch was Plet Bolipata's "imagiNation," a whimsical wonderland of giant metal animal couples with mosaic benches between them.
"We're the only development that has a public art program. We spend a lot of money on the sculptures, interactive art pieces that you see all around you. And we wanted you riding that bus to see how much public art we have here," Blas said.
"Why art? Art shows you some of the greatest achievements of humanity," he added.
He also noted that as part of their initiative to promote art, they have made the neighborhood photographer-friendly, allowing even those who carry professional-looking DSLR cameras to shoot away.
"The only thing we don't allow is commercial photography. If you're shooting for a commercial that you make money on, then we charge you a fee. But if you're just taking pictures, take as many pictures as you want," Blas clarified.
"We just don't allow tripods or professional strobes. That's just how we distinguish easily whether this is a commercial endeavor or not. But if you're carrying an SLR and you want to take pictures, go ahead," he said.
A 'nod to culture'
Cultural activist Carlos Celdran played tour guide at the tour launch and will be playing voiceover tour guide during the tour's regular run.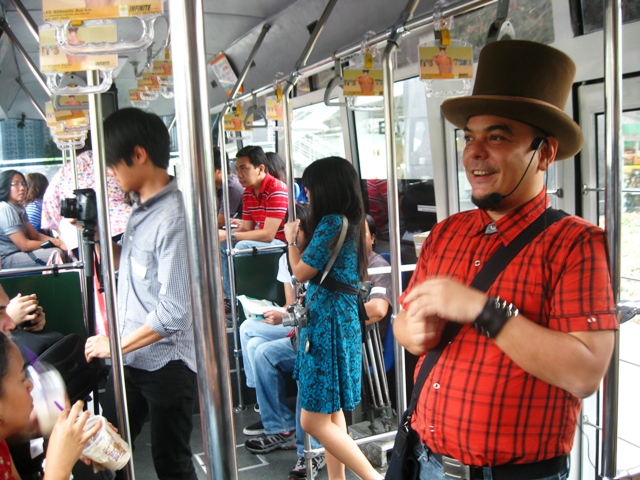 "The city flows like a fabric," says cultural activist Carlos Celdran.
Photo by Amanda Lago
Celdran did note the former army base's shady past. "Once upon a time when you said you were going to Fort Bonifacio, it meant that you were never coming back," he said, referring to the Martial Law era.
But he was also quick to point out the little details that show the area's efforts to revive culture, such as the open
playground
called Terra 28th, which includes little arenas for traditional Filipino games like Piko and Patintero.
"See! There's at least a nod towards culture," Celdran quipped. "At least they try." –KG/HS, GMA News