Martial arts lessons not for aggression, MMDA reminds constables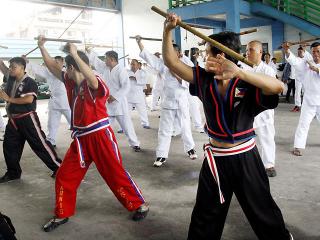 MMDA train vs road rage, abusive motorists. To hone the martial arts capability of MMDA traffic enforcers in Makati, fight instructors on Friday teach MMDA personnel self-defense against abusive motorists and road rage. GMA News
Metropolitan Manila Development Authority traffic constables were reminded Sunday against using their martial arts lessons to be more aggressive in dealing with traffic violators.
The MMDA reminded the constables the arnis lessons they had been receiving are not for aggression but for defending themselves from attacks by some motorists, radio dzBB reported.
It advised motorists and commuters who encounter aggressive constables to report any incident to its text line at 0905-3989288.
But the MMDA also encouraged motorists and commuters to send in as well any commendations or positive comments about constables to a separate text line at 0929-4000572.
Those with other concerns can call the MMDA at 136.
The MMDA started giving its constables martial arts and self-defense lessons following last month's encounter between MMDA constable Saturnino Fabros and Robert Blair Carabuena.
Carabuena had verbally and physically attacked Fabros for flagging him down for a traffic violation in Quezon City. Fabros kept his cool during the attack.
Fabros was eventually promoted while Carabuena, who suffered a backlash from netizens for his boorish attitude, issued an apology for the incident.
But the MMDA said the martial arts lessons are meant to prevent a repeat of constables being harassed.
— BM, GMA News