Cop in alleged extort try on NCRPO chief's son undergoes pre-charge proceedings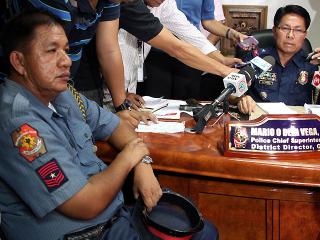 Alleged QC 'kotong' cop turns self in . SPO4 Jose Dela Peña (left), the alleged 'kotong' cop who tried to extort money from the son of NCRPO Chief Supt. Leonardo Espina, presented himself to Quezon City Police District chief P/Supt. Mario Dela Vega on Monday after a week in hiding. GMA News
A day after turning himself in to authorities, a policeman linked to an extortion attempt on the son of new Metro Manila police head Chief Superintendent Leonardo Espina has started facing the administrative charges against him.
SPO4 Jose dela Peña was subjected to pre-charge proceedings where he was given an opportunity to air his side on charges stemming from the alleged extortion try, radio dzBB reported Tuesday.
The report quoted Quezon City Police District Investigation and Detective Management head Superintendent Ferdinand Villanueva as saying that they expect to resolve the case in a few days' time.
Villanueva said the administrative charges against Dela Peña include grave misconduct, absence without leave (AWOL), insubordination, and malversation of govt property.
On Monday, Dela Peña surfaced and turned himself in to the Quezon City Police District. A report on GMA News' 24 Oras said he appeared calm in facing the media, but declined to answer their questions.
His lawyers were quoted in the report as saying that he did not immediately surface because he was scared for his safety.
Dela Peña had been the subject of a hunt by fellow policemen since last week, after he was linked to the extortion try on Espina's son in Quezon City.
On Tuesday last week, Dela Peña and PO2 Resty del Rosario allegedly tried to extort money from Espina's son, who they accosted and accused of engaging in phone sex in his car.
Del Rosario surfaced Thursday, but claimed he was just following orders from Dela Peña. The two have been relieved from their duties and were placed on floating status.
QCPD head Chief Superintendent Mario dela Vega also noted Dela Peña has a pending case against him for extortion, involving a different case earlier this year.
Citing reports reaching him, Dela Vega said the other case stemmed from an incident last May 21, when dela Peña allegedly accosted a couple inside a car at Panay Avenue and accused them of indecent behavior. — RSJ, GMA News