Sodexo Philippines partners with local fast food giant Chowking
Sodexo, a global leader in the field of motivation solutions, has recently reached a partnership agreement with popular Filipino fast food chain, Chowking – the restaurant chain that pioneered the Asian quick-service restaurant concept in the Philippines. Following the contract signing between Chowking and Sodexo Philippines last August 14 at the Jollibee Plaza in Ortigas, Sodexo Premium Pass and Meal & Food Pass are accepted at Chowking's 383 stores nationwide effective August 16.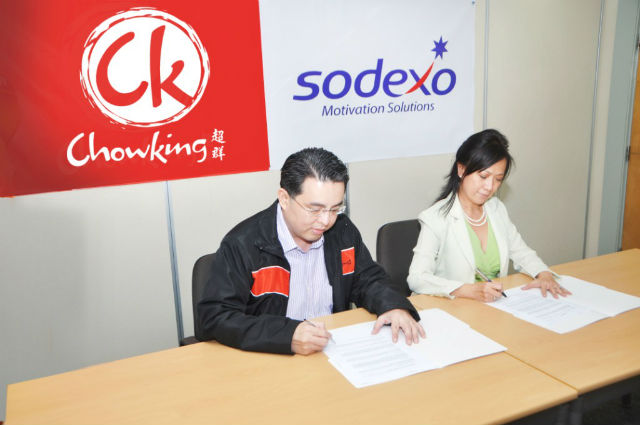 Chowking President Fernando Yu and Sodexo Chief Operating Officer Juliet C. Go shake hands after inking a partnership deal which will see Sodexo Premium Pass and Meal & Food Pass being accepted at Chowking branches nationwide.
Today, Sodexo is an organization that aims to increase employee productivity and engagement of its corporate clients through its various motivation solutions such as: the Sodexo Premium Pass, Sodexo Meal & Food Pass, Sodexo Gift Pass, Sodexo Wellness Pass and Sodexo Lunch Pass. Together with its new partner merchant, Chowking, Sodexo continues to establish its organization as more than a provider of service vouchers, but as the provider of innovative motivation solutions for companies that seek to reward their employees and clients.
"We at Sodexo Philippines are proud to partner with such a respected and pioneering establishment like Chowking. This partnership definitely means a lot to our organization as we truly believe that Chowking is a well-loved and highly-patronized Filipino brand that shares the same spirit of great service, team work and progress that we have at Sodexo. Having Chowking join our network also means that Sodexo now has over 6,000 accredited establishments nationwide, which we are truly excited about," said Juliet Go, Sodexo Chief Operating Officer.
To learn more about Sodexo, its partner merchants and how you can avail of its services, visit the
website
.
Press release and photo from Sodexo
Go to comments