Couple accused of torturing maid transferred to separate facilities in QC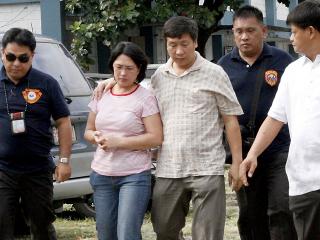 Couple accused of maltreating maid jailed. Reynaldo and Annaliza Marzan are escorted to a detention facility in Camp Karingal on Thursday after charges of frustrated homicide and serious illegal detention were filed against them by maltreated househelp Bonita Baran at a Quezon City court. GMA News
After being detained at the Senate, the couple accused of torturing and nearly blinding their household helper were transferred to separate detention areas in Quezon City Thursday afternoon.
Reynold and Analiza Marzan were brought to separate Quezon City facilities from the Senate in Pasay City, radio dzBB reported.
The couple asked the Quezon City court to allow them to stay at the National Bureau of Investigation in Manila, but their motion was rejected.
A Senate sergeant-at-arms vehicle bearing Reynold Marzan arrived at the Quezon City Jail shortly before 4 p.m., radio dzBB's Glen Juego reported.
Reynold was whisked inside the jail premises, accompanied by representatives from the Office of the Senate Sergeant-at-Arms (OSAA).
The report quoted jail officials as saying there will be no special treatment for Reynold, who may spend some time with as many as 100 inmates in one cell.
Marzan appeared calm as he walked slowly into the jail. He was wearing a light brown checkered polo shirt and slacks, the report said.
Media crews were not allowed to follow him inside the jail.
Earlier Thursday afternoon, Marzan's wife Analiza was brought to the female dormitory of Quezon City Police District headquarters at Camp Karingal.
Meanwhile, a Quezon City court rejected the couple's motion to allow them to be detained at the NBI in Manila, radio dzBB's Paulo Santos reported.
The couple had been accused of abusing helper Bonita Baran, whose inclusion in the witness protection program government lawyers had sought.
On Monday, the couple — ordered arrested for allegedly maltreating Baran — surrendered to the National Bureau of Investigation in Manila and were brought to the Senate.
Senate President Pro Tempore Jose "Jinggoy" Estrada had sought the arrest of the couple for maltreating their helper.
Last week, Vice President Jejomar Binay suggested that a bounty be put up for the arrest of the couple.
Earlier, Baran said her employers had hit her repeatedly with plates, vases and a broomstick. She added her female employer pressed a hot flat iron on her face, costing her her eyesight.
Among the charges lodged against the couple are seven counts of serious physical injuries, two counts of attempted homicide, and serious illegal detention.
— BM, GMA News