Rick Rocamora's photo exhibit 'Human Wrong' at UP Diliman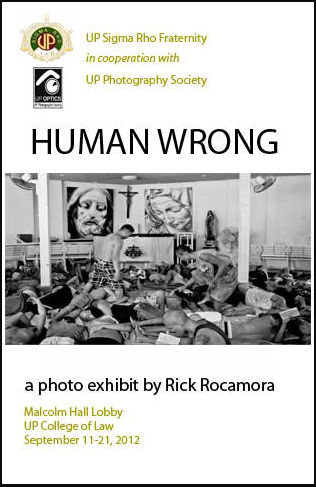 UP Sigma Rho Fraternity in cooperation with UP Photography Society present "Human Wrong," a photo exhibit on overcrowded Philippine jails by Rick Rocamora at the Malcolm Hall Lobby of the UP College of Law. The exhibit runs from September 11 to 21, 2012.
Rick Rocamora has won awards for his images and picture stories from Asian American Journalist Association, SF Bay Area Press Photographers Association, New California Media, Media Alliance; he was awarded a California Arts Council Art Fellowship and a Local Bay Area Heroes Award from KQED and Union Bank of California for his work about Filipino WW II Veterans. His work is widely exhibited in national and international museums and galleries. His work is part of a collection of American arts most recently exhibited at the Court of Saint James in the United Kingdom and the U.S. Embassy in Tokyo.
His work is included in the traveling exhibition "Points of Entry-A Nation of Strangers," which was exhibited at the Smithsonian, Center for Photographic Arts, Museum of Photographic Arts, and other venues. His images are part of "Pork and Perks - Corruption and Governance in the Philippines" a National Book Award winner in the Philippines in 1994. "Second-Class Veterans" a film produced by Don Young that profiled Rocamora's undying efforts to document the day-to-day lives of Filipino veterans was broadcast on PBS stations in 2003 and 2004. His book about Filipino WWII veterans, "America's Second-Class Veterans" was published in 2009. He is also working on a project about Muslim-Americans after 9/11, Overseas Filipinos and Balikbayan Journal, a visual diary of his occasional visit to his motherland, the Philippines.
Go to comments