'Karen' now an annular super typhoon, eastern PHL warned vs rough seas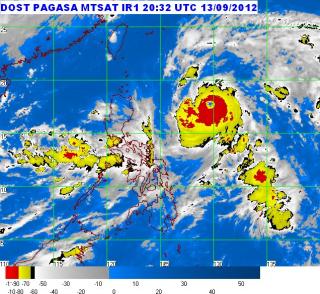 'Karen' now a super typhoon, JTWC of the US says. The Joint Typhoon Warning Center of the United States says 'Karen' has become a super typhoon, while the PAGASA says it is still a typhoon with top near center winds of 185 kph and gusts of 220 kph. PAGASA
Tropical cyclone Karen (Sanba) intensified even further on Friday, prompting state weather forecasters to warn residents on the Philippines' eastern seaboards not to venture out to sea.

Fortunately, PAGASA and international weather agencies are in agreement that Karen will not make landfall in the Philippines and will continue on its north-northwest course out of the Philippine Area of Responsibility (PAR) by Sunday.

Rare annular typhoon

Karen is now classified as a rare annular typhoon due to the symmetrical shape of its eye, indicative of a very strong and stable typhoon that is unaffected by external conditions.
Such annular typhoons or annular hurricanes tend to be stronger and last longer than regular typhoons, according to
the study by Colorado State University's John Knaff and James Kossin where the term was first introduced
.
"Annular hurricanes tend to experience a long period of intensity steadiness with a relatively slowly decreasing intensity following their maximum intensity," they said.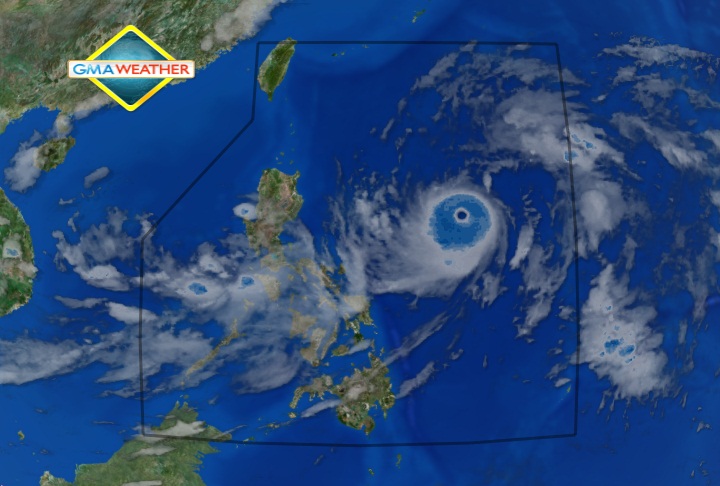 GMA Weather image of Typhoon Karen as of 8:00am, showing the distinctive symmetrical eye that marks it as a rare annular typhoon.
As early as noon yesterday, September 13, the US National Aeronautics and Space Administration's (NASA's) Aqua satellite had observed Karen's development into an annular typhoon.
"The Atmospheric Infrared Sounder (AIRS) instrument captured an infrared image of Sanba and found an eye about 20 nautical miles (23 miles/37 km) wide, surrounded by a thick area of strong convection (rising air that forms the thunderstorms that make up the storm) and strong thunderstorms,"
NASA said
.
NASA also quoted the US Joint Typhoon Warning Center (JTWC) as having said that there was "no banding outside of this ring, consistent with an annular typhoon."

Not headed to PHL
Meanwhile, PAGASA said that no storm signals are raised in the Philippines because Karen is heading for Southern Japan.
"Sa ibang bansa tawag sa kanya super typhoon dahil lampas sa 185 kph na benchmark. Puwede na mag Signal No. 4. Pero ang direction niya, north-northwest, lalong papalayo," PAGASA forecaster Elvie Enriquez explained in an interview on dzBB radio.

Enriquez assured that, even if Karen intensified further, it would at worst generate strong waves along the country's eastern seaboards. However, the public is still strongly advised to be cautious of rough seas.
She added PAGASA considers cyclones with winds of 185 kph and above as super typhoons. Karen, she said, has already reached this "benchmark."
"Fortunately hindi sa atin patungo ito. Napakalayo nito, hindi natin inaasahang tatama ito sa lupa," she emphasized.
The JTWC on Friday
classified
Karen as a "super typhoon."
Meanwhile, the Japan Meteorological Agency's (JMA's) 5:45am
report
said Karen/Sanba was a typhoon but with "violent" intensity, and was moving north at 15 kph.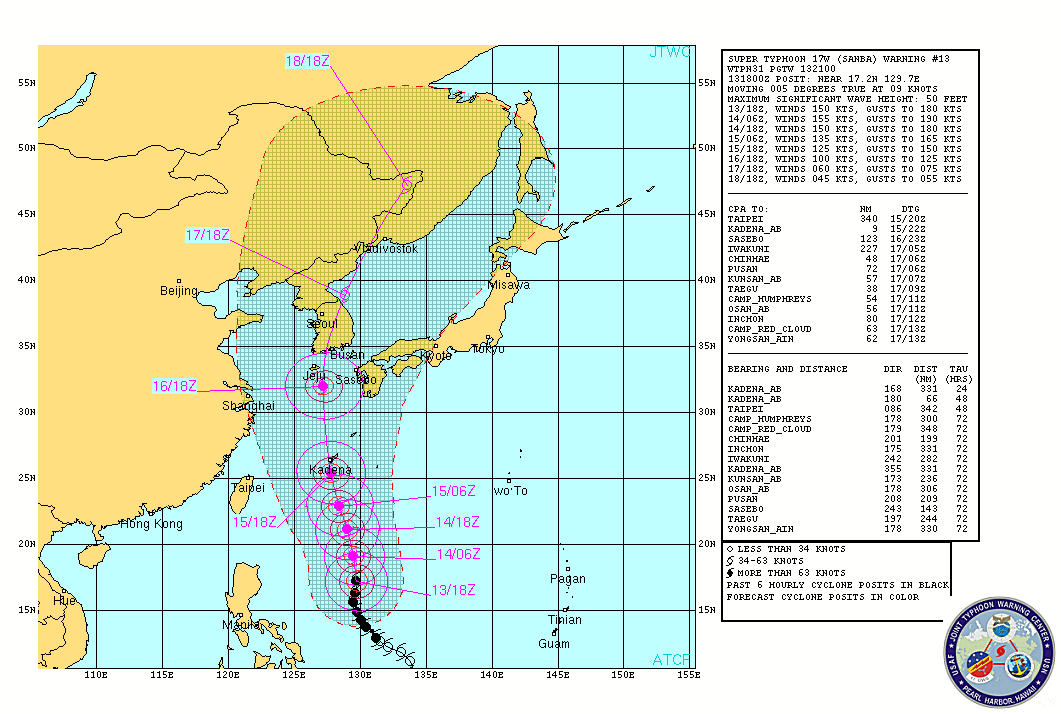 JTWC's forecast track for Karen as of 5:00am Philippine Time, showing the typhoon's expected movement away from the Philippines over the weekend.

Distance from PHL
PAGASA's 5:00am bulletin indicated Karen was estimated at 740km east of Tuguegarao City as of 4:00am, with maximum sustained winds of 185kph near the center and gustiness of up to 220kph.
It said that Karen is still forecast to move north-northwest at 15 kph.
"Metro Manila will be cloudy with moderate to heavy rain and thunderstorms. Moderate to strong winds blowing from the southwest and Manila Bay will be moderate to rough," it said.
It added that moderate to heavy rain and thunderstorms will be experienced over Calabarzon, Mimaropa, Bicol Region and Western Visayas.
The rest of the country will have partly cloudy skies with brief rain showers or thunderstorms.
PAGASA said moderate to strong winds blowing from the northeast to north will prevail over Northern Luzon and coming from the southwest over the rest of the country with moderate to rough seas.
PAGASA's 11:00pm Thursday advisory indicated Karen is forecast to be 610km east of Calayan, Cagayan Friday evening, and 530 km east of Taiwan Saturday evening.
By Sunday evening, it is expected to be 90km west of Okinawa, Japan.
Gale warning
Meanwhile, PAGASA said that strong to gale-force winds associated with Karen may affect the eastern seaboards of Luzon and Visayas.
"Fishing boats and other small seacraft are advised not to venture out into the sea while larger sea vessels are alerted against big waves," it said. — TJD, GMA News