Making Metro Manila a 'walkable city'
Progress may be slow, but advocates for inclusive mobility will keep going until Metro Manila becomes a walkable city.
"We have to move people, not cars… not only does this have positive impact on the environment, but also on a personal basis, on our individual health. We have to encourage people to walk, run, and bike, rather than commuting," said Dr. Mario Villaverde, associate dean of the Ateneo School of Government, during the Inclusive Mobility Research Forum held on September 4.
In Metro Manila, private motor vehicles contribute to 53.2 percent of all traffic composition, while catering only to 21.6 percent of transport demand, Tieza Santos of the Ateneo Center for Social Entrepreneurship (ACSEnt) said during the forum.
"Because of these challenges in how we move people, goods et cetera, we're incurring losses of P140 billion annually due to wastage of fuel and loss of productivity," she said.
Wanted: sustainable innovations like e-jeepneys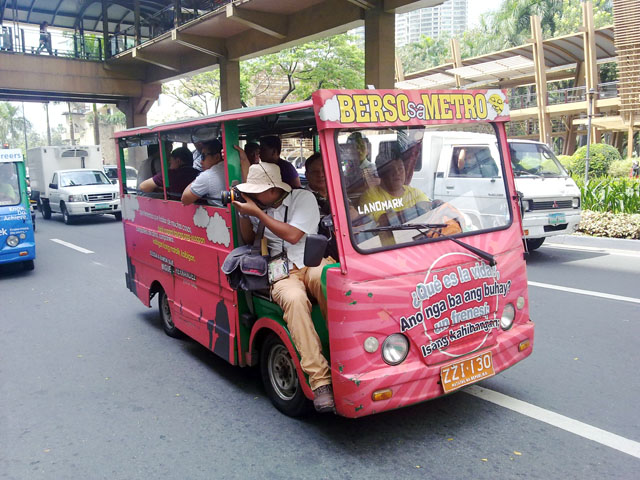 The e-jeepney is among the Social Innovation Models for Inclusive Mobility. GMA News
Sustainable forms of innovations, businesses, and social enterprises are needed for inclusive mobility, Santos said. In her presentation on Social Innovation Models for Inclusive Mobility, Santos gave concrete examples such as Julie's mobile bakeshop, cashless transactions such as Gcash or Smart Money, and the e-jeepney.
"These are not implemented nationwide, but can serve as our peg for coming up with an inclusive mobility system in Metro Manila," she said.
Another problem, according to Santos, is a lack of proper implementation of policies, as well as barriers like economics, development, and culture. "We have this culture of individualized mobility. We prioritize cars, so the construction of car ownership as a form of status symbol is another barrier," she said.
Transportation economist Randolph Carreon also shared that some households resort to sacrificing food, electric and water bills, and health care in order to meet transport requirements.
This was one of the findings in the study on Mobility Characteristics, Costs, and Issues of the Poor and Vulnerable groups that was conducted among households in Old Balara, Barangay Bagong Pag-asa, and Barangay Payatas.
Carreon also shared that persons with disabilities (PWDs) said they preferred public transport modes were tricycles and taxis, which provide door-to-door service. The study also revealed that not all PWDs are aware that they are entitled to a 20 percent discount on public transport fares, as stated in R.A. 7277.
The study also showed that PWDs view pedestrian facilities as inadequate in responding to their needs. On overpasses, PWDs think "the locations are inappropriate and were selected mainly for the benefit of private establishments; the steps are too high making it difficult for them to climb; it needs cover; and the location is too distant."
Understanding transport conditions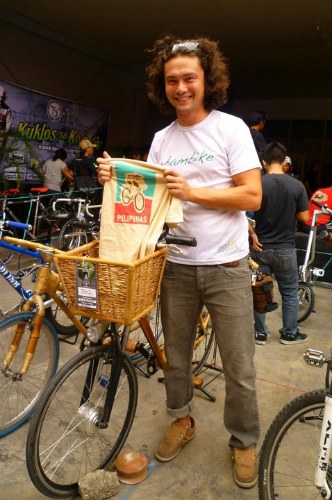 Bryan Benitez McClelland and his bambike, which is one of the entries in the Inclusive Mobility Challenge. Monina Eugenio
Dr. Jun Castro of the UP School of Urban and Regional Planning said effective transportation planning requires a reliable database, preferably in Geographic Information System (GIS) format.
"The developed GIS database can be used to understand transport conditions, and some of the socio-economic or demographic conditions as well," he said during his presentation on Mapping of the Public Transport System of Metro Manila: Responding to the Needs of the Poor and Vulnerable Sectors.
The study showed that public transport facilities are quite "friendly" to the poor and vulnerable sectors, as public transport terminals are quite accessible, and there is a wide range of available public transport modes.
"Pagka may squatter colonies, marami ring informal public transport terminals. Very obvious naman, kasi sila 'yung market ng terminals na ito. Sila rin ang may ari ng sasakyan," Castro said.
In her discussion of the presentation on mapping, Engineer Reina Macababad said there is a need for data sharing, and to reconcile databases from various agencies such as the Department of Transportation and Communications, and the Land Transportation Franchising and Regulatory Board (LTFRB).
Macababad noted that public transport in Metro Manila is complicated. "There is perhaps a need to simplify it... Perhaps the question that needs to be asked is whether we should tolerate tricycles and pedicabs," she said.
"It can be done. Guangzhou was like Metro Manila before, but there, you will not see a motorcycle. Bawal ang motorsiklo, bawal ang tricycle. Nakakita kami ng electric bike, sabi nila, colorum ang electric bike na 'yan," Dr. Segundo Romero, director of Ateneo School of Government's iBoP Asia Program, said during the forum. Romero said that housing was up to eight floors, and residents would use a Bus Rapid Transport (BRT) system.
"Without the BRT it would be bedlam," he said, noting that it would take a long time to untangle the transport system in Metro Manila, which, as was pointed out during the forum, is not run the way places like Guangzhou are.
"It's really difficult if not all the entities will follow and observe," shared Trina Cortez-Tolentino, who has been working with homeowners, schools and establishments along Katipunan Avenue to make the road a model area.
She said their goal is to make Katipunan pedestrian- and commuter-friendly, with covered walkways with good lighting and 24-hour security.
The research forum was one of the activities of the Inclusive Mobility Project. On September 21, there will be an Inclusive Mobility Conference.
There is also an ongoing
Inclusive Mobility Challenge
, which looks for social innovations that make it easier for the poor and vulnerable to move around Metro Manila. Finalists include the eJeepney, an onboard self-recharging system for electric vehicles, PEDALA bike messengers, and the UP Padyak Project.
–KG, GMA News