Miriam ends Puno probe after one hearing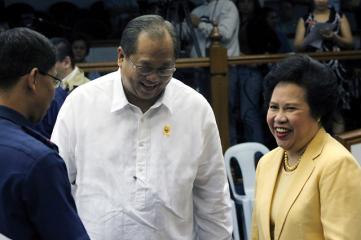 Puno faces Senate inquiry over jueteng, arms deal . Senator Miriam Santiago (right) shares a light moment with resigned DILG Usec. Rico Puno and PNP chief Dir. Gen. Nicanor Bartolome on Friday before the start of a Senate inquiry on the alleged jueteng ties and anomalous arms deal involving Puno. Benjie Castro
There will be no second hearing on resigned Interior Undersecretary Rico Puno in the Senate although his answers during Friday's hearing failed to satisfy Sen. Miriam Defensor Santiago, who initiated the investigation.
Interviewed after the day's hearing, Santiago told reporters Puno's answers were "at best fudged." She however said she appreciated Puno's appearance in the hearing.
"While I appreciate his presence here because in effect we were offering him a chance to clear his name, his answers were at best fudged," Santiago said. "'Di ko mahuli ang lohika ng pinagsasabi niya."
The senator was referring to Puno's answers on why he came to Interior Secretary Jesse Robredo's condominium unit a day after Robredo died in a plane crashed, on his supposed exclusive control over the Philippine National Police (PNP), on his alleged involvement in anomalous PNP gun deals, and on his alleged involvement in the illegal but popular numbers game jueteng.
Santiago said she was not satisfied with Puno's statement that he went to Robredo's condominium unit in Quezon City upon orders from President Benigno Aquino III, whom he said asked him to secure the late secretary's offices.
Puno said he went there because there were also documents in the condominium unit. Previous reports indicated Robredo may have been keeping confidential files on procurement cases that could have involved Puno, a shooting buddy of the President.
Complete control of PNP
Santiago also said Puno, who resigned from his post three days before the hearing, could not answer her when she asked why Executive Secretary Paquito Ochoa said in writing that he, as undersecretary, had "complete control" over the PNP even when he denied participating "directly" in the PNP.
The senator said another "anomaly" she found in Puno's testimony was his supposed appointment as an observer to the PNP Bids and Awards Committee.
"There is no law that makes him an observer of the bidding and awards process in the PNP," Santiago said.
Puno, during the hearing,
said
he was only in the BAC as an observer and that he had no voting power.
Santiago, however, bared that Puno was he able to
call and meet all the bidders
. "If that is not intervening or participating, I don't know what is as far as I know an observer is," she said.
Jueteng
Lastly, Santiago said she was not too sure about Puno's statement that he does not have any knowledge about jueteng operations in the Philippines.
"Kung ganyan pa rin kalawak ang jueteng simula 2010 na na-appoint si Mr. Puno hanggang ngayong nag-resign na siya ano ginawa niya para sugpuin itong jueteng na ito?" she said.
"If jueteng still continues, may malaking backer 'yun," she said. "Sino ngayon ang backer on the national level? How can a creature flourish without its creator and its protector?"
Puno
denied during the hearing
that he was receiving protection money from jueteng operators. He also noted that since he was accused of being involved in the illegal numbers game two years ago, no case has yet been filed against him.
No second hearing
But despite her doubts, Santiago said she will not hold another hearing on the issue, adding one hearing was already "sufficient."
She said she just wanted the investigate because Puno has been "such a secretive and shadowy face in public office," he has been so controversial that it was "essential" for her to determine whether the Administrative Code and DILG Act should be reexamined and revised.
She noted, however, that she won't make a committee recommendation since the administration probably won't follow it anyway.
"Hindi na, hindi na kami bati ng Malacanang," she said, referring to the Palace's
alleged involvement
in the absence of Cabinet officials during the inquiry.
Santiago said she has no ill feelings toward her fellow senators for not attending the hearing on Puno. Only Senators Koko Pimentel and Alan Peter Cayetano were present on Friday.
"Hindi naman [masama loob ko] kasi pulitika 'yan," she said. "Ako wala na ako political future...pag tinawag ako ng ICC (International Criminal Court) wala na ako dito sila meron pa."
"[Baka] gusto nila tumakbo sa 2016 o kaya may kamag-anak sila na tatakbo kaya kinakailangan na they get on the good side of the administration," the feisty senator added.
— KBK, GMA News