Analysis: Were the M4 rifles overpriced? PNoy, Puno give conflicting answers
When he announced his
resignation this week, former undersecretary Rico Puno
of the Department of Interior and Local Government (DILG) highlighted his role as the "eyes and ears" of his shooting buddy, President Benigno Aquino III, in the police force.
"For the past two years, I have carried out specific assignments in accordance with the President's mandate," he said.
"We have introduced reforms to ensure full transparency of procurement and bidding processes. We have streamlined these processes to achieve the President's objective of getting 'the biggest bang for the buck' in providing basic equipment for enabling our uniformed personnel to perform their tasks effectively," he added.
"I believe that I have carried out my assigned duties to the best of my ability," Puno concluded.
However, questions over his role in the canceled bidding of allegedly overpriced M4 rifles for the Philippine National Police (PNP) belie Puno's statements, and even Aquino has not come out in his defense.
Aquino and his influential friend have given conflicting versions of the rifle deal that the president asserted was overpriced based on his own Internet research.
"'Yung contract na in-execute before we stepped into office, 150,000. 'Yung indicative price nila naging 119,000. Tapos parang ito yatang kino-consider nila is now what -- 80,000 per unit," Aquino told reporters in Russia on September 8 during the Asia-Pacific Economic Cooperation Leaders' Meeting.
"Noong nag-umpisa ito about two years ago, mga 2,000 dollars yung gusto nilang M4 so roughly tama 'yung presyo. Pero 'pag tumingin ka sa Internet ngayon, you can get it for as little as 800 plus dollars e, so 800 times 40 will give you 32, 'di ba, and 32 and 80 are very far off," the President said.
In an exclusive interview with GMA News' Jessica Soho after announcing his resignation on Tuesday, Puno disagreed with Aquino's observation, saying, "Hindi ko nga maintindihan e. Ano bang over-pricing na sinasabi? Lahat ng mga tao, even the dealers, international dealers are telling me that you got the best price for that.
"The initial bid was… about 120,000 per rifle. Then bumaba daw ng 115,000. And when we opened the bid for this, when we were the ones supervising already, it was 89,900," Puno said.
Just last June, the late DILG Secretary Jesse Robredo had cited President Aquino's Internet research as the basis for the order he relayed to the PNP to stop the rifle deal.
No irregularities, says PNP
At the heart of the controversy is the procurement of 1,500 units of M4 rifles, a smaller version of the M16 rifle and commonly known as "baby armalite" in the Philippines, for the PNP as part of its capability enhancement program for 2011.
A standard weapon in the US military since 1997, the
United States Army Fact Files
says the M4 carbine assault rifle is used to "deter, and if necessary, repel adversaries by enabling individuals and small units to engage targets with accurate, lethal, direct fire." Among its manufacturers are Colt Defense LLC and Bushmaster Firearms.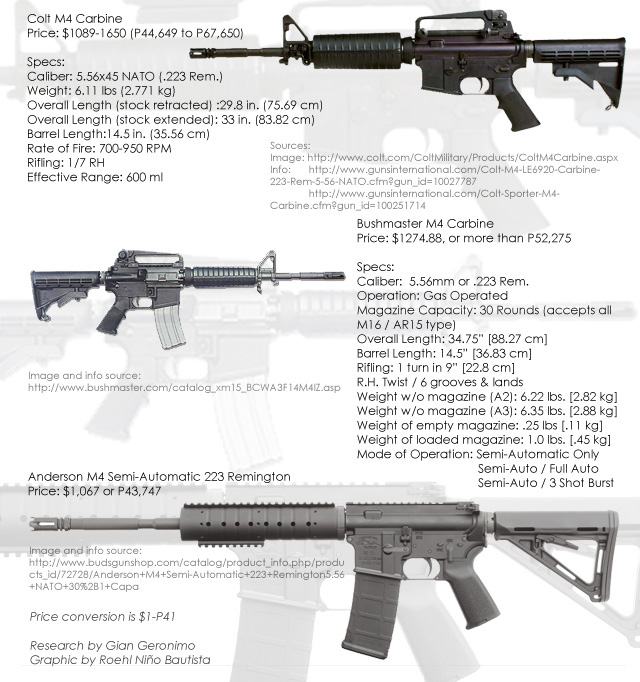 PNP deputy director general Emelito Sarmiento, who heads the Bids and Awards Committee, said seven bidders initially vied for the contract but only R. Espineli Trading submitted the necessary documents on May 31 and won the bidding.
He said the BAC set a ceiling price of P118,000 per unit, which came out during the procurement process. "Mababa na ho yun eh. Yung 118, hindi lang kasama baril, included yung magazine and 360 rounds of ammo," Sarmiento reasoned out.
Timeline of M4 rifles bidding process
First procurement:

Capability Enhancement Program for 2011
Basic Assault Rifles (Gas Piston Type) – 1,500 units
Approved Budget for the Contract – P178,332,000.00
Ceiling unit price – P118,888.00

April 19: Pre-procurement conference
April 24: Publication of Invitation to Bid
May 3: 1st pre-bid conference
May 10: 2nd pre-bid conference
May 31: Opening of bids; out of seven bidders, only R. Espineli submitted joint venture with IWI at a bid price of P89,450
June 4: Post-qualification
June 25: Phone call from Sec. Robredo directing review of the unit price of rifles
July 11: Submission of TWG report recommending post-disqualification of R. Espineli Trading and IWI
August 14: BAC issued resolution declaring the post-disqualification

Second procurement:

Capability Enhancement Program for 2012
Basic Assault Rifle (Gas Piston Type) – 1,800 units
Approved Budget for the Contract – P213,998,400.00
Ceiling unit Price – P118,888.00

June 13: Pre-procurement conference
June 23: Publication of Invitation to Bid
June 25: Robredo's phone call asking for review of unit price of basic assault rifles
June 27-29: Preparation of supplemental bid bulletin canceling the procurement
July 2: Issuance of the bulletin

Reference: Testimony of PNP deputy director general Emelito Sarmiento, head of the PNP Bids and Awards Committee, at the Senate committee hearing on Friday, September 14, 2012
The BAC chief said the police force would have realized substantial savings with the winning bid price of P89,450 each for 1,500 assault rifles.
However, Sarmiento said he received instructions from DILG Sec. Jesse Robredo on June 25 to stop the procurement process.
"Sabi nga po nila, may perception na based sa Internet na 1,000-1,200 (dollars), siguro hindi ho kasama dito yung magazine, hindi kasama bala. Baka di na-calculate yung taxes, yung freight," he added.
In July, he said R. Espineli Trading was disqualified for failure to submit required documents, but he made no mention of the concerns about the supposed over-pricing of the rifles.
A second programmed bidding for 2012 that called for the purchase of 1,800 units of M4 rifles worth P230 million was also shelved, Sarmiento added.
"Walang irregularity kasi in fact, wala hong na-procure na 1,500 rifles for 2011 at 1,800 for 2012," he told reporters on Tuesday.
He said the rifles would be used mainly by the Special Action Forces, public safety battalion, and public safety company. PNP director and logistics chief Arnulfo Perez, who is also the BAC vice chairman, estimates that about one-third of the rifle shortage in the police force needs to be filled up.
Robredo probe on rifles deal
PNP senior superintendent Edwin Roque, who heads the secretariat of the technical working group, said he received the call from Robredo last June 25.
"Ang sabi nya, suspend muna natin yung procurement ng assault rifle kasi kailangan i-review ang price dahil may observation sa Internet na yung unit price ay nasa 1,000 dollars to 1,200 dollars," Roque said. "Ang pahuling statement niya ay paki-relay mo na lang sa BAC yan at kakausapin ko din kayo later."
In a Senate hearing Friday, Sarmiento said the technical working group recommended the post-disqualification of R. Espineli Trading and its partner, Israeli Weapon Industries (IWI), on July 11. A month later, on August 14, the BAC issued a resolution declaring the post-disqualification of the firearms dealer.
In the interview with reporters in Russia, President Aquino said he ordered the suspension of the bidding and the investigation of the officers involved after observing certain anomalies in the process.
"Somehow, nakalusot doon sa bureaucracy, may umabot na post-evaluation period after sinabi kong ihinto," Aquino said.
"At pinatanong ko nga, 'Bakit nagkakaroon ng testing kung ang utos sa inyo ay ihinto?' So lahat ng involved doon ay naka-- parang subject to an investigation at medyo floating muna lalo na 'yung uniformed personnel," he added.
"That was something that Secretary Robredo was also checking up on," he said.
Robredo died in a plane crash in Masbate province last August 18. At the time of his death, Robredo was reportedly undertaking several investigations, including the weapons deal allegedly involving Puno.
Puno, who sits in the PNP's BAC as an observer, resigned in the wake of media scrutiny regarding his visit to Robredo's condo the day after the plane crash.
In the GMA News interview, however, Puno said he was already preparing to resign even before the controversies erupted. He said he spoke about it to Robredo at the event in Cebu that they both attended just before the plane crash.
"Sabi ko nga sa kanya, boss nabili na natin yung mga baril. Okay na yung PNP, e. Tapos na po ang trabaho ko kay Presidente," Puno said.
Puno and winning bidder Espineli
A long-time gun enthusiast and reputed to be one of the best range officers in the country during shooting competitions, Puno has been linked to the disqualified weapons supplier R. Espineli Trading, whose president reportedly joined him on a trip to Israel last May.
According to a
report from the news agency VERA Files
, a confidential memorandum addressed to Robredo on August 8 disclosed that Puno, former PNP Special Action Force director Leocadio Santiago, BAC observer Ramiro Lopez III, and R. Espineli Trading president Reynaldo Espineli flew to Israel on May 10 upon the invitation of Israel Military Industries (IMI).
In the GMA News interview, however, Puno said he went to Israel with his family for a holiday.
VERA Files reported that IWI, the partner of R. Espineli Trading, "used to be part of IMI prior to its 2005 acquisition by SK Group, which describes itself as one of the leaders in the global defense and security industry."
On its
website, IWI
says it is "one of the world's leaders, for the past 70 years, in the production and marketing of unrivalled combat proven small arms." Among the handguns it produces are Jericho pistols, which R. Espineli Trading had put forward in a separate PNP bidding that it also won but subsequently lost due to lack of requirements.
This is not the first time that the firearms dealer has been embroiled in a controversy. In 2010, newspapers reported that then PNP Director General Jesus Verzosa ordered the
suspension of R. Espineli Trading's license to operate
after it was implicated in the allegedly fraudulent sale of P4 million worth of handguns and facilitation of loans to police recruits in Central Mindanao.
Although he was invited, Espineli did not attend a Senate hearing on Friday where
Puno and Sarmiento denied any anomaly
in the guns procurement process.
In a report by Bam Alegre on GMA News' Balitanghali on Thursday, however, Espineli denied any over-pricing and said his winning bid was even "low" as it was a package deal that included other items such as a tactical sling and flashlight, cleaning and tool kit, gun oil dispenser, and a training seminar for the police officers.
He also denied being close to Puno and said their meeting in Israel was coincidental. Espineli said he invited the former DILG official to join him on a tour of IWI's factory when he found out that the Puno family was in Israel for a pilgrimage. –
With reports from Gian Geronimo and Kimberly Jane Tan/YA/HS, GMA News