PAGASA: Intense to torrential rain in next 2-3 hours over NCR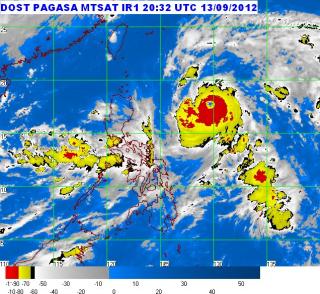 'Karen' now a super typhoon, JTWC of the US says. The Joint Typhoon Warning Center of the United States says 'Karen' has become a super typhoon, while the PAGASA says it is still a typhoon with top near center winds of 185 kph and gusts of 220 kph. PAGASA
Metro Manila may have to brace for more heavy rain in the next three hours, after state weather forecasters issued another red rainfall warning Saturday morning.
PAGASA issued its red rainfall warning at 7:30 a.m., warning of "intense to torrential" rain and possible "severe flooding" in vulnerable areas.
"Expect intense to torrential rains over Metro Manila and most likely to continue for the next two to three hours,"
it said
on its Twitter account.
It noted heavy to intense rainfall had been observed over Metro Manila for the past two hours.
Also, PAGASA said severe flooding is possible over low-lying areas and those located near the river channels.
"Residents in high-risk areas are advised to take precautionary measures and keep monitoring updates," it said.
'Karen' keeps northward path
PAGASA also warned of rain on parts of Luzon and Western Visayas Saturday, as annular typhoon Karen (Sanba) continued to move north toward Southern Japan.
It also reminded fishing boats and small sea craft against going out to sea lest they encounter big waves generated by Karen.
In its 5 a.m. bulletin, PAGASA said Karen was estimated at 690 km east of Itbayat, Batanes, with maximum sustained winds of 185 kph near the center and gustiness of up to 220 kph.
PAGASA said Karen is forecast to move north at 15 kph.
It added occasional moderate to heavy rain will be experienced in Central Luzon, Calabarzon, Mimaropa, Bicol and Western Visayas, which may trigger flash floods and landslides.
The rest of Visayas and Northern Luzon will be cloudy with scattered light to moderate rain.
Mindanao will have partly cloudy skies with isolated rain or thunderstorms in the evening.
PAGASA also said moderate to strong winds blowing from the northeast to northwest will prevail over Northern Luzon and coming from the southwest over the rest of the country.
The coastal waters throughout the archipelago will be be moderate to rough.
PAGASA's 11 p.m. Friday advisory said Karen may be 660 km east of Taiwan Saturday evening.
By Sunday evening, it said Karen may be 100 km northwest of Okinawa, Japan.
It added Karen will continue to enhance the southwest monsoon.
Meanwhile, PAGASA said strong to gale force winds associated with Typhoon Karen may affect the eastern seaboards of Luzon and Visayas, the northern seaboard of Northern Luzon and the western and southern seaboards of Southern Luzon.
"Fishing boats and other small sea crafts are advised not to venture out into the sea while larger sea vessels are alerted against big waves," it said.
— LBG, GMA News