The KPop spectacle: Good looks, catchy music, and a devoted fandom
Korean pop music (KPop) is greatly defined by the good looks of its stars, the catchiness of their music, their hard-to-memorize killer dance moves, their group presentation and style — and their avid fan base.
KPop has taken the world by storm.
In the Philippines, 2009 was significant because it was the year Korean music and shows began to stick in the public consciousness.
Besides their oozing good looks and over-the-top talent, how do these KPop stars continue to dominate the Philippine hit charts? The fans, of course!
During the Hallyu sa Pinas forum last Friday at Intercontinental Hotel, Makati City, Sparkling magazine managing editor Gigi Yia described her "Stages of Fandom" to understand how a KPop fan form admiration and emotional attachment:
1. The 'getting to know you' stage
This is when a potential fan takes notice of a Korean star — whether influenced by peers, or simply by seeing the star in a music video or a telenovela.
According to Claravelle Bagsit, KPop fan, "Namulat ako sa [KPop] fandom around 2009 dahil sa aking kaibigan. Every free time [sa school] nanonood kami ng variety shows and music videos, hanggang sa boom! Nagising na lang ako na mahal ko na sila [KPop stars]."
2. The makeover
Being a KPop fan does not end by just loving and admiring your favorite Korean stars. Some fans change their lifestyles in order to somehow understand the fantastical world of Korea — by eating Korean food, applying Korean cosmetics, wearing Korean style of dressing, or (if fandom reaches its paramount level) learning the Korean language.
"Kung Korean culture ang pag-uusapan, andyan yung susubukan mo lahat ng Korean food. Pupunta sa Korean groceries tapos pinag-aralan ko din bumasa ng hangul [the Korean alphabet] pero basa lang di ko naiintindihan," Bagsit said.
3. Building the collection
This is one of the most costly stages of fandom, as fans buy official merchandise in different forms such as music albums, clothes, standees (cardboard statues), and other collectibles featuring the groups they idolize.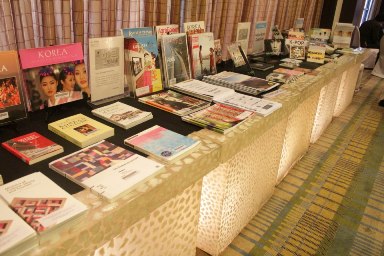 Learning all about Korean culture is essential for a KPop fan. Photos courtesy of the Hallyu sa Pinas forum
According to Astroplus Philippines marketing consultant Katherine Choy, "The success of a KPop album is because of its fans, because of the community. Because without them, it's [not] gonna exist."
She added that the reason a fan buys a product from his or her favorite group or star is because they want to support their artist (on a more personal level of attachment) and not just for collection purposes.
"Naniniwala ako na the best way to support an artist ay ang pagbili ng CDs or DVDs nila, so it's a must for me to buy their CDs," said Bagsit. "Other merchandise like T-shirts and magazines meron din. Kasama din sa mga pinagkakaingatan ko ang mga standees sa aking kwarto, mga napanalunan ko sa contest."
4. Finding a support group
A fan needs fellow fans to share his or her fandom with, and finds them through fan blogs and other social media tools such as Twitter, Tumblr, and Facebook.
"This is very important; the community of KPop respects the fandom of each other. It's not like sports, it's not like local acts where a competitor competes with another," said Choy.
"Madalas na ang mga kausap ko tungkol sa Kpop ay ang mga kaibigan ko nung college, mga taong nakilala mula sa Kpop gatherings, mga classmate ko sa Korean language class at ilang officemate," said Pauline Ann Cruz, fan of Korean boy band SHINee and member of the SHINee World PH fan group.
5. Pilgrimage to Seoul
Every KPop fan's journey is not complete without visiting the Motherland of KPop: Seoul, South Korea.
Of course, this requires a lot of money-saving and cost-cutting to afford, but it's the fans' chance to experience their "fandom and Korean-ness" first-hand — to be in the place where their idols were born and raised.
"May plano kaming pumunta sa Seoul at binabalak namin na isabay ito kapag may gaganapin na concert ng Kpop idol na gusto namin sa Seoul upang masulit ang pagbisita sa Korea," said Cruz.
The trip is even better if you are able to wander around the city with your friends whom you share your KPop madness with.
"Balak naming magkabarkada na pumunta sabay sabay [sana matuloy]. Mas masaya kasi kung ang kasama mo yung mga kaibigan mo na nakakaintindi sayo. Tsaka it's actually more than the fandom; it's the friendship," said Bagsit.
6. First date
Being a KPop fan is never easy, both physically and financially. But it is all worth it.
Every fan needs to see their Korean idols in the flesh in any way possible, and this is their chance to do so.
This could be events such as concerts, fan signings, or meet and greets. A simple handshake, autograph, or a photograph means the world for these KPop fans.
"Nung nakaraang taon ay nakanuod din ng ilang Kpop concert na ginanap sa ibang bansa doon ako gumawa ng cardboard na pinapakita na isa akong fan na mula sa Pilipinas at nagbigay din ng mga regalo kung saan ay naglalaman ng produkto ng Pilipinas," said Pauline.
According to Happee Sy-Go, PULP Live World Productions vice president, doing a KPop concert is "super fun" but also "super headache."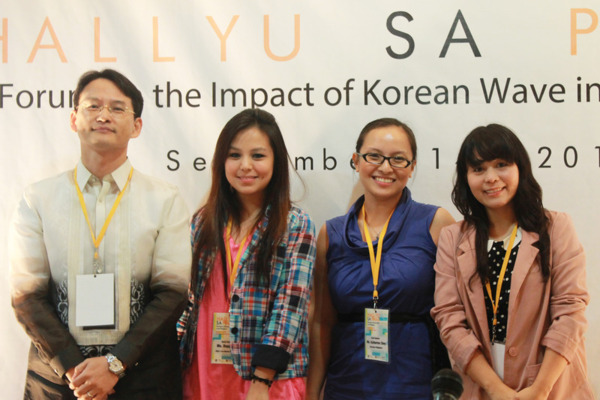 L-R: Korean Cultural Center director Seong Un Hwang, PULP Live World Production vice president Happee Sy-Go, Astroplus Philippines marketing consultant Katherine Choy and Sparkling Magazine managing editor Gigi Yia for the Second panel in Hallyu sa Pinas forum.
"We have to create the entire look. Para visually it would happen. Second, the sounds, we don't have the capacity for that kind of sounds so we had to import speakers from Singapore which cost us millions and we have to import the people [from Korea], the pyro, the effects… para ma-feel mo parang nasa Korea ka lang," she said.
PULP was the first company to produce a KPop show in the Philippines, with Super Junior. Sy-Go took the opportunity to thank the fans who supported their shows and concerts.
"KPop kasi is really fan-based, so without the fans, there won't be any show, there won't be any demand for it," she added.
7. Giving back
This is when fans put their passion and experiences to good use. Sharing a KPop moment with others can help them feel the same fandom experience.
This can be done through blogs, social media, fan clubs, and fan websites.
"I have my KPop twitter account, may Tumblr account din ako and may blog din...super random blog pero nagpo-post din ako ng pics pag may event kaming pinuntahan," said Bagsit.
It's the same for Cruz. "Madalas ay sa Twitter at Facebook ko nilalagay ang mga litrato at ilang kwento tungkol sa mga pinupuntahan ko na Kpop events."
It's dedicated fans such as these that help make the KPop world smaller and at the same time more far-reaching.
— BM, GMA News