Easy Sunday mornings at the Legazpi Sunday Market
Thanks to habagat, rain was steadily pouring at midmorning Sunday—not deluge-like, just steady easy rain, the type where you won't mind walking unhurriedly with your umbrella to the street corner.
It was just the perfect backdrop, I thought, as I made my way to the Legazpi Sunday Market at Legazpi Village in Makati to check out the street market that has been there for the past seven years.
Seven years—and I haven't set foot in it at all. What in the world was I doing, I asked myself as I spied a table laden with Moroccan food, a curry place, a lamb shawarma stall, a table with plastic boxes of lasagna, a Chinese lumpia station, and fish being grilled—I think that's bangus—on hot live coals under white tents set up on Legazpi Park.
In one corner, there was a burger place, a few steps away a table selling sushi and maki. There was also someone selling Hungarian sausages, burritos and tacos, and on the other side of the market, artisanal bread—whole-wheat croissants, sun-dried ciabatta— and organic produce, among others.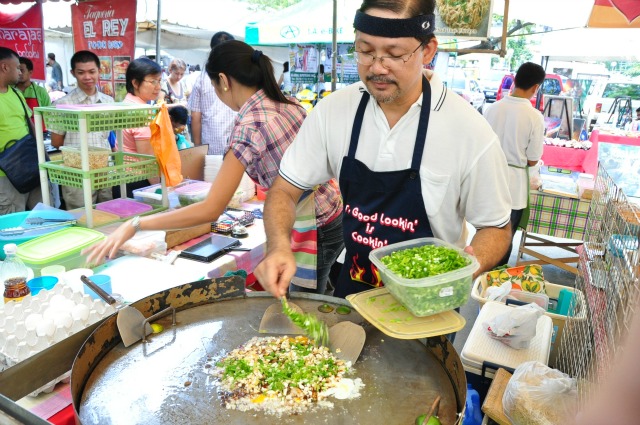 Food cooked right on the spot. Photo courtesy of Legazpi Sunday Market
There were bottles of homemade paté, boxes of homemade pastillas, lunch boxes of
laing
, pots of callos, and trays of empanada and other pies, among others.
To the beat of drums played by three men bobbing their heads, people milled about at their own pace, stopping here and there to sample the food, ask about prices, and buy food for dining in or takeaway.
There's an easygoing hippie vibe somewhat, especially when you go past the drums and turn right to the Arts and Crafts lane. Someone was selling photographs, others paintings and antiques, and still others Japanese kimono, eyelet-styled nightgowns, spoons and forks with beaded handles, and wire earrings.
We stopped and laughed at the reversible fabric dolls on display: Red Riding Hood on top, and underneath her red skirt was the Big Bad Wolf, Pinocchio on top and the Woodcutter at the bottom, and there was Snow White with the Seven Dwarves in her skirt's pockets.
"The feel and vibe here is utterly unique," said marketing consultant Brad Geiser, a regular at the market. "It's like a community where people hang out, intermingle, talk, it's like a big society," he said just a couple of days before, when the Legazpi Sunday Market hosted a press conference.
"Most markets now are artisanal but focus on food. At Legazpi Sunday Market, there's a focus on crafts that are upper range, with higher level of quality," Geiser pointed out.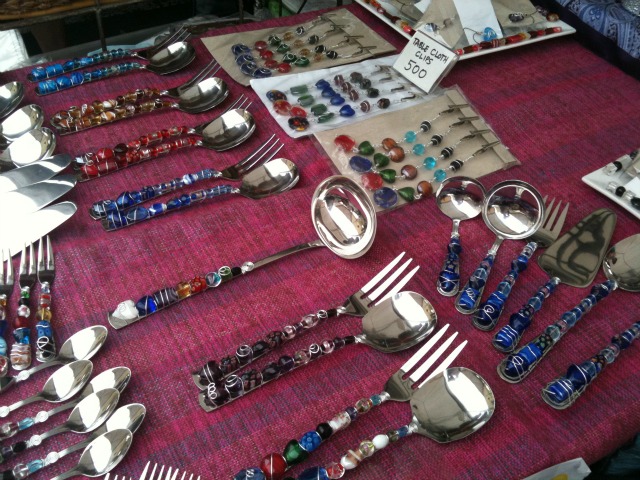 Ladles, spoons, and forks get the beaded treatment from Patika.
Photo by Karen Galarpe
Market manager Rosanne Hugo, herself a vendor selling lasagna, agreed. "Ours is very relaxed. It's a hangout. Foreigners come and hang out all day, and backpackers come too," she observes.
Checking out the market myself, I saw that indeed Legazpi Sunday Market is more relaxed. You don't need to elbow your way in or run to the nearest table to secure a place to dine. The place may be smaller than the other weekend markets, but it's just right for someone looking for some new food to try, or someone looking for a gift for oneself or a family or friend. Just easygoing Sunday shopping.
But the market wants to expand, and so Hugo says they intend to take Legazpi Sunday Market, a community market run by Bgy. San Lorenzo, to the next level. They have brainstormed on having Makati Street Market, a four-pocket event at the same market for the next four Sundays.
On Sept. 23, it will be Salsa and Sangria Day, with of course, dancing and wines.
On Sept. 30, it's Biking 101, and there will be a fun ride and demos.
Oct. 7 is the date for the Adobolympics cookoff, a cooking contest with adobo. In last year's Adobolympics, among the creative products were coconut milk adobo and suman adobo.
Oct. 14, meanwhile, is the Grilla in Manila contest day, where contestants—chefs, housewives, and regular cooks—will aim to come up with the best grilled meat (a slab of Angus beef at last year's contest).
On those four Sundays, Hugo said they will have 75 more vendors than usual, as they aim to make Makati Street Market the first and biggest artisanal market in the country, patterning it after outdoor markets in Barcelona, Berlin, Helsinki, and Paris.
Joey Casimiro, one of the market managers, said they want to give home businesses a chance. "We want to make ourselves different. You don't see our vendors in the mall. We'd rather help people doing business at home, SMEs, mom-and-pop businesses, and artists," he said on Friday at the press conference.
Mike Claparols, also one of the market managers, added that they invite artisans from the regions. "It's an advocacy. We want them to showcase their homemade crafts."
After the four special Sundays, it will be back to the usual easygoing vibe at the market. The cooks and artists will be there, and so will the drummers, rain or shine. Guess I'll be dropping in again soon. -
YA, GMA News
Legazpi Sunday Market is open every Sunday from 7 a.m. to 2 p.m. at the corner of Rufino (former Herrera) St. and Legazpi Streets in Legazpi Village, Makati City.