NCAA
:

Nimes, J. Banal save MIT, but Perpetual Help puts game under protest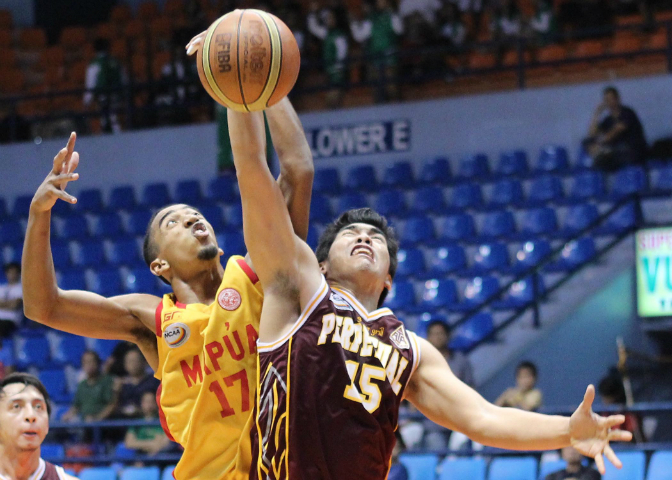 Kenneth Ighalo (left) and Justine Alano jockey for the rebound.
KC Cruz
Jonathan Banal's late-game brilliance and Josan Nimes' clutch charities allowed the Mapua Institute of Technology Cardinals to escape with a 74-71 win over the University of Perpetual Help System Dalta Altas, Monday at the FilOil Flying V Arena, but it could be for naught, as the 88th season of the NCAA saw its first protest.
Immediately afterwards, Perpetual Help put the game under protest, due supposedly to several lapses in officiating, including the ejection of center Femi Babayemi early in the first quarter, for throwing what was in the eyes of the referee, an above the shoulder elbow at Mapua player Michael Abad.
Should the Altas defeat be upheld however, it means that Perpetual Help is now locked in a three-team tie for the last two spots in the Final Four with the Letran Knights and the JRU Heavy Bombers. The trio all currently sport 9-6 records.
Mapua on the other hand improved its card to 6-9, good for sixth place in the standings.
"I motivate the players kahit nasa bottom lang kami, pipilitin namin na nasa gitna kami. We wanted to finish hard in this season," said MIT head coach Chito Victolero.
Jonathan Banal dropped a season-high 21 points to lead Mapua, including a key triple that made it 71-66 with 56.1 seconds left. Josan Nimes, last season's Rookie of the Year, added two charities with 19.6 seconds remaining to make it 73-70, after Alta Earl Thompson nailed two straight buckets to get his side within a point, 71-70.
"I told them that we have a commitment with the school, commitment to everybody na we have to play every single game. Go hard every single game and we will fight every game," Victolero added.
In the third period, a Josan Nimes three-point play tied things at 43-all, only for Vidal to keep things deadlocked with a triple, 46-46.
Another Vidal trey had it 51-all, early in the fourth, and then later on, it was Chris Elopre's turn to knot things, 63-63, 3:15 remaining in the game.
Vidal finished with 25 points, while Nick Omorogbe, who stepped up in place of Babayemi, chipped in a line of 10 points, six rebounds, five assists, three steals and two blocks.
- AMD, GMA News
The scores:
MIT 74 – Banal J. 21, Nimes 13, Ighalo 10, Banal G. 8, Braña 6, Magsigay 6, Eriobu 5, Estrella 2, Saitanan 2, Abad 1, Parala 0, Stevens 0
UPHSD 71 – Vidal 25, Omorogbe 10, Allen 8, Paulino 7, Elopre 6, Thompson 6, Arboleda 5, Alano 4, Jolangcob 0, Babayemi 0
Quarter scoring:
24-13, 30-36, 51-48, 74-71
Inboundpass has been covering collegiate basketball for six years. For more NCAA stories and information, check out
inboundpass.com
and follow Inboundpass on Twitter at
@inboundpass