American Idol finalists sample bibingka, puto bumbong
In town for the American Idol Live Tour 2012, finalists from the singing competition's 11th season sampled some Filipino food on GMA's Unang Hirit show on September 19.
Hollie Cavanagh, Colton Dixon, and Heejun Han cheerfully accepted the Unang Hirit challenge of sampling suman, bibingkang galapong, and puto bumbong.
While spreading butter on the bibingka, Cavanagh shared how she got into singing.
"I actually only started when I was about 15. It wasn't a kind of growing up kind of thing. I did a singing talent show with my friend who just asked me to help, and I did it. And then after that, I just kind of did it for a long time," she said.
Meanwhile, Dixon shared that his single will be released on October 19, which is also his birthday. "I'm really excited about that, and the album will be next year," he shared as he took a bite of puto bumbong.
"It's really good... I'm not gonna lie, that turned me off a little bit," he said, referring to the puto bumbong's purple color.
Meanwhile, Han tried the suman. "It's good," he said, despite the look on his face. "I will never try it again, but it's great," he said, making the others laugh.
Asked if they were experiencing jet lag, the three said they had slept well. "I was in bed at like 7 o'clock last night and it was a beautiful thing," Dixon said.
Cavanagh shared that although she woke up a few times in the middle of the night, she also slept well enough. "I slept better than I thought I was going to," she said.
On the other hand, Han seized the opportunity and spent the night out at a concert. "I went to a concert, and I went to a bunch of places. Next thing you know I'm in a hotel. Hey," he said.
"As long as you're in the Philippines, you're good," he said.
Jokingly referring to Jessica as his fiancee, Han said the Fil-Am singer had told them there are a lot of Filipino food.
"So we are planning to try a cheeseburger," he joked again.
Phillips wants to come back, have fun
Meanwhile, American Idol winner Phillip Phillips said he may return to the Philippines to have more fun.
"I think we have a little bit of downtime, not quite enough so I might come back and have a little bit more fun," he said.
He said the tour was "going awesome" and they were all having a good time. "I've been working on the album and writing a lot and sleeping very little but it's been going well. It's a lot of fun. I'm excited to be here," he said.
Asked how he was doing after his kidney operation, Phillips said he was almost fully recovered.
"I'm doing 10 times better than I was on the show, I'm doing great and having fun on tour just playing," he said. Last May, Phillips postponed his kidney surgery to compete against Fil-Am singer Jessica Sanchez for the top spot.
Phillips was given a guitar from Cebu, and a birthday cake to celebrate his 22nd birthday on September 20.
Jessica excited to perform in Manila, go to Bataan
Meanwhile, Sanchez said she was very proud and excited to finally perform in the Philippines. "We've been to like 45 states, or cities. I still believe that this is gonna be the best concert that we're gonna have. I'm definitely excited to sing for all the Pinoys," she said.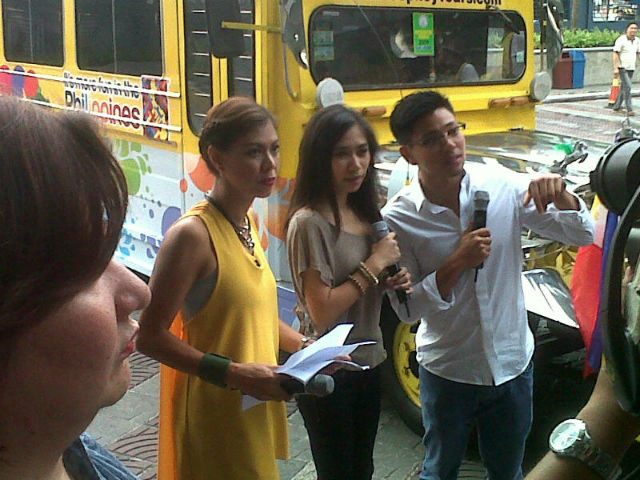 Jessica Sanchez on Unang Hirit on September 19. Photo by Roehl Niño Bautista
Sanchez also said she would love to visit her kababayans in her mother's hometown in Bataan.
"I definitely want to make some time, if I have any time at all, I want to go drive over then and I want to go and just hug everybody," she said.
Sanchez's relatives and fans in Samal, including her grandfather Eddie Bugay, were shown with banners for the singer.
"Kailan ka uuwi dito sa Samal? Kasi maraming nag-aantay sa iyo na mga kamag-anak mo," Bugay asked Sanchez on Unang Hirit.
"I hope soon. I hope I make some time. I'm gonna be here for like the next two weeks, so hopefully I can make some time to go visit you guys," said Sanchez, who signed a jeepney decorated with the Department of Tourism slogan "It's more fun in the Philippines" and a caricature of herself.