E-jeepney, bike program for students win in Inclusive Mobility Challenge green transport tilt
With jam-packed trains, rickety buses and smoke-belching jeeps, commuting in Metro Manila can be quite stressful, and even risky.
In 2011, 10 road accidents took place every hour in the Philippines; every day of that year, 5 people died and 79 people were injured in those accidents, according to a press release from the Inclusive Mobility Project.
The project promotes more sustainable and innovative solutions in the urban public transport system in Metro Manila, focusing on the needs of the poor and the vulnerable.
Visionary Filipinos joined the project's first Inclusive Mobility Challenge presenting safer, more efficient and greener ways to get around the megacity.
"All of us dream of a Metro Manila where people, including the poor, the children, the elderly, and PWDs, can get around in comfort and with dignity," Dr. Marie Danielle V. Guillen, manager of the Inclusive Mobility project, said in the release.
Ejeepney, bikes for students among winners
Ejeepney Transport Corporation, which promotes the electric jeepney as a sustainable and socially innovative mode of transport, was awarded the grand prize of P50,000.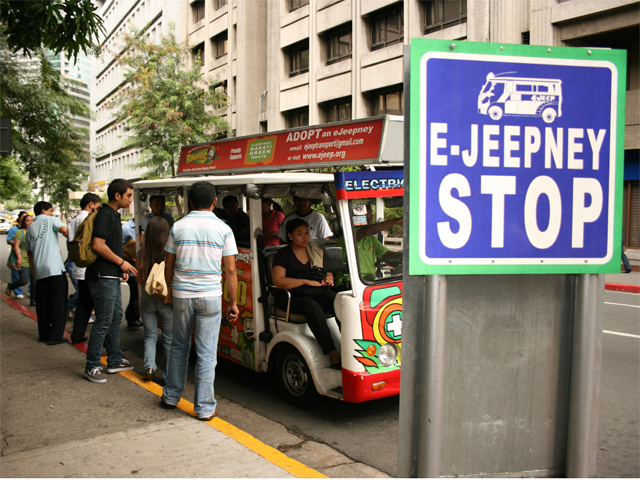 E-jeepneys have been plying selected Makati routes since 2008. GMA News
The Bohol-based Bikes for the Philippines, which gives bicycles to students at risk of dropping out and helps them stay in school, was awarded the second prize of P40,000.
Wheelmobile, which provides vans big enough to fit two wheelchairs to poor persons with disability (PWDs), won the third prize of P30,000.
Five runners-up also received prizes of P10,000 each: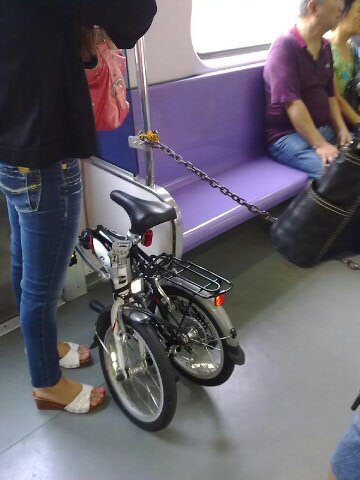 A folding bike on the LRT2 which has allowed folding bikes since 2009. GMA News
1. Bambike, a socio-ecological enterprise that hand-makes bamboo bicycles with fair-trade labor and sustainable building practices.
2. Pedala Bike Messengers, a same-day delivery service that is green and cost-effective and that generates employment.
3. CAT Bike Ride 2012, a program that makes the ownership of a bicycle, durable enough for daily use to and from work, affordable for the minimum wage earner.
4. The Tiklop Society of the Philippines, for promoting the use of folding bikes combined with other modes of public transportation such as buses, jeepneys, or trains.
5. Ridefind.ph, an application that promotes collaborative travel among daily commuters and weekend travelers within Metro Manila.
"The innovation energy shown by the Challenge winners gives us a lot of hope. It reassures us that ingenious Filipinos and their groups are already working hard to make that dream a reality," Guillen said in the press release.
The winners were selected from 26 entries from people or groups that promote mobility for all in Metro Manila, which is a core objective of the
Inclusive Mobility Project
.
Entries from outside Metro Manila were also accepted, as long as the projects were shown to be applicable in the megacity.
The finalists were assessed based on four criteria:
How well does the project or business meet the goals of the Challenge?
Is it socially innovative?
Is it sustainable, replicable, or scalable?
Does it have concrete measures of its success?
The Inclusive Mobility Project is implemented by the Innovation at the Base of the Pyramid in Southeast Asia Program at the Ateneo School of Government with support from the Rockefeller Foundation. –Carmela G. Lapeña/KG, GMA News