Who is Antonio Trillanes IV?
Former Navy Lieutenant Senior Grade Antonio Fuentes Trillanes IV, 41, is an elected senator.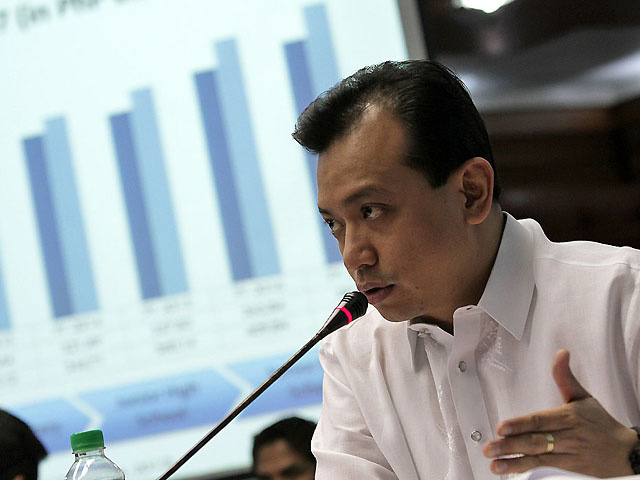 PERSONAL INFORMATION
Birthdate: August 6, 1971
Birthplace: Manila
Nickname: Sonny
Father: Phil Navy Capt. Antonio Floranza Trillanes, PMA Class '59
Mother: Estelita Fuentes Trillanes
Siblings: Antonia, Antonio Jr., Juan Antonio (Jay), Antonio III (Tiny), Dominic
Spouse: Arlene G. Orejana, PMA Class '97 from General Santos, PMA Corps of Professors
Children: Francis Seth, Thea Estelle, Alan Andrew (deceased)
ISSUES
Elected to the Senate.
With more than 11 million votes, former Navy Lieutenant Senior Grade Antonio Trillanes IV ran as an independent and ranked 11th in the 2007 senatorial race. 
In July 2012, he signed up with Nacionalista Party, reportedly forging a coalition with the ruling Liberal Party for the upcoming 2013 polls.
Oakwood mutiny.
Trillanes was one of the leaders of the more than 300 junior officers and enlisted men who took over the Oakwood Premier in the Ayala Center, Makati City on July 27, 2003. The rebel soldiers protested alleged corruption in the military and asked for the resignation of President Gloria Macapagal-Arroyo and other officials. 
Cases vs Trillanes.
As one of the leaders of the failed Oakwood Mutiny, Trillanes was charged with violation of Article 134-A of the Revised Penal Code or coup d' etat at the Makati Regional Trial Court Branch 148. 
He is also facing court martial for alleged violation of the Articles of War and was detained at the Bonifacio Naval Station inside the Philippine Marine headquarters in Fort Bonifacio. 
He was detained at the Philippine National Police Custodial Center in Camp Crame and charged with rebellion after he walked out of a court hearing, led a takeover of the Peninsula Manila Hotel and called for a people power uprising against Arroyo in November 29, 2007. 
He was granted temporary freedom by the Makati Regional Trial Court on Dec. 20, 2010. 
In January 2011, he applied for amnesty, which was approved the same month. He and the other Magdalo soldiers were able to avail of amnesty by virtue of Proclamation 75, issued by President Benigno Aquino III in November 2010. 
The Trillanes papers.
In 2001 and 2002, Trillanes wrote two term papers for his master's classes in UP. In these papers, he discussed what he portrayed as widespread corruption in the procurement system of the Philippine Navy. The PCIJ posted these papers on its website "as a contribution to the public's desire to understand the roots of the young officers' disaffection with government and the armed forces."  
EDUCATION
Master in Public Administration major in Public Policy and Program Management, University of the Philippines-Diliman (2000-2005)
(2) University Scholar Awards (GPA 1.0-1.25)
College Scholar Award (GPA 1.25-1.50)
Philippine Military Academy, BS Naval Systems Engineering (1991 - 1995)
Cum Laude
Mathematics Plaque
Physical Sciences Plaque
Tambuli Award (Electrical/Electronics Engineering)
BS ECE 4th Year, De La Salle University (1987 - 1991)
High School, Angelicum School (1983 - 1987)
Elementary, Sienna College (1975-1983) 
CAREER
Military Duties
Sea Duty:
Acting Commanding Officer (June 1999-January 2000)
Executive Officer (February 1999-January 2000)
Engineering & Damage Control Officer (January 1998-February 1999)
Deck & Gunnery Officer (May 1996-January 1998)
Mess & Supply Officer (April 1995-May 1996) 
Shore Duty:
Administrative/Personnel Officer (P1), HQ Patrol Force (June 1999-January 2000)
Procurement Officer/Instructor, Naval Education & Training Command (January 2000-June 2001) 
Military Appointments and Promotions
Promoted to LTSG; 04 Mar 02; GHQ GO # 1519 dtd 29 Dec 02
Promoted to LTJG; 04 Mar 98; DND GO# 137 dtd 30 Jan 98
CAD as ENSIGN ; 04 Mar 95; DND SO# 52 dtd 03 Mar 95
Promoted to ENSIGN, 04 Mar 95; DND GO# 212 dtd 03 Mar 95
Appointed as CADET, PMA; 01 Apr 91-04 Mar 95; DND GO# 252 dtd 01 Apr 91 
AWARDS
23 assorted merit medals, campaign ribbons and badges