Teacher who walks 23 kilometers daily to far-flung barangays among 'Happiest Pinoys'
Part of Concepcion Tababa's daily routine is a 23-kilometer walk from Tubungan town in Iloilo province to the farthest barangays where a precarious peace and order situation looms.
Still, this doesn't stop her from constantly wearing a cheerful face and optimistic outlook, prompting the Department of Education (DepEd) to name her among this year's Happiest Pinoys.
The search for the Happiest Pinoys, a joint project of DepEd and Cebuana Lhuillier, aims to find the most optimistic and resilient Filipino in the country.
As part of the alternative learning system, Tababa has traveled to far-flung villages where many have not seen a book. Her goal is to inspire her students to change their lives through education. To her, teaching is not bound by the four walls of the classroom. She expands the gift of education wherever and whenever opportunity comes, risking her life and that of her entire family to pursue her chosen vocation.
According to a DepEd statement, Tababa introduced the BAOL (Barangay Aid on Literacy) program or mobile library to encourage students to study together with their families at their own pace. She bravely used education as a weapon to fight illiteracy, poverty, and attain peace in her hometown. Because of her dedication to her profession, she was a finalist in the Metrobank Foundation 2007 Search for Outstanding Teachers and an honoree in the Bato Balani Foundations' "The Many Faces of the Teacher 2011."
Aside from Tababa, four other teachers were named this year's Happiest Pinoys for being inspiration and hope to other people: Connie Emborong of Kolambugan, Lanao del Norte; public school teacher Marcelo Otinguey of Kapangan, Benguet; and University of the Philippines (UP) Math instructor John Gabriel Pelias of Quezon City.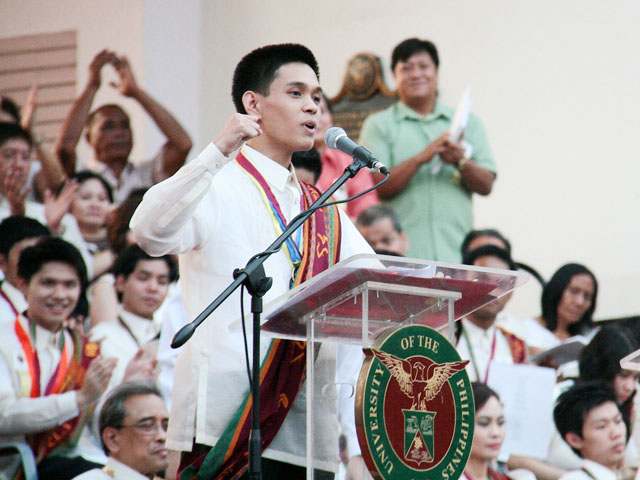 John Gabriel Pelias giving his valedictory address at a commencement exercise at the University of the Philippines. GMA News
"DepEd is happy that even in contests such as this, teachers continue to be recognized as the face of inspiration and hope to other people," said Education Secretary Armin Luistro in a press statement Wednesday.
Luistro said the search brings home the point that happiness can be found while in the service of others. "We note that the winners derive their positive outlook from serving the needs of other people," he said.
The criteria for judging were a constantly cheerful face and optimistic outlook, proven ability to rise above life's challenges, and positive impact in the lives of others.
At the beginning of the school year the DepEd launched a "Wear a Smile" campaign to bring out a cheerful atmosphere in campuses and influence pupils and students to look forward to every school day.
"The wear a smile campaign will remind them that a smile can draw out positive energy from students and fellow teachers," Luistro said.
Other Happy Pinoys
Emborong, an advocate of the "wear a smile" campaign, reminds participants of all her training sessions to wear a smile all the time. At present, she is one of the editors of the newly developed Peace Education exemplars, which will be used in teaching Peace Education and Children's Rights among school children in the province of Lanao del Norte. As a peace advocate, she is also a speaker/resource person and curriculum writer on the subject of peace education, gender and development, and children's rights.
Public school teacher Otinguey, meanwhile, believes in the motto "Life is service."
Despite stories of disservice and inefficiency in public service, he continually explores ways to broaden his horizon and initiated advocacies in health, education, environment, safety, etc such as livelihood training to students, out of school youths and stay-at-home mothers.
His resourcefulness and determination helped provide books and other educational materials for various schools and communities. He is also a recipient of 2005 Lingkod Bayan/Presidential Awards from the Civil Service Commission.
Another teacher, Pelias is a living proof that poverty is not an obstacle to achieve and excel. He graduated summa cum laude with the degree BS Mathematics from UP Diliman, achieving the second highest general weighted average in the UP Diliman history—1.016.
At present, he is already teaching at the Institute of Mathematics at UP Diliman despite enticing offers from multinational companies for him to work in their companies. His continued involvement in UP is his way of giving back to his school which had allowed him to achieve his dreams despite several drawbacks.
The other winners were student Arnel Alipao, a student of Mainit Surigao del Norte; marriage counselor Gilda Fortunato of Gumaca of Quezon; social worker Rommel Arellano of Limay, Bataan; entrepreneur Gerald Raymundo of Pasig City; businesswoman Rebecca Tiusonco of Borongan, Eastern, Samar; and utility worker Leonardo Villanueva of Malabon City.
— Amita O. Legaspi/KBK, GMA News