Rains expected for Luzon, Visayas as LPA nears PHL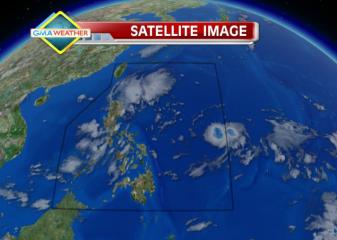 Satellite image as of 7 a.m., Sept. 20. Satellite image as of 7 a.m., Sept. 20 Weather Central
A low pressure area (LPA) or potential cyclone approached the Philippine Area of Responsibility (PAR) Thursday, even as moderate rains are expected over parts of Luzon and Visayas from the Intertropical Convergence Zone (ITCZ).
"The LPA is still outside the PAR and does not have any affect on the country at present. It's the ITCZ that will bring occasional light to moderate rains in Luzon and western Visayas," said GMA resident meteorologist Nathaniel "Mang Tani" Cruz.
"The Joint Typhoon Warning Center (JTWC) has upgraded its assessment of this LPA to 'medium,' which means that low-level circulation and other existing atmospheric conditions will enhance its further development. Weather Central's data also suggest the intensification of this LPA," he added.


In an interview on dzBB radio, PAGASA forecaster Gener Quitlong confirmed that the LPA has a good chance of becoming a cyclone once inside the PAR, but added that their forecast models for now show it is not likely to make landfall.
"May bagong LPA, malapit ito sa borderline sa PAR. Itong araw, papasok ito sa PAR at may possibility ito maging bagyo," Quitlong said.
Once the LPA becomes a cyclone, the weather system will be locally codenamed Lawin, according to Quitlong.
PAGASA's forecast models so far showed that the LPA, should it become a cyclone, is likely to veer north away from the country on a track similar to that of Annular Typhoon Karen (Sanba) last week.
On the other hand, he said that the potential cyclone is likely to enhance the southwest monsoon.
"Sa ngayon hindi nagpapakita na dadaan ito sa kalupaan. (Malamang ito ay) papasok at (gagawi nang) palihis. Pero papalakasin niya ang habagat," Quitlong said.
PAGASA's 5am bulletin said the LPA was estimated at 1,120 km east of Southern Luzon as of 4am, embedded along the Intertropical Convergence Zone (ITCZ) affecting Luzon and Visayas.
"Metro Manila will experience occasional light to moderate rain except during thunderstorms. Light to moderate winds blowing from the southwest to south will prevail and Manila Bay will be slight to moderate," it said.
24-HOUR PUBLIC WEATHER FORECASTISSUED AT : 5:00 AM 20 SEPTEMBER 2012SYNOPSIS: At 4:00 AM today, a Low (cont) tl.gd/jbo0ks

— PAGASA-DOST (@dost_pagasa) September 19, 2012
Occasional light to moderate rain will be experienced in Northern and Central Luzon, Calabarzon, MIMAROPA and Western Visayas.
The rest of the country will have partly cloudy skies with brief rainshowers or thunderstorms, mostly in the afternoon or evening.
Moderate to strong winds blowing from the east will prevail over extreme Northern Luzon and the coastal waters along these areas will be moderate to rough.
Elsewhere, winds will be light to moderate coming from the southwest to southeast with slight to moderate seas. — TJD, GMA News