Four unique kinds of chicharon you gotta try
Most Filipinos have a fondness for sinfully delicious snacks like the crispy chicharon. But some Pinoy entrepreneurs have used unusual ingredients and alternative cooking methods to put a fresh spin on this classic snack. The GMA magazine program "
Kapuso Mo, Jessica Soho
" travelled all over the Philippines in search of the best and most unique chicharon. Here's what they found:
---

Zubuchon Chicharon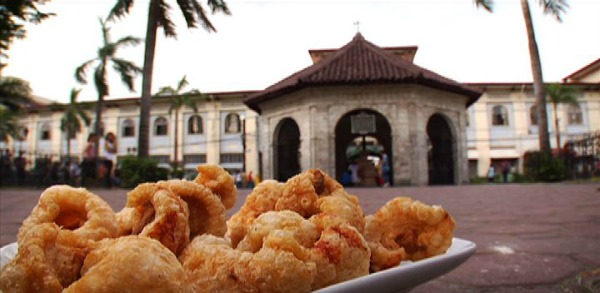 Celebrity chef, writer, and television host Anthony Bourdain himself called food blogger Joel Binamira's Zubuchon Cebu Lechon the "best pig ever." What sets Zubuchon's roasted pig apart from the ordinary lechon is Binamira's old-fashioned cooking method. He stuffs the pig with natural herbs like lemongrass and refrains from using MSG.

Using the same top-quality ingredients and gourmet techniques, Binamira has also created the hugely popular Zubuchon chicharon. Zubuchon chicharon is made from pig skin from Belgium or Germany, and is also cooked without preservatives. Binamira also boasts that his chicharon is the real deal because unlike the common puffy chicharon, Zubuchon chicharon has real "laman" or meat. While it's delicious on its own, Zubuchon is also delicious when served as a topping over dinuguan and pansit. It can also be mixed with bagoong and even French fries.

When you're in Cebu, make sure to try some Zubuchon chicharon, and buy some extras for pasalubong.



---

R. Lapid's Giant Chicharon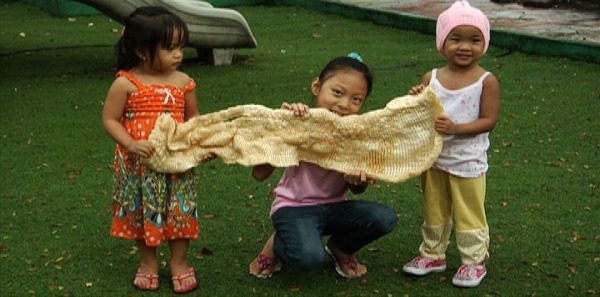 R. Lapid's factory in Valenzuela uses over 4,000 kilos of pig skin every day to produce different kinds of chicharon, including well-loved specialties like chicharong bulaklak, chicharong laman, and a kind of bite-sized chicharon called Manila fries. But R. Lapid's doesn't stop reinventing their chicharon. Their newest offering is the three-foot long Giant Chicharon!

The Giant Chicharon is soaked in several liters of oil for around four hours before it's cooked. This special chicharon is made to order and costs around P100 to P200. This unique snack is a crowd-pleaser during gatherings of family and friends.



---

Chicha-rabao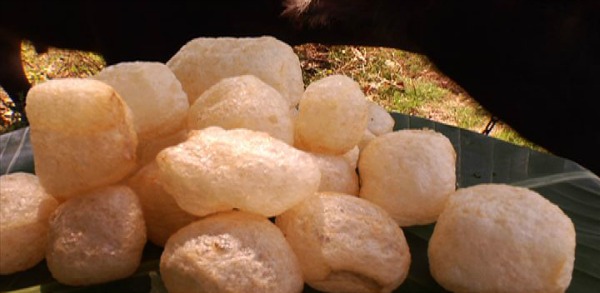 It's not just pig skin that can be turned into crispy chicharon. Leave it to Pinoys to come up with chicha-rabao, or chicharon made from carabao skin. This recipe was created by agriculturist Arthur Tabbu, who wanted to create more jobs for his fellow residents of Tuguegarao City, where carabao are plentiful.

Chicha-rabao is produced under the Carne Ybanag label managed by Tabbu. They produce over 2,000 packs of chicha-rabao daily, and each pack is sold for P35 to P40. The snack also comes in different flavors: salt and vinegar, and hot and spicy.



---

Porky's Best Microwaveable Chicharon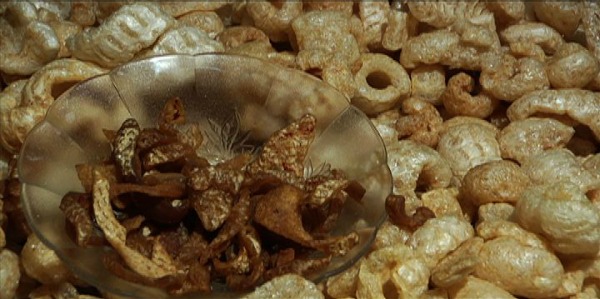 Porky's Best microwaveable chicharon is processed in Davao City, but made from pig skin imported from Belgium, Germany, France and Canada. After the chicharon pellets are processed, they are immediately packed, and sold for P60 to P295 each. Just microwave the pack for two to three minutes until they pop. The benefit of microwaveable chicharon? It lasts longer than the regularly packed chicharon.

For more stories on Filipino food, tune in to "Kapuso Mo, Jessica Soho" every Saturday at 8PM on GMA. --Angel Bombarda/PF, GMA News


| | |
| --- | --- |
| | Kapuso Mo, Jessica Soho on Facebook |
| @KM_Jessica_Soho | Kapuso Mo, Jessica Soho on Twitter |