It is always interesting to talk about culture vis-à-vis Martial Law, if only because there is a constant difficulty with acknowledging the upside to the true | good | beautiful enterprise of Ferdinand and Imelda Marcos. Of course culture was really only but pawn, in the Marcosian mythmaking project that involved pretending that the nation was all modern(ized). That this left in its wake cultural production that we haven't seen in these shores since, is always difficult to grapple with.
It is disheartening that no government has worked on developing culture in this country since the Marcos regime. And you only need to immerse yourself in local culture to know this to be true. Or I don't know, do research on how much cultural projects have been funded since.
In that sense it is also no surprise that we continue to fall back on the things we produced from 40 years ago. In graduate courses in Philippine Literature in the University of the Philippines, Martial Law hangover was palpable in the kind of expectation there is, the kind of requirements there are, for what is now deemed as relevant or engaged literature. It would be boring were it not also sad: what, we have yet to find creativity to be better in a democracy?
An exhibit earlier this year entitled "Revisiting Modernity" at the UP Vargas Museum was a display of state architecture according to the Marcosian paradigm of development. It was difficult not to be in awe of the well-planned, beautiful structures of and for nation. With Imelda's pictorials within the grand lobbies of these buildings, you realize that this was an aesthetic that worked as well with her clothes and jewelry. The edifice complex is not just about buildings, but about a face – the face – of development. And tadah! You had Imelda.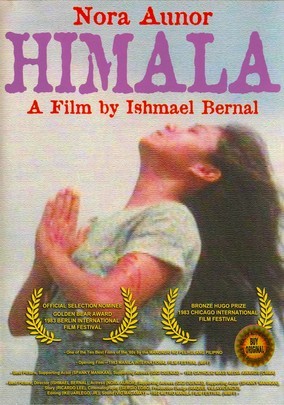 Who was sensitive and shrewd, to realize that a movie such as Ishmael Bernal's
"Manila by Night"
renamed
"City After Dark"
(1980) was a display of Manila against her own particular definition of it, her insistence that its poverty be covered up, the better to impress foreign dignitaries with. As it was also shrewdness, I'd like to think, a calculated assessment of the landscape of freedom of expression in a time of repression, which allowed for the Marcos regime to imagine a project like the Experimental Cinema of the Philippines (ECP) for example, that funded Bernal's "
Himala"
(1982).
But of course it is not just Bernal's that we equate with Martial Law. Alongside him is always Lino Brocka, he whose imagination of nation for those times, continues to be in the archetypes that are in our films now. Between Bernal and Brocka we are told here is the landscape of Philippine cinema's refusal to be gagged by the Marcos regime; between the two of them, the kind of activists that all our cultural workers must aspire to be, even as Brocka was more out there with Behn Cervantes than Bernal.
And without questioning the importance given Brocka's and Bernal's more famous works, those that have come to represent the Martial Law years, here are the films that to me resonate still if not differently, the ones that I go back to and (re-)consider, in relation to our cinematic history in general, Martial Law cinema in particular. After all, that was the time when Macoy and Imelda thought themselves Malakas and Maganda; that can only be the shadow of absurdity against which all movies then were being made.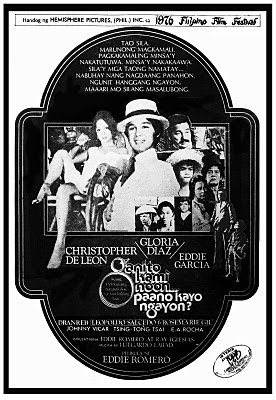 "Ganito Kami Noon, Paano Kayo Ngayon?"
directed by Eddie Romero and written by Romero and Roy Iglesias (1976) is about the Filipino's search for identity, without it being a coming of age. In fact this story begins and ends with nary an answer to the question that Kulas (Christopher de Leon) keeps asking: sino ba ang Pilipino? That he asks this in the historical milieu that is the Philippine Revolution of 1896 and the Fil-Am War, that he asks this as he travels from the province to the city, that he becomes friends with a racially and ideologically diverse set of people, and that all of it makes sense and seems real, is the power of this movie's storytelling. That Kulas survives it all, and in the end that he remains the man who walks, from one end of nation to another, asking the same question, is a reminder of identity ultimately being about community. And sometimes we
just are Filipinos
, for no reason other than that we say we are.
"Nunal Sa Tubig" directed by Bernal, written by Jorge Arago (1976) is that film that you do not understand the first time you watch it, neither might you get it the second time around. And yet it is a fascinating display of slowness, of nothing-happening, of lack of movement, even as it is precisely about a town that is in the throes of change, the kind brought on by development elsewhere but here. Created in the midst of Marital Law's sheen of modernity and order, the more one watches this film, the more it seems to be taking on this task of seeing the absurdity of modernity through to its logical and absurd conclusion: that is in the form of a film where nothing happens, to which everything happens.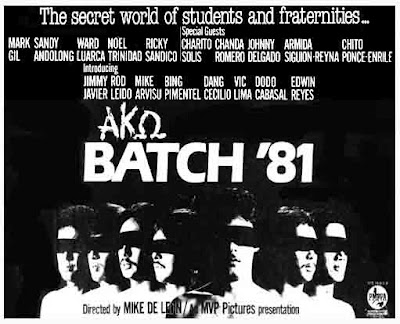 "Batch '81"
directed by Mike de Leon, written by Clodualdo Del Mundo Jr. and Raquel Villavicencio (1982), resonates not just because of patriarchy and brotherhood, but even more so because of the kind of violence that this keeps, the kind that stood for that time of repression and fascism, but which continues to resonate for the present. The fear of being violated, the pain of belonging and initiation, the danger of unencumbered authority echo throughout this film. The cycle of violence is the kind we'd like to deny exists in nation. As such it remains as stark reminder.
"Sakada" directed by Behn Cervantes (1976) brought me to tears the first time I saw it in college in the 1990's; now it just brings on an amount of anger. There is nothing like an introduction to class struggle via the sugarcane plantation, and in this film, it is revealed not to be a static engagement between the landlord and the farmer classes, as it is a struggle that's handed down from one generation to the next, and violently so. Here you are told that the state of agriculture while far from the city, informs the kinds of lives lived here. It's a lesson in the hold of feudalism beyond the hacienda, and is a display of class struggle that continues to exist where we come from. The drama will hold you by the neck and gag you.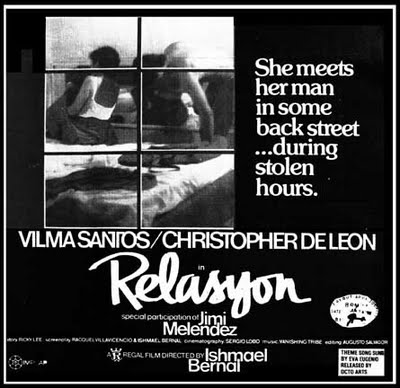 "Relasyon"
directed by Ishmael Bernal, written by Ricky Lee and Raquel Villavicencio (1982) is a movie I go back to for comfort: here is something written about being Filipina that dared hear her speak within a relationship, that dared show her walking away, that dared reveal how machismo Pinoy-style informs and envelopes the relationships we hold dear. At a time when our notions of being woman was limited to the image of Imelda (and maybe daughter Imee), having Marilou (Vilma Santos) as independent working woman, deciding for herself, is a wondrous thing. In the present when our romantic films limit our women to happy endings, "Relasyon" can only be more valuable.
Postscript: There are countless more films, the ones we rarely see, the ones we don't talk about, those that we might not have access to, but which must speak of Martial Law even when it refuses to. Here is why these movies are more interesting to me. But too it is this: Martial Law is recent history, a time when free speech didn't exist, creativity was in the balance, and censorship was the name of the game. It seems so far from where we are now.
It also seems so near. –KG, GMA News
Readings:

The CCP Encyclopedia of Philippine Art, Volume VIII: Philippine Film. Cultural Center of the Philippines, 1994.
Lumbera, Bienvenido. "An Essay on The Philippine Film: 1961-1992." Pelikula, Tuklas Sining Series. Cultural Center of the Philippines. 1992.