Survivors: Martial Law continues in abject poverty, rights violations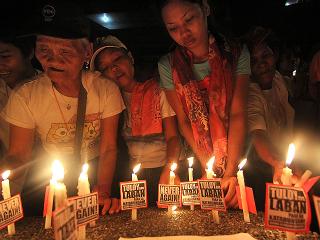 Martial Law survivors light candles on Mendiola. On the eve of the 40th anniversary of the Sept. 21, 1972 declaration of Martial Law, people who experienced the tumultuous years under the Marcos presidency lit candles at the foot of Mendiola Bridge for friends and loved ones who gave their lives to restore democracy in the PHL. Danny Pata
KIDAPAWAN CITY — TTo several victims of Martial Law, traces of the horrors of the iron rule have continued in the form of human rights violations and abject poverty.
Rosalio Llanto, 80, church worker of the Diocese of Kidapawan who twice survived attacks of members a para-military group during Martial Law, said decades after the dictator was toppled "there is no peace and people still live in abject poverty."
"I heard government officials promised they would uplift peoples' lives when they assumed power… I saw groups worked for peace… yet, there is still too much violence in Mindanao," said Llanto.
Llanto, former organizer of the Basic Ecclesial Community (BEC) in a parish in President Roxas, North Cotabato, survived two attempts on his life in 1972.
He said he was wrongfully accused of supporting the communist guerrillas when he worked for victims of human rights violations during the Martial Law years.
Father Peter Geremiah of the Pontifical Institute for Foreign Mission (PIME) claimed he had witnessed how church workers during the time of Marcos were arrested, tortured, and then killed.
Geremiah arrived in the Philippines a month before Marcos declared Presidential Decree 1081 (the proclamation of Martial Law).
His first assignment was in a parish in Santa Cruz, Laguna. He said he saw how members of the MetroCom, now Philippine National Police, barged into their parish and arrested more than a hundred organizers of the BEC.
When he was transferred from Tondo, Manila, to a far-flung town in North Cotabato, he said witnessed how members of a mercenary group wreaked havoc in his parish and the community.
In 1985, Father Tulio Favali, a visiting PIME priest, was killed by the mercenary group led by the Manero brothers who were later arrested, charged, and incarcerated for several years.
The killers thought Favali was Geremiah, reports said.
Forty years after the proclamation of Martial Law, Geremiah said "remnants" to the horrors of the iron rule are still 'very glaring'.
"The killing in 2011 of Father Fausto Tentorio, PIME, was clear indication that still rights are violated," said Geremiah.
Geremiah was certain that a group of armed natives, backed by soldiers, was behind the killing of Tentorio.
"During the time of former President Cory Aquino, justice was accorded to Favali. But I just don't know with President Noynoy's time if we would get justice for the death of Tentorio during his administration," Geremiah said.
Fe Carreon, former organizer of Kabataang Makabayan, an underground group of student activists, recalled the horrors of Martial Law.
Carreon was arrested thrice from 1972 until 1975.
She saw how male prisoners, all arrested for violating PD 1081, were tortured by police and soldiers.
Four decades after those tumultuous years, Carreon said that while administrations after Marcos did not declare Martial Law, human rights violations were still "very similar" to those commited during the Marcos regime.
"The effects of the Oplan Bantay Laya during the time of former President Gloria Macapagal-Arroyo and today's Oplan Bayanihan of President Benigno Aquino III are the same, not much different from Martial Law's horrors," said Carreon.
On Friday, protesters from towns of Magpet, Makilala, Antipas, President Roxas, and Arakan in North Cotabato gathered around the Poblacion of Arakan to commemorate the death of a number of martyrs in North Cotabato, 34 of them were church workers.
Geremiah said that from Martial Law years until 1991, at least 80 people in the province were killed – some of them just disappeared and were never found.
Among the Church martyrs in the Diocese of Kidapawan considered the 'highest' was Father Favali of the PIME, according to Geremiah.
Geremiah joined thousands of the protesters, led by the Kilusang Magbubukid ng Pilipinas, Apo Sandawa Lumadnong Panaghiusa sa Cotabato, and other progressive groups and individuals, that marched on the streets to shout justice for victims of Martial Law and other human rights violations.
— Malu Cadeliña Manar /LBG, GMA News