At 82, relaxed Clint throws another curveball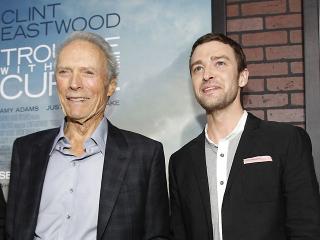 Eastwood, Timberlake in new movie. US actors Clint Eastwood (left) and Justin Timberlake arrive at the premiere of their movie 'Trouble with the Curve' at the Village Theater in Los Angeles, California on Thursday. Reuters/Mario Anzuoni
LOS ANGELES - Clint Eastwood made headlines with his off-the-cuff Republican convention speech -- and defies expectations again with his latest film, returning to the screen as an actor at the age of 82.
The Hollywood icon and "Dirty Harry" star, who plays an aging baseball scout in "Trouble with the Curve," has long focused on directing, and even announced his retirement from acting after starring in the 2008 film "Grand Torino."
But he said he felt comfortable being directed by long-time producer and collaborator Robert Lorenz in the movie, which co-star Amy Adams.
Lorenz "did a terrific job. He was making noises about wanting to direct for some years," Eastwood told reporters Beverly Hills, presenting his latest movie which opens this weekend in the United States.
Eastwood is one of Hollywood's most respected actors, adored by generations of fans since he starred in the 1960s TV series "Rawhide," through Westerns like "A Fistful of Dollars" (1964) to his "Make my Day" period as Inspector Harry Callahan in the 1970s and 1980s.
As a director he won plaudits and Oscars -- for 1992's "Unforgiven" and 2004's "Million Dollar Baby."
Eastwood's Republican political leanings have never been a secret -- he was mayor of his hometown of Carmel, California in the 1980s -- and he endorsed Mitt Romney as the party's White House candidate in early August.
But his bizarre speech at the Republican National Convention -- famously including talking to an invisible Barack Obama in an empty chair -- raised many eyebrows, with some wondering if the icon was simply, sadly, growing senile.
Eastwood appears to have enjoyed the bafflement, and dismisses the suggestion he is going gaga.
"When you get to a certain age, you're just glad to be there," he said with a smile. "I've been enjoying the journey to this stage and so I intend to enjoy the rest of the journey."
The aging process is at the center of his new film: Eastwood plays an elderly Atlanta baseball scout, refusing to admit that he is going blind.
His daughter, played by Adams, is frustrated by her father's obstinacy and gruffness, and insists on joining him on a scouting trip to North Carolina, to try to break through to him.
Eastwood says he enjoyed being able to leave the director's hat off, and to get back to his acting roots.
"After 'Gran Torino' I kind of thought that this is kind of stupid doing both jobs," he said.
"And I thought, maybe I should just do the actor and allow myself a little bit of comfort zone. And this was the opportunity. So I just didn't have to do anything but watching Amy throw the ball."
He added: "It's quite relaxing because I can just sit back. I probably won't do both again, at least for a moment. But I said I wouldn't act again a few years ago, and that changed too, so sometimes you just... lie."
At the Republican convention Eastwood wasn't lying when he urged US voters not to re-elect Obama -- but he admits that his decision to use an empty chair as a prop was literally a last-minute affair.
"I don't know if I'd do it the same way, I doubt it because I thought of that about five seconds before I was on stage," he said.
"When you walk out there you got an audience of 10,000 people extremely enthusiastic and your mind goes blank anyway."
In any case, he joked, the Tampa speech failed in at least one sense. "It didn't get the response that I wanted because I was hoping that they'd nominate me. That was my ambition," he said, smiling. -
AFP