A peek into Andy Warhol's world in '15 Minutes Eternal'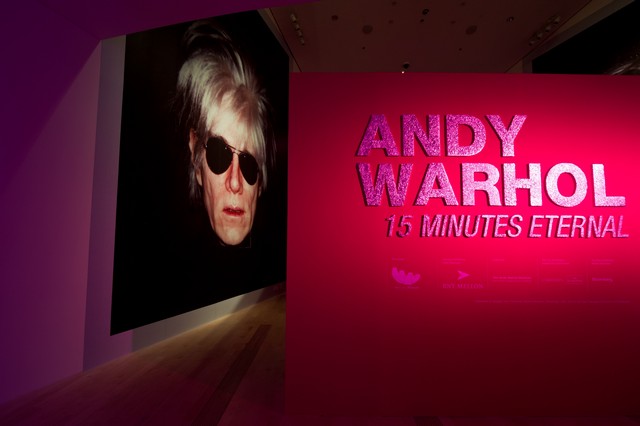 Andy Warhol 15 Minutes Eternal, Exhibition Entrance. Exhibit Photos © 2012 The Andy Warhol Foundation for the Visual Arts, Inc. / Artists Rights Society (ARS), New York and Marina Bay Sands

SINGAPORE — There is precious little that hasn't been written about the creative force of nature that was Andy Warhol, much less his influence on everyone from Banksy to Instagram. Not that this is a bad thing – while many people can say they've made an impact in a given field, how many can actually lay claim to having started that field in the first place? When it comes to pop culture-inspired works that combine creativity with clear, targeted messages, one man stands head and shoulders above the pack, and that man is Andy Warhol.
Coinciding with the 25th anniversary of the artist's passing, the Andy Warhol Institute has collaborated with the Marina Bay Sands Art Museum in Singapore to present "15 Minutes Eternal," the largest ever exhibition of original Warhol works in this part of the world. Featuring a circular arrangement of galleries arranged counterclockwise in mostly chronological order, the exhibit entices visitors to peruse sketches (going all the way back to his childhood!), mixed media creations, and sculptures by the decade in which they were created.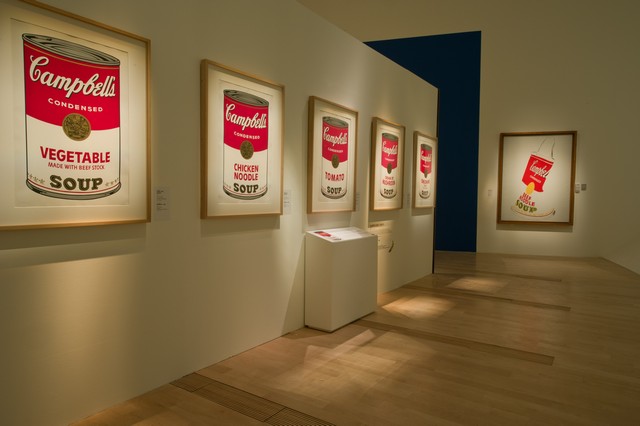 The Factory Years, Campbell Soup Series. Exhibit Photos © 2012 The Andy Warhol Foundation for the Visual Arts, Inc. / Artists Rights Society (ARS), New York and Marina Bay Sands

Born Andrej Varchola, Jr. at the height of the Great Depression to Slovak immigrant parents, Warhol was stricken at age eight with chorea—also known as St. Vitus's Dance—a rare disease which affected his nervous system. While he was recuperating, the young boy's mother – herself an amateur artist – encouraged him to pass the time by inculcating in him a love for art, beginning with simple pencil sketches.
After graduating from the Carnegie Institute of Technology with a Bachelor of Fine Arts in Graphic Design, Warhol made his way to New York, where he entered the advertising industry. It wasn't long before the young artist made his mark as a rising star, with his work appearing everywhere from shoe catalogues to department store displays to print campaigns. The publishing world took notice with Warhol receiving commissions from the likes of Vogue, Glamour and Harper's Bazaar.
The first gallery of "15 Minutes Eternal" features prime examples of Warhol's early work, including the aforementioned childhood sketches and numerous examples of the blotted line and rubber stamping techniques he combined with traditional pencil and ballpoint renderings, to whimsical effect.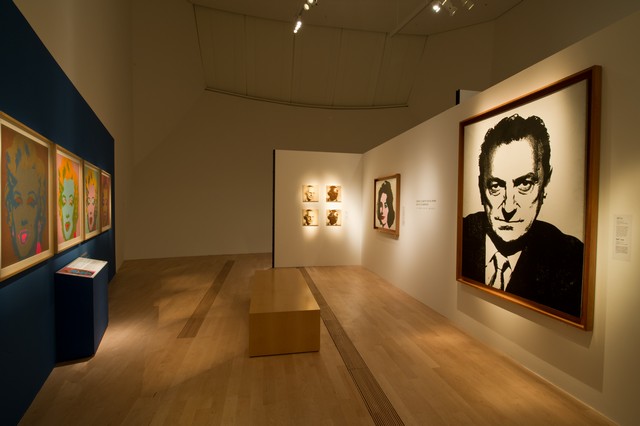 The Factory Years, Liz Taylor and Marilyn Monroe. Exhibit Photos © 2012 The Andy Warhol Foundation for the Visual Arts, Inc. / Artists Rights Society (ARS), New York and Marina Bay Sands

As the 50s gave way to the 60s, Warhol's pastime of painting on the side began to reflect his then-sacrilegious notion that mass-produced products and their respective indicia could be interpreted as fine art. A later gallery features the plywood recreations of grocery packing crates that Warhol created as a defiant expression of his theory. Another highlight is a display of the now-iconic Campbell's soup cans, rendered as the product of acetate projections (used to create the illusion of photo-realism) and silk-screen painting (to create Technicolor variants). So iconic are the paintings that Campbell's Soup (which once considered suing the artist back in the day for copyright infringement) has recently released fully-authorized anniversary editions of the cans (with actual soup!).
Strolling through the galleries reveals that, to Warhol, anything and everything was up for reinterpretation, be it macabre newspaper headlines or a series of retouched photographs of Jacqueline Kennedy mourning the death of husband JFK.
By 1964, Warhol was a full-blown New York institution, with the goings-on at his workspace-cum-party venue, "The Factory," becoming the stuff of decadent legend. The Factory has been recreated here in all its tin-foiled, silver painted glory, where visitors can lounge on a couch while taking in projected examples of Warhol's eclectic experimental filmography, including time-lapse footage of the Empire State Building (all eight hours of it) and random shots of his friends, including movie stars, socialites and assorted hangers-on (dubbed "Superstars" by the man himself).
Warhol's fascination with celebrity would manifest itself in his works, most famously, the oft-imitated "Marilyn" series, five examples of which are on display here, in all their garish glory. This interplay of celebrity, mass media and consumerism would resonate in Warhol's works until his death, with the artist famously proclaiming, "In the future, everyone will be world-famous for 15 minutes."

A creative maverick

Andy Warhol passed away following complications from a routine surgical procedure performed on his gallbladder. A creative maverick to the end, Warhol remained active well into the mid-80's, creating collaborative pieces and commissions, some of which can be seen here. Among the more curious – if not unexpected – products of this time is an MTV-produced program, entitled, "Andy Warhol's Fifteen Minutes," the pilot of which can be viewed in its entirety at the exhibit.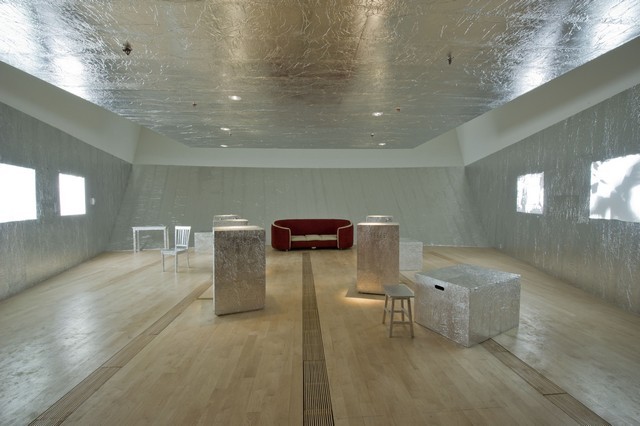 The Silver Factory Exhibit Photos © 2012 The Andy Warhol Foundation for the Visual Arts, Inc. / Artists Rights Society (ARS), New York and Marina Bay Sands

A historical irony exists in the fact that, despite Warhol being the de facto patron saint of celebrity worship and mass-market consumerism, he was a fiercely private person, with only a handful of people privy to the man behind the carefully-cultivated image of an eccentric in a shock wig. Perhaps that is the true lesson to be taken from a visit to "15 Minutes Eternal": Celebrity may wear many faces (or wigs, as the case may be), but at the end of the day, all that matters is what one leaves behind.
In Warhol's case, this is more true than it is for others as, aside from his works, he obsessively filmed and documented as much of his life as humanly or technologically possible at the time, including a tendency to throw any clutter on his desk into a box and sealing it for storage (one of which is on display in the exhibit). Despite these artifacts and his undeniable legacy filling volume after historical volume, we may never truly know who Warhol was.
The Andy Warhol Foundation for the Visual Arts was formed shortly after the artist's passing, quickly establishing itself as one of the world's largest, most influential grant-giving organizations for visual arts. Soon after, an Andy Warhol Museum (from which much of "15 Minutes Eternal"'s works are on loan) was created from the works and belongings collected from a literal lifetime of one man's never throwing anything away. Indeed, so influential and varied are the works on display that even a casual follower of art can easily spend several hours (or longer, with the audio tour) taking in every last nook and cranny of the ArtScience Museum's galleries.
After having spent the better part of a day exploring Warhol's work and having gained no greater insight into the man than when I arrived, this writer can't shake the feeling that it's exactly as Andy would have wanted it. –KG, GMA News
"Andy Warhol: 15 Minutes Eternal" is on display at the Marina Bay Sands ArtScience Museum in Singapore until October 21. For more information, visit
www.marinabaysands.com
.