Horrific Nueva Ecija crash one of many head-on collisions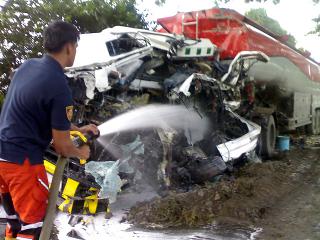 9 dead in Nueva Ecija road smash-up. A member of the Bureau of Fire Protection douses water on the engine of the ill-fated tanker truck that collided head-on with a Victory Liner bus along the Maharlika Highway in Muñoz City, Nueva Ecija on Wednesday. Nine people died in the accident. Junjun Sy
The bus driver is no longer alive to explain. But the horrific crash early Wednesday morning in Nueva Ecija that left nine dead was likely caused by an ill-advised attempt by the driver to overtake a slow-moving motorcycle.
A gasoline tanker was barreling towards the bus in the opposite lane. The bus could not get back in its lane soon enough, sideswiping the motorcycle before colliding head-on with the tanker, killing both drivers, two riders on the motorcycle, and five bus passengers.
It was an extraordinarily bloody tragedy, but it involved a common driving task on the nation's busy inter-provincial roads: overtaking. To do that on a typical provincial road, one needs to drive in the opposite lane directly in the path of another vehicle traveling in the opposite direction.
Unlike highways in other countries, many roads in the Philippines used for long-distance travel are comprised of only two lanes unseparated by safety islands. Tricycles and other slow-moving vehicles share the road with fast-moving buses, which are compelled to overtake.
A simple miscalculation by a groggy driver can result in a tragedy like what happened in Muñoz, Nueva Ecija on Wednesday.
It was eerily similar to another infamous head-on collision that claimed a beauty queen. In 2010, Bb. Pilipinas-International 2009 Melody Gersbach and two others
died
when the car she was riding crashed with a passenger bus in Camarines Sur.
The speeding passenger bus also reportedly overtook a motorcycle and failed to return to the right lane, causing it to collide head-on with the beauty queen's vehicle.
Six years ago, two broadcast journalists — GMA News'
Dan Campilan
and ABC 5's Anna Liza "Hazel" Recheta-Calimag — also perished in separate vehicular accidents involving head-on collisions.
Since last January, failed overtaking has already caused 1,085 accidents nationwide. The Philippine National Police has recorded 775 deaths due to road crashes, but cannot say how many of those occured in head-on collisions.
Overspeeding too
Overspeeding and failed overtaking are the most common causes of deadly accidents involving head-on collisions on the country's roads, Engineer Renato Reyes of the Department of Public Works and Highways (DPWH) Project Evaluation Division said Thursday.
"Wala naman sa highway ang problema. 'Yung mga ganitong aksidente na nagkakasalpukan talaga, usually driver behavior lagi ang dahilan. Mabilis talaga magpatakbo lalo na kung gabi, especially 'yung bus drivers natin na gustong makarami ng biyahe," Reyes told GMA News Online said in a phone interview.
Reyes' division is in charge of conducting "road audits" on sites of vehicular accidents. It also maintains the DPWH's Traffic Accident Recording System (TARAS).
In the same interview, he said the driver of the Victory Liner bus that crashed head-on with a fuel tanker along Maharlika Highway in Muñoz, Nueva Ecija early morning Wednesday may have been overspeeding. But he still could not get back into his lane fast enough. Trying to swerve out of the tanker's way, it sideswiped a motorcycle, killing both riders.
The accident left the driver and eight others
dead
. The Land Transportation Franchising and Regulatory Board has already imposed a
30-day suspension
on six buses of Victory Liner plying the Manila-Isabela route.
"'Yung daan na iyon, it is a straight road. May shoulder sa magkabilang gilid at wala namang problema sa geometric design. Wala namang curves o kakaibang slope. Mukhang 'yung driver talaga ang nagkaproblema," the DPWH official said.
'Mabilis 'yung bus'
Arthur Salinas, who was in the fuel tanker which figured in the accident, supported Reyes' belief that the accident happened due to human error.
"Nagulat nga ako. Sabi ko, ayan na mamatay na tayo. Mabilis 'yung takbo ng bus. Kami, mabagal lang kami," Salinas said in an interview aired over GMA News TV's "News To Go" on Thursday morning.
The Nueva Ecija incident marked the latest of deadly head-on collisions that have claimed a number of lives, including those of prominent personalities.
PNP: 775 killed since January
Data obtained from the Philippine National Police-Highway Patrol Group (PNP-HPG) also revealed that most vehicular accidents that have taken place on the country's roads since January this year were caused by overspeeding and failed overtaking.
The PNP-HPG data showed that out of the 6,492 road accidents recorded since the start of the year, 1,353 were caused by overspeeding. Failed overtaking caused 1,085 accidents while poorly executed turning caused 1,079 accidents.
This makes human error the primary cause of traffic accidents in the country so far. Only 480 accidents were attributed to bad road condition, according to the PNP-HPG.
The same data also showed that most vehicular accidents for the past eight months occurred during nighttime (3,285 cases) and on the country's national roads (1,726 cases).
The PNP-HPG also said that a total of 775 people have already been killed from January to August due to road accidents. Some 3,200 persons were injured, while over 6,400 properties were damaged.
Last year, the Department of Health also said that transport or vehicular crashes became the leading cause of injuries among Filipinos. Mauling and falling came in second and third, respectively.
Road safety
The action plan specified ways on how to make the roads and vehicles in the country safer. It also identified how Filipino drivers can be better equipped for their road trips.
Reyes said the DPWH is in the process of implementing this road safety action plan.
"Iyan naman talaga ang isang thrust ng DPWH na gawing mas ligtas ang ating mga kalsada. Sa pamamagitan ng budget natin sa susunod na taon, lalaparan natin an gating mga daan at i-pave din natin 'yung shoulder ng mga kalsada," he said.
Johnny Angeles, vice-chairperson of the Automobile Association of the Philippines, meanwhile suggested that lawmakers revisit Republic Act 4136, or the country's law on road safety.
"We have lobbied for the past 25 years for some revision, because outmodelled na ito. Nagbago na ang panahon. Wala pa namang cellphones noong araw. Marami na ring requirements ang mga kotse," he said in a separate television interview. — RSJ/HS, GMA News