The long journey of 'Walang Kukurap'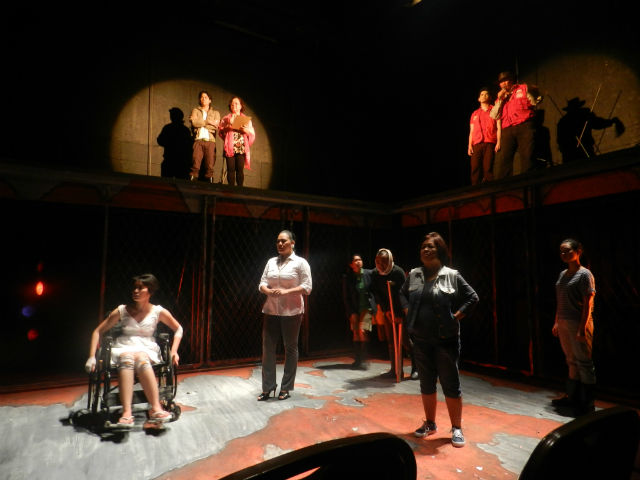 Tuxqs Rutaquio and Layeta Bucoy's "Walang Kukurap" aims to "blur the lines between art and life and fiction and reality." Photos courtesy of Tanghalang Pilipino
Director, actor and production designer Tuxqs Rutaquio has had a rather fruitful collaboration with playwright Layeta Bucoy over the years.
The duo's latest collaboration, their eighth, is Tanghalang Pilipino's "Walang Kukurap," an experimental play that, according to the Tanghalang Pilipino, "blurs the lines between art and life and fiction and reality."
Don't blink
"'Walang Kukurap,' as the title suggests, tells the audience not to blink even for a second during the 92-minute stage play. If you do blink, you might miss out on something," said Rutaquio in an interview at the CCP Bookshop.
"Walang Kukurap is a very personal play which targets the Filipino youth of today. Why personal? Anyone who watches the play will be able to identify or connect with the issues tackled in the play, specifically the endemic political corruption in the country," he said.
"We want 'Walang Kukurap' to create more questions than answers in the minds of the youth of today. They must constantly ask questions, searing and penetrating questions about the state of affairs in our country. They need to understand why things are this way and not that way," he said.
The Rutaquio-Bucoy tandem has produced "Tu Dulce Extranjera," "Anatomiya ni Hermano Puli," "El Galeon de Simeon," "Doc Resureccion: Gagamutin ang Bayan," "Las Mentiras de Gloria," "Ellas Inocentes," and "Titus Andronicus: Tinarantadong Asintado." One of the reasons their collaboration "works" is the trademark effect of their productions; whether one loves or hates a play by the duo, it is guaranteed to be provocative and shocking.
"I want my audience, when they get out of the theater, to say, 'I did not like the play because …' This is the statement that stirs one to ask inwardly why he or she did not understand or like a particular play. In asking questions, one is able to find the deeper meaning or message of our stage plays," Rutaquio said.
Long development process
"Walang Kukurap" had a long, painful birthing process.
The script's first draft also underwent at least eight official revisions until it was finally junked last summer because, said Rutaquio, it failed to "unnerve" the audience during an experimental reading.
"Layeta had to start all over again. She did months of research in Laguna and Cavite about corruption and local politics. She even interviewed tricycle drivers. The script that is being used in the play now had been revised at least four times," he said.
And then production planning and initial leg work for "Walang Kukurap" started in December, only to be shelved for a time for a variety of reasons, ranging from financial to scheduling issues.
Fast-paced production
The structure of the two-act "Walang Kukurap" is designed to be fast-paced and "gripping," said Rutaquio, told young audiences' shorter attention spans.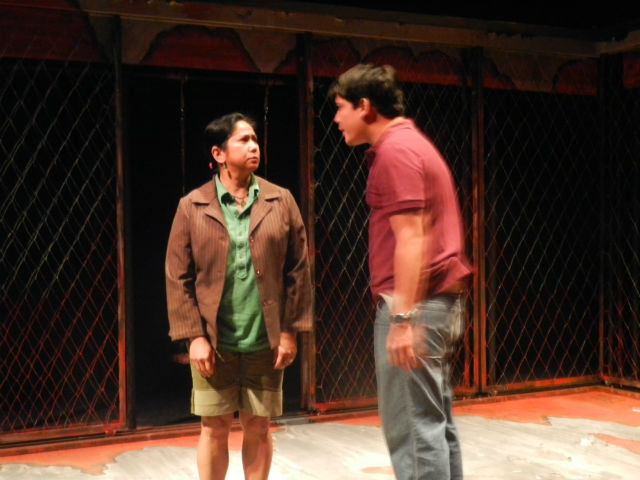 "They must constantly ask questions about the state of affairs in our country," says Rutaquio of the play's young audience.
"Walang Kukurap" also echoes two iconic works: those who have read either "Noli Me Tangere" or "El Filibusterismo" will see the setting of Rizal's novels, San Diego, in the locale in which "Walang Kukurap" is set, said Rutaquio.
"Kukurap is the San Diego of 2012.The challenge for me as a director lies [in] making the town a character in itself. The scenes are bits and pieces of the town's persona, the little characteristics that create its wholeness, with the characters much like those of the people of San Diego representing the cancerous cells eating the whole town from the insides," he said.
The cast of "Walang Kukurap" includes Suzette Ranillo, Sharmaine Suarez, Sherry Lara, Mymy Davao, Peewee O'Hara, Lou Veloso, Crispin Pineda, Ding Navasero, Nonoy Froilan, Paulo Cabañero, Ced Torrecarion, Nar Cabico, Delphine Buencamino, June Francis Domingo, and Erick Sindol.
The TP Actors Company members appearing in the play are Jonathan Tadioan, Regina de Vera, Marco Viaña, Ralph Mateo, Remus Villanueva, Doray Dayao, April Joy Iñigo, Jovanni Cadag, and Nicolo Magno.
Rapper Gloc 9 is featured on special dates.
Other members of the "Walang Kukurap" creative and production team are: Katsch Catoy for lights design and as technical director, TJ Ramos as sound designer, and Jerome Aytona as production designer and stage manager. — BM, GMA News
"Walang Kukurap" is performed at 8 p.m. on Fridays, 3 p.m. and 8 p.m. on Saturdays and 3 p.m. on Sundays at the Cultural Center of the Philippines' Tanghalang Huseng Batute. The play's run ends on Oct. 7. For inquiries, call Tanghalang Pilipino at 832-1125 ext. 1620 or 1621, or 0917-7500107; or contact TicketWorld at 891-999.