The great divide: The politics and economics of splitting CamSur
With its pristine beaches and famous water sports complex, Camarines Sur seems to be the ultimate place for fun under the sun.
Just two weeks ago, the picturesque Caramoan Islands located at the eastern portion of the province got its biggest international exposure so far through the American reality show, "Survivor." The show described Camarines Sur as a place with "a majestic landscape where furious storms can arrive without warning."
Indeed, a big storm—a political one—is brewing, and it is expected to directly hit the province. The Senate is now in the process of deliberating on a proposal that could split Camarines Sur into two provinces.
The proposal came from four lawmakers representing the province at the House of Representatives. Camarines Sur Reps. Arnulfo Fuentebella, Luis Villafuerte Sr., Diosdado Ignacio "Dato" Arroyo and Rolando Andaya authored House Bill 4820, which was approved by 229 House members in August last year.
The bill seeks to carve a new province, which will be called Nueva Camarines, from the 16 municipalities and one city currently comprising Camarines Sur's fourth and fifth legislative districts.
Interestingly, Rep. Salvio Fortuno of the province' fifth district cast the lone dissenting vote when the measure was approved last year.
Two weeks ago, the bill partitioning Camarines Sur once again came into the spotlight when Senator Antonio Trillanes IV accused Senate President Juan Ponce Enrile of railroading the measure.
Trillanes claimed Enrile was "speeding up" the passage of the bill on instructions from former President Gloria Macapagal-Arroyo, Rep. Dato Arroyo's mother. Both Enrile and Mrs. Arroyo have since denied Trillanes' allegations.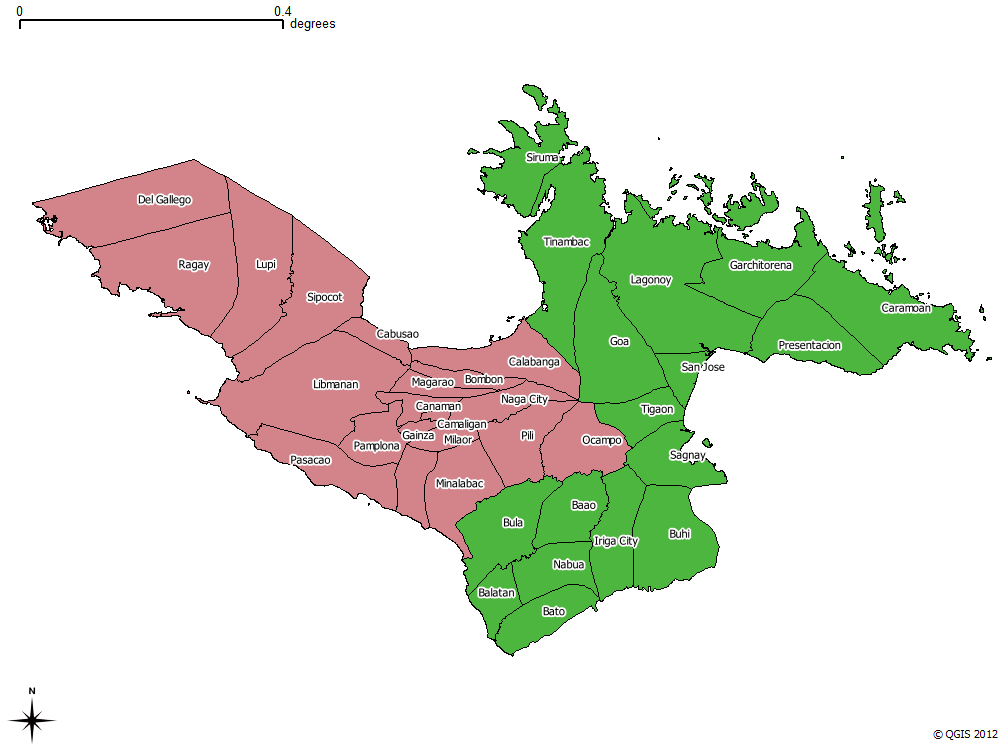 The red portion of this map shows the areas that will remain with Camarines Sur if the bill partitioning the province is approved. The green part, meanwhile, shows the areas which will cover the proposed new province, Nueva Camarines.
Map by Wayne Manuel

'Too big to handle'
Fuentebella, who represents Camarines Sur's fourth district, justified the plan to partition his province by saying that the proposal will ensure better governance of the local government unit.
"The province is too big and too messy to handle. This bill aims to accelerate the development in our area. Based on economies of scale, when you have a smaller area, mas maabot ang lahat ng sulok ng basic social services," he said in a phone interview.
He added that some of the distant towns in the provinces have long been neglected by the provincial government, owing to Camarines Sur's size.
"Napakalaki kasi ng probinsiya namin kaya 'yung ibang areas talaga hindi na naaasikaso at napakadalang mabisita. How can we assure efficient delivery of services kung ganito?" he said.
Camarines Sur indeed covers a huge land area—the biggest of the six provinces in the Bicol Region. With 548,160 hectares, the province is composed of 35 municipalities, two cities and 1,063 barangays.
Although it is considered to be a first-class province with an annual income of over P500 million, Camarines Sur is still home to a huge number of poor families. It has a poverty incidence of 38.7 percent in 2009—the worst record in the region during that period—according to the National Statistical Coordination Board (NSCB).
'Rich government, poor population'
Professor Bernadette Gumba, who teaches political economy at the Ateneo de Naga Institute of Politics, said dividing Camarines Sur "may actually help" local governments to reach their poorest constituents.
"If you take into account logic and economic theories, a smaller area and a smaller population may mean government leaders becoming more sensitive to the needs of the people through more frequent contact with them," she said in a separate phone interview.
She added that at present, the provincial government has failed to translate Camarines Sur's gains, especially in tourism, to social programs that will help poor municipalities in the area.

The Department of Tourism said Camarines Sur attracted over 2.3 million tourists in 2010—the highest among all provinces in the country during that year.
"The government is rich, but the population is poor. Yes, tourism is giving this administration high revenues, but because of much focus on tourism, the government is no longer able to look at other issues like poverty, livelihood and malnutrition," she said.
Gumba attributed this "lack of leadership" to the management style of Camarines Sur Governor Luis Raymond "L. Ray" Villafuerte Jr., who has led the province for the past eight years.
"Iba kasi talaga ang passion, ang interests niya [L. Ray]. Magaling siya sa socialization and sa corporate aspect, kasi he came from the corporate sector before entering government. However, his leadership style really tends to keep the return of investment to the government," the professor said.
'Waste of time'
GMA News Online asked Gov. Villafuerte to respond to these observations, but repeated calls and text messages were left unanswered.
In an earlier television interview, however, the governor called the plan to split Camarines Sur into provinces as a "waste of time, energy and resources."
"Palagi pong ang sinasabing rason ay napakalaki na raw po ng probinsya. Kailangan na raw pong hatiin. Kung ang sagot po sa kahirapan ay paghahati, hatiin na lang po natin lahat ng probinsiya," he said in an interview aired over GMA News TV's "News To Go."
He added that the proposal to create Nueva Camarines will only result in two "economically unviable" provinces.
A study conducted by the Local Government Development Foundation and the Konrad Adenauer Stiftung in 2005 supports Gov. Villafuerte's assertions.
The research said using efficient delivery of social services as reason to justify fragmentation is "questionable and at best, theoretical and speculative."
Data from the National Statistics Office also suggest that most of the poorest provinces in the country last year—such as Tawi-Tawi, Kalinga, Misamis Occidental and Zamboanga del Norte—were small provinces detached from once-bigger mother provinces.
Political interests?
Gov. Villafuerte likewise accused his own father, Rep. Villafuerte, and Fuentebella of pushing for the splitting of Camarines Sur for their own political interests.
The younger Villafuerte said his father wants to reclaim the leadership of Camarines Sur, while Fuentebella is supposedly aspiring to become Nueva Camarines' first governor.
"Ang sabi po nila, matagal na pinag-isipan ang paghati ng Camarines Sur. Ang sagot ko naman po diyan: bakit ngayon nila tinutulak samantalang last term na silang dalawa?" the governor said in the television interview.
The Villafuerte father and son had a falling out in 2004 after L.Ray supposedly removed his dad's trusted officials and personnel from the provincial capitol when he assumed office that year.
The elder Villafuerte, however, denied his son's claims, saying the bill creating Nueva Camarines has nothing to do with his plans for the 2013 polls.
"Mahati o hindi mahati, tatakbo akong governor ng Camarines Sur. Matagal ko nang sinabi iyan," the lawmaker said in a separate phone interview. L.Ray's son Miguel, the elder Villafuerte's grandson, is reportedly eyeing the same post.
Fuentebella, for his part, said it is "wrong" to ascribe political interest to the plan to split Camarines Sur into two, since the proposal came not just from himself.
"If you come to think of it, this bill was supported by warring political factions. I am sure they will not agree to this if they think na kami lang magbebenefit kapag naipasa ito," he said.
'Political paranoia'
For Rene Gumba, head of the Ateneo De Naga's Institute of Politics, the "paranoia" that some politicians will benefit from the planned creation of Nueva Camarines is really dividing the people in his province.
"Ang hirap alisin ng pagdududa sa isip na mga tao na walang makikinabang dito politically. Ito talaga ang pinakamatingkad na tinik dito sa planong ito," he said in a separate phone interview.
He added that the plebiscite which will be scheduled in case Congress approves the bill creating Nueva Camarines will ensure that the proposal has the people's blessing.
The political science professor, however, said that this plan to divide Camarines Sur is only doomed to fail if it will not be accompanied by a change in the province's politicians.
"Ako, naniniwala na dalawa itong dapat pagsabayin. Kailangan i-address 'yung problema sa structure, pero kailangan ding may kasabay itong pagbabago sa kultura at ugali ng mga namumuno rito," he said. — RSJ, GMA News