Lawyer wants test case on Cybercrime Law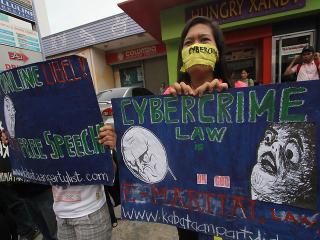 Davao netizens protest vs anti-cybercrime law. Student activists and netizens in Davao City join a nationwide protest on Tuesday as an expression of defiance against the Cybercrime Prevention Law. The protesters said the law was crafted by the government to suppress its critics. Karlos Manlupig
Lawyer and Philippine Internet Freedom Alliance member Argee Guevarra feared that regardless of how numerous petitions against the Cybercrime Prevention Act of 2012 are filed with the Supreme Court, nothing will come of them as no "judicial controversy" has emerged from the law yet.
To remedy this, Guevarra is trying to create the judicial controversy or test case by setting himself up as bait.
On Tuesday, Guevarra reposted on his Facebook account 2010 press releases which called Dr. Vicky Belo "Bangag sa botox," "Reyna ng Kaplastikan," and "Reyna ng Kapalpakan."
These press releases had prompted Belo to file a libel case against him in 2010. The case was ultimately junked on jurisdictional grounds.
The Tuesday re-posting is Guevarra's challenge for Belo to sue him anew.
"The move [to repost the press release on Belo] was part of a legal strategy to ensure that the 7 petitions filed before the Supreme Court by various cause-oriented groups and individuals be given due course by the high tribunal," said Guevarra in a statement.
"The Supreme Court might not take cognizance of the petitions considering there is no actual judicial controversy involving the rights and interests of litigants where its power of judicial review would require invocation," the lawyer added.
Guevarra stressed however that the high court should tackle the petitions nonetheless due to the law's "transcendental importance to the more than 30 million internet users in the country."
"The internet as an instrument of technology should unleash more freedoms to our citizens instead of tyrannize netizens into becoming hapless self-censors of their own thoughts and beliefs," Guevarra said.
Guevarra described the Internet and social media as the "EDSA" (the 1986 civil-disobedience revolt that ended the Ferdinand Marcos' rule) of netizens "which should be free from the tyranny of idiotic and stupid laws that only causes oppressive traffic."
"If the internet libel provision is not amended soon or stricken down as unconstitutional by the Supreme Court, Philippine cyberspace will be virtually in a state of Martial Law," Guevarra said.
On Tuesday, Guevarra's group joined protestors who staged a demonstration outside the Supreme Court building along Padre Faura Manila to denounce the passage of the Cybercrime Law.
The protesters carried black placards and placed black adhesive tapes on their mouths as they carried out their "silent protest." — DVM, GMA News