Movie review: 'Taken 2': a straight up revenge action flick
Let's get this out of the way: much like its protagonist, Brian Mills, played once again by Liam Neeson, "Taken 2" is a single-minded, tenacious, focused, and unwavering thing. It sees no distractions, entertains no pretensions of self-awareness, has no aspirations toward larger meanings or metaphors. All that it wants to do is deliver a straight up revenge action flick.
The setup, if you really haven't heard it yet, is that in revenge for Mills' having trashed half of Paris and executed a bunch of dudes working for a sex slavery ring, Mills is being hunted by the remaining half of that village from which said slave ring came from. There's an old dude who promises to avenge all of the sons, grandsons, husbands, brothers, etc., who died at the hands of Mills. His grand plan: grab Mills, his ex-wife, and daughter, bring them to the village, and kill them there.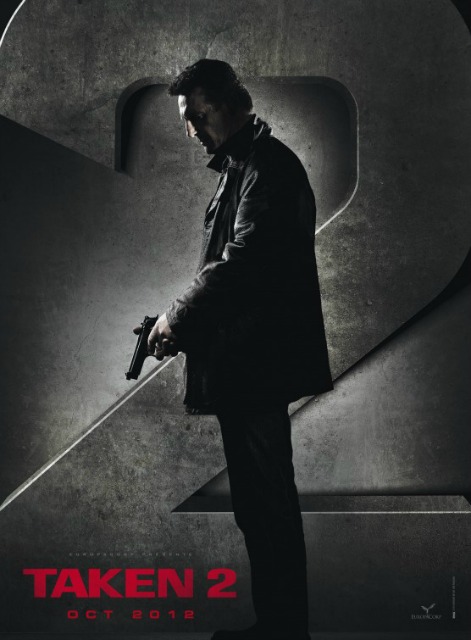 What ensues is predictable: hairy situations that the family barely gets through, massive action sequences, bunches of dudes getting slaughtered (I swear, by the end of this film I doubt if they will have enough men left in that village to keep it going in future generations), and a rather icky cutesy family humor sequence.
Yes, this film, while drenched in badass-ness, is bookended by off-tone family drama. At the beginning we are introduced to teen issues and daughter Kim now dating a douchey looking frat dude. This is of course supposed to engender humanity and humor as we see badass Brian's reactions to his daughter having a boyfriend. At the same time his ex-wife, Lenore, is recently separated from her husband and there are hints of a possible reconciliation between her and Brian.
Brian gets assigned to a security detail in Istanbul. Kim and Lenore show up to spend a few days vacationing there. And then the angry villager dudes show up and ruin their vacation. People get taken, ass-kicking ensues. Then the bookend at the end where we have, of all things, a cutesy little scene at a diner with milkshakes. Eh? Whatever, we don't really care about that anyway right? We just care about the action.
The action mostly delivers. High-speed chases, shoot-outs, a very good hand-to-hand sequence towards film's end. I have quibbles with some of the directorial choices when there are hand-to-hand sequences. Quick camera whips, awkward cuts, and the ever-damnable shaky cam all make appearances, as if they needed to resort to camera trickery. On the contrary, Neeson and his opponents move convincingly and the action is choreographed well. I grumbled and wondered if any of these shaky-cam addicted directors ever watched "Enter the Dragon." What we want is a sense of space so that we know what's going on. But apart from the crappy hand-to-hand combat most of this was pretty good stuff.
That's all to be expected anyway. Here's what I think is more important when looking at this film. Again, it's not trying to blow your mind, it's not trying to say something about the world, it is not meant to lead anyone to epiphanies.
What this movie is, is the embodiment of the greatest macho fantasies. Mills is an older dude. He is ex-intelligence, working freelance now. He makes a lot of money. He has an ex who is suddenly realizing the mistake she made in leaving him. He has a group of bros that he hangs out with to eat barbecue, and talk basketball and girls with. And he kicks ass. A lot of ass. He is capable of rescuing his family, of taking down bad guys, and of dishing out justice. He is hardcore, but he is kind. He can snap a neck, but he can be tender and loving to the ladies. Really, he's like James Bond if James Bond had to protect his kid and wife.
So let's take this movie as that. It is a fantasy film. At the screening there were moments when dudes where screaming, "YEAH!" and punching the air with their fists. We all want to be heroes, we all want to rescue the people we love, we all want to take down bad guys. And with Mills/Neeson as surrogate, "Taken 2" proves irresistible. –KG, GMA News