Cybercrime Act is 'double threat' to PHL media, intl journalists warn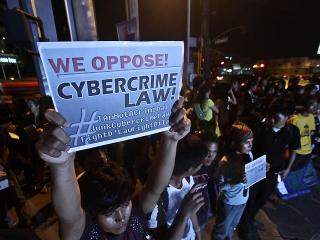 Anti-cybercrime law protests in Davao grow. In what started as a small protest action with only 30 activists on Tuesday, protests in Davao City against the Cybercrime Prevention Act have gained more support. More than 100 netizens and students joined the cultural protest on Wednesday evening. Karlos Manlupig
A New York-based watchdog group on Saturday urged the government to get to work soonest in amending the Anti-Cybercrime Act, as it scored the measure's double threat to Philippine media.
Committee to Protect Journalists (CPJ) Asia Program Coordinator Bob Dietz warned that the law allows the Justice Department to summarily shut down a website, or a politician to stifle media with a libel threat.
"Better get to work before some thin-skinned politico decides to silence a tweeting critic with the threat of a 12-year jail sentence," Dietz said in
a blog post
.
PHL gov't made a mistake with 'bewildering law'
Dietz said it was "bewildering" that the government coupled a law targeting so-called cybercrimes like cybersex, child pornography, identity theft, and spamming with the "hoary and over-used concept of libel."
Even more mysterious, he added, was why the government felt it should "suspend its lengthy heritage of due legal process by giving the Department of Justice power to shut down websites and monitor all online activities without a warrant."
"The no due process/no warrant clause might be the first to go. But, for journalists and other citizens, the libel laws are equally threatening. Under the new law, comments posted online and judged libelous are criminal offenses, with a penalty of up to 12 years in jail —a much longer sentence than for libel in traditional media," he said.
He noted the government admitted last Oct. 4 it had made a mistake when presidential spokesman Edwin Lacierda said the government will "recognize and respect efforts not only to raise these issues in court, but to propose amendments to the law in accordance with constitutional processes."
Dietz noted the staff at Malacañang had claimed it did not know how those suspensions of due process and overzealous libel clauses made it into the law that Aquino signed last month.
He also noted the Palace has tried its best to distance itself since then, even though President Benigno Aquino III publicly signed it into law.
Politicians accusing critics of libel a 'time-honored sport'
On the other hand, he said the online libel clause is "chilling, to say the least."
"Politicians accusing critics of libel is a time-honored sport in the Philippines, though very often one which does not bring a conviction. Well-heeled, well-lawyered politicos love to harass their critics, cowing them into silence through the threat of lengthy, draining lawsuits making their way languidly through the Philippine court system," he said.
He noted that in 2006, the government under then President Gloria Arroyo filed at least 10 different criminal libel lawsuits against 43 journalists seeking damages totaling P70 million.
Penalties for criminal libel convictions in the Philippines also include imprisonment of six months to six years.
"Libel-wise, that was an extraordinarily bad year, but also an indicator of how public figures, corrupt or not, go about protecting their image," Dietz said.
Mounting international unrest vs Philippine law
Access lamented the emerging new reality in the Philippines is that sharing a link, clicking "Like" on Facebook, or retweeting could mean 12 years in jail.
It said the Cybercrime Prevention Act "is so broad and loophole-ridden that a wide range of online activity could be considered libelous."
"Even if you don't write the material, just sharing it with someone online could land you in prison," it said.
Because of the unjust law, it said Filipinos have been protesting in the streets and online to stand up for their rights.
On September 18, the Electronic Frontier Foundation (EFF) issued a statement in which it pointed out that the libel laws underpinning the Act go against United Nations declarations.
"The United Nations Human Rights Council (UNHRC) has determined that the criminal sanctions imposed on those accused of libel are incompatible with Article 19, paragraph 3 of the International Covenant on Civil and Political Rights (ICCPR)," the statement said.
"EFF is gravely concerned about the implications of the libel provision in the Cybercrime Act and supports local journalists and free expression advocates in opposing it," the statement concluded.
A day later, the Asia-Pacific chapter of the International Federation of Journalists (IFJ) backed the National Union of Journalists of the Philippines (NUJP) in "expressing serious concern" over the Act.
"The IFJ is greatly concerned that the inclusion of online content in the Act could be used to curtail freedom of expression online, " the IFJ said.
"We are further concerned that the government of the Philippines continues to delay the passing of the (Freedom of Information bill), which clearly stands against their stated commitment to press freedom," the IFJ added, referring to a delayed bill that would have facilitated public access to government documents.
On September 28, the international Human Rights Watch (HRW) called the Act "unconstitutional".
"The cybercrime law needs to be repealed or replaced. It violates Filipinos' rights to free expression and it is wholly incompatible with the Philippine government's obligations under international law," said HRW Asia director Brad Adams.
"So long as it stands, the new cybercrime law will have a chilling effect over the entire Philippine online community," Adams warned. — TJD, GMA News