All characters welcome at Cosplay Mania 2012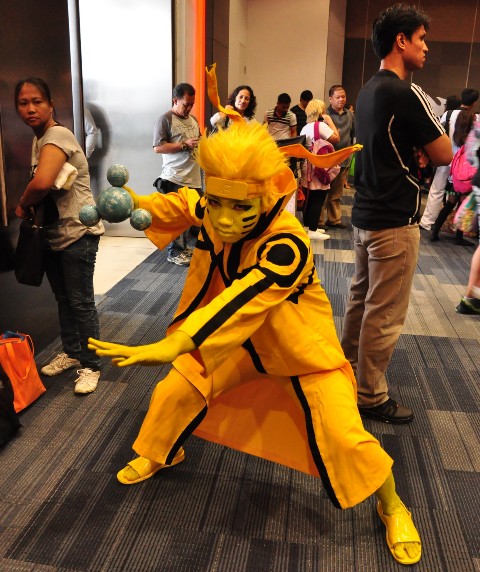 No cosplay event—including Cosplay Mania 2012—is complete without Naruto.
Got pink hair, paper-white skin or robotic arms? Then you'll feel right at home in Cosplay Mania.
Organized by Cosplay.ph, Cosplay Mania 2012 took place on Sept. 29 and 30 at the SMX Convention Center in Pasay City. Following a tradition going back to 2008, the event aimed to elevate cosplay to a level of artistry and professionalism never before seen in the Philippines.
Cosplay contests are part and parcel of most events these days, and even corporate and charity events hold costume contests to spice things up. The Toy Con, held every year in SM Megamall, boasts its own impressive individual and group cosplay contests. But few events are dedicated solely to the art and majesty of cosplay, and even fewer can match the scale of Cosplay Mania.
This year, the event took up two large function rooms in SMX Convention Center in Pasay City, in addition to the smaller meeting rooms. It's a wonder the space was enough, with 15,000 guests coming from all over the Philippines, and even Singapore and Japan. A P150 ticket could get you into Function Room 4, where there were auctions, games and giveaways, Gundam model kit-building contests, eating contests, and even a Sony Playstation 3 gaming tournament. For P250, you could enter the VIP area in Function Room 5, where the various cosplay contests and awarding ceremonies took place.
Meet the cosplayers
Most people assume that cosplayers are teenagers: maybe in high school, crazy about anime and christening themselves with Japanese names. Some people think cosplayers just throw on any old thing from the ukay-ukay or their mom's closet and call it a costume. The truth can be quite surprising, though.
One of Cosplay Mania's earliest guests was Danielle, a pretty 13-year-old girl from Cebu. It was her first time to attend Cosplay Mania, and she was there bright and early on Saturday morning with her mom, Marie. "Original anime character yung ginawa niya," Marie said.
Danielle liked joining cosplay contests in Cebu, in her school and at other events. She has many friends and classmates who cosplay too, and most of them wanted to attend Cosplay Mania this year. Marie said of Danielle's hobby, "Hilig niya talaga e, kaya sinasamahan ko siya, tinutulungan ko."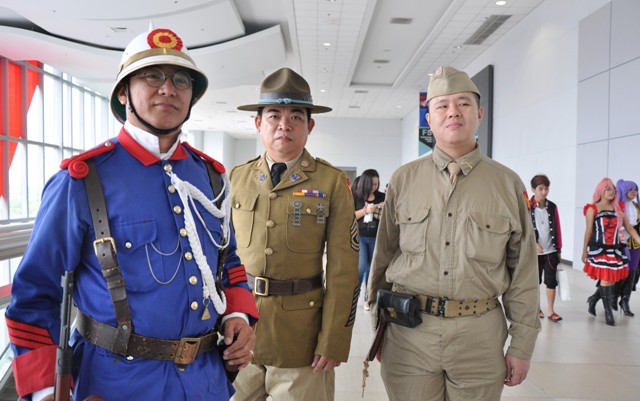 Amid the more familiar sights of girls with pink and purple hair (far right), the Buhay na Kasaysayan brought Philippine history to Cosplay Mania 2012.
Ten-year-old Mika was at Cosplay Mania for the first time too. Her dad had been to previous Cosplay Mania events, and invited her to go along this year. "I love coming here, I love anime," he said. "I've been going to cosplay events for years, and I invited my daughter to come along with me." Mika was so excited to be there, and it was she who insisted on attending the event in costume.
Nicole, a young professional, attended Cosplay Mania even though she wasn't in costume. "Kailangan ko lang ng break sa trabaho," she said. "At hilig ko talaga ang manga, anime." She didn't even know the schedule or the activities, but she wanted to attend the event and hang out with her friends.
Cosplay Mania 2012 was definitely for the young at heart, too. In attendance were the guys from Buhay na Kasaysayan, a local association that promotes costuming in historical garb. Their costumes ranged from Katipuneros to guardia sibil, Japanese imperial officers to guerrillas. With them in Muggle gear was UP Manila history professor Bernard Karganilla, who brought his students along. "Sabi ko mag-costume din sila, sumali sila sa contests, matuto sila," he said.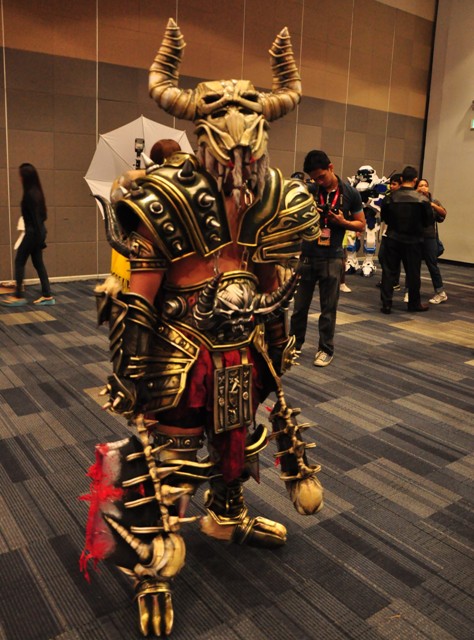 Participants such as this armored creature brought cosplay to a level never before seen in the country.
Bernard is a regular at cosplay events, though he's never in costume himself. But he is an avid supporter of cosplay and has organized cosplay events in UP Manila. And with the support of people like Karganilla, perhaps more people will realize how cosplay breeds creativity, innovation and ingenuity.
Cosplay celebrities
Even non-cosplayers have probably heard of Alodia Gosiengfiao, who has gone from "Cosplay Goddess" to model, actress and product endorser.
But at Cosplay Mania 2012, there were
other guests of international fame
.
Reika Arikawa, a famous Japanese cosplayer, did a meet and greet with her fans, signed autographs and judged the contests. Reika, most popular for her portrayals of Barnaby Brooks Jr. from Tiger And Bunny and Ren Jinguuji from Uta no☆Prince-sama♪, was the guest of honor for Cosplay Mania 2012.
Kaname☆, another world-renowned Japanese cosplayer best known for cosplaying Cloud Strife from the video game Final Fantasy VII, was there as well. Also present was Singaporean Jesuke Jess, who was a guest at Cosplay Mania X in 2010.
Non-cosplayers welcome too
While most of the halls were filled with cosplayers of all ages, shapes, colors and sizes, there were quite a few activities for the Muggles too. There was a Gundam booth where various toys were on display. There was a model kit building contest open to kids between the ages of 7 and 12. For older kids and kids at heart there was a Gundam building and detailing contest too, and many fans sat at the tables for hours, working on their masterpieces.
The available merchandise was almost as varied as the cosplayers' characters. One stall sold t-shirts printed with various memes, as well as headbands, accessories, hats and backpacks with cute anime designs. Those umbrellas designed to look like samurai katanas? There were plenty in the Comic Alley booth. There was even an umbrella that looked like Captain America's shield. One shirt in the Angel Creations booth said, "Make love, not Horcruxes."
Another booth sold wigs of every imaginable color. Right in front of it was a booth promoting the MMORPG DragonNest. Taking advantage of the enthusiasm for anything Japanese, there was a Visit Japan booth that provided information on "Affordable Japan."
So, even if you didn't have yellow skin, armor or a pirate hat, you might have enjoyed Cosplay Mania 2012 too!
— BM, GMA News