Half of married Pinoy Catholics did not get married in church
Roughly one of every two married Filipinos claims to not have had a church wedding because it would have been costly, a survey involving 2,500 respondents across 85 Catholic archdioceses and diocese nationwide from April to June this year revealed.
Among the Veritas Truth Survey (VTS) respondents who said they had a salary of P25,000 a month or higher, only 51 percent said they were married in church. For respondents who said they earned less than P5,000 per month, 47 percent were married in church.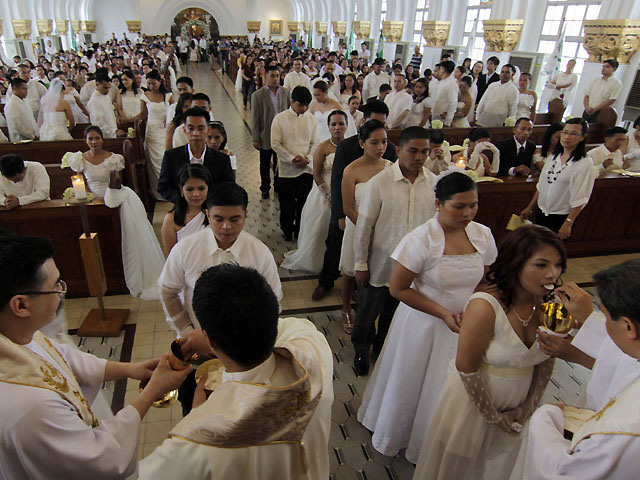 An alternative to the exclusive church wedding is the mass wedding. "Almost all the parishes in the Philippines conduct free mass weddings," said Msgr. Francis Lucas of the Catholic Bishops Conference of the Philippines.
Danny Pata
"Bumababa ang bilang ng kasal sa Pilipinas siguro dahil they perceive marriage as expensive. That is the dominant reason," said Clifford Sorita of VTS, who presented the survey findings.
The church wedding percentages that came out of the survey by VTS are 10 percentage points higher than the figures from the National Statistics Office (NSO). The NSO has known for many years—and said so—that roughly only one of three marriages in the country each year is a Catholic church wedding. According to the official figures of the National Statistics Office, only 35 percent of marriages solemnized in 2010 were Catholic church weddings.
"Marriages performed in civil rites continued to top the list among all types of marriage ceremony. This year (2010), marriage under civil rites recorded 209,952 or 43.5 percent of the total marriages," the NSO said on its website.
"Marriages solemnized under Roman Catholic ceremony covered 35.0 percent of the total, while one-fifth of the total marriage proportion was solemnized by other religious rites (including Muslim) (100,057 or 20.7%). Moreover, it is an interesting fact that there were 3,242 marriages solemnized under tribal rites," the
NSO also said
.
In the VTS survey, 50 percent of the people surveyed gave no answer when asked what kind of wedding they had. Only 7.5 percent said their wedding was not in a church.
VTS' Sorita said, "Sa Filipino kasi, kapag kasal ka, bakit hindi mo sasabihin na kasal ka… Medyo nahihiya sila. They are not comfortable. They would rather hide in anonymity."
From free to expensive
"Almost all the parishes in the Philippines conduct free mass weddings," said Msgr. Francis Lucas of the Catholic Bishops Conference of the Philippines in a phone interview with GMA News Online. Msgr. Lucas is the Executive Secretary of CBCP's Episcopal Commission on Social Communication and Mass Media.
"It depends on how they want the wedding done. Ang kaso marami sa atin gusto espesyal, eh siyempre mahal," Msgr. Lucas also said.
By special, Lucas said that would include "additions like a choir, a choir director, additional decorations, etcetera."
A Filipino Catholic church wedding with all the works may cost
more than P100,000
.
Other NSO marriage data show that from 2003 to 2007, 36 to 37 percent was the average of weddings done in Catholic churches.
According to past publications of the Sacred Heart of Jesus Parish in Kamuning in Quezon City, the parish had only 127 weddings in 2007. In its Sanlakbay 2001 Diamond Jubilee book, the parish said that in 1993 it had 490 weddings. In the same book, the parish did note that the size of its area coverage has shrunk over the years as parts of it were spun off to create new parishes.
The parish's 2007 fiesta souvenir program said the number of weddings it hosted from 2001 to 2003 were a little over 200 per year. From 2004 to 2006, that fell to just above 100 weddings.
Other possible reasons the parish mentioned in the souvenir program for the drop in weddings were:
more live-in couples;
more civil marriages;
switched to another religion;
expenses in getting married;
couples get married in other parishes; and
problems with birth certificate, baptismal certificate and other requirements like the certificate of no marriage (CENOMAR)
In the same publication, the parish also noted that in 2006 more than two-thirds of children baptized there are "children of parents who were mot married in a Catholic church."
– Earl Victor L. Rosero/KG/HS, GMA News