Hijab-wearing news anchor a first on PHL national TV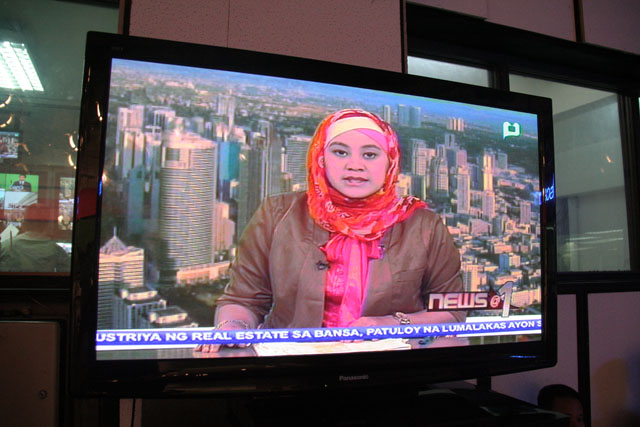 Photos by Roehl Niño Bautista
The sight in August of a hijab-clad news anchor on national TV should not have come as a surprise. Muslims in traditional head garb, after all, have long been visible even in predominantly Christian cities all over the Philippines.
But none had ever before appeared presenting the news to a nationwide audience.
Princess Habibah Sarip is a pioneer, the first Filipina news anchor to wear a hijab on national TV, on the government network PTV-4. It's a conscious symbol of inclusion by the government, according to PTV-4 news director Ed Finlan. A hijab is a veil that covers the hair and neck.
"Since I took over, I felt that we are the network of the country. Sambayanan ang aming boss. Eh bakit wala 'yung mga Muslim? Bakit hindi sila nabibigyan ng kanilang nararapat na lugar sa mundo ng pagbabalita, 'di ba?" Finlan told GMA News Online in an interview.
"Nadesisyunan namin na magkakaroon kami ng auditions for Muslim women para naman maging buo 'yung spectrum," he added.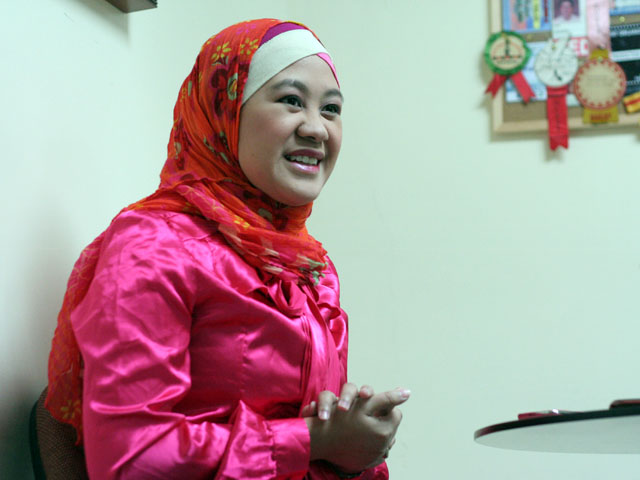 Princess Habibah Sarip, 25, on wearing a hijab: 'We have to keep our hair and neck covered. It's as simple as that.'
Marawi native
The 25-year-old Sarip came to Manila in a deluge only to be baptized by fire.
On August 7, at the height of the nameless storm that submerged many areas in Metro Manila, she arrived in Manila from her home in Marawi City to start her new job as an anchor at the state-owned broadcast network.
First coverage
She was offered the job after the auditions, simply because "she's the best," said Finlan, who then gave Sarip her first assignment: to anchor the network's special habagat coverage, on the very day she arrived in Manila.
"I didn't have any idea. I thought I would just be here, sasabihan nila ko na ipapa-observe, iti-train muna ng kahit isang araw, dalawang araw, I was just shocked na sinabi nila, you're gonna be on air… I didn't have any idea anong meron ang bagyo, anong meron ang mga ganitong pagbaha," Sarip recalled with a laugh.
But Finlan proudly said that Sarip passed that first test with flying colors.
"Kung ilalagay mo rin lang sa huli, lagay mo na sa mantika kaagad para matuto. Kaya nung nagbagyo nung habagat, hindi ko pa siya sinabihan na maga-anchor na siya. Sinalang ko na siya agad sa anchor desk... I'm glad to say that she, with a few stumbles here and there, nakuha niya kaagad 'yung palakad ng pagbabalita," he said.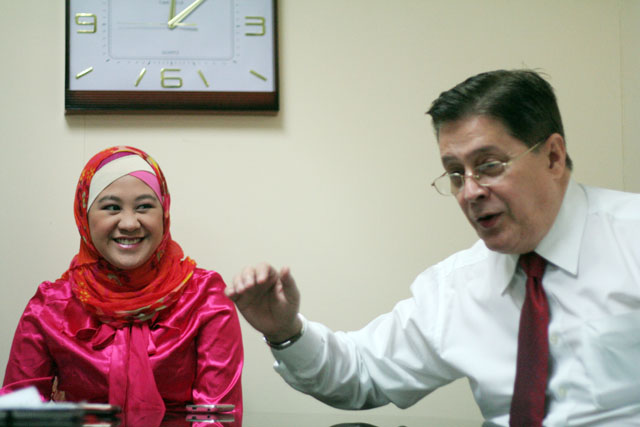 PTV-4 News Director Ed Finlan (R): "We now have a higher rating in Mindanao because of Sarip."
Positive feedback, higher ratings
Both Sarip and Finlan shared that the feedback to the inclusion of Sarip has been nothing but positive so far.
"In fact, I will even say that we have a higher rating now in Mindanao because of her. Obvious naman 'yun, follow through lang, taga dun ka eh, siyempre susundan ka. Atsaka first time nangyari yun," Finlan said.
Sarip agreed, adding, "it's because may nakita silang something new… nakita nila na nung nandun ako na na-feel na nila that the Philippines, the Filipino people want to embrace the Muslim Filipino people. So in that sense, mas lalong dumagdag tayo ng viewers natin, mas lalong gumanda 'yung feedback."
Yet as much as she has become a representative for the Muslim community in the broadcast industry, when it comes to reporting on issues that involve Muslims—whether it's in a positive or negative light—Sarip knows that she has to separate her religious beliefs from her professional life.
Finlan shared: "Minsan tinanong ko si Princess, may problema ka ba pag nagbasa ka ng storya na 'di kanais-nais sa mga Muslim? Sabi niya, no, it's news, and that is my job here. I may be a Muslim, but my job is to be a newscaster. The same with the Christians. Tayo sanay na tayo binabatikos 'yung ating relihiyon kung balita 'yan. So ganun din kay Princess."
For all the ground that she is breaking, and as much as her hijab-clad countenance has inspired many Muslims, Sarip shared that wearing her hijab on air is not a conscious statement, but simply the practice of her religion.
"We have to keep our hair and neck covered. It's as simple as that," she said.
Finlan added, "When we talk of political divides in any organization, you immediately create a limit to how a person can work or not work so we have removed that from the very beginning."
Nothing new to PTV
"We do have a deskman here who is also from Mindanao and is a Muslim. In fact, he will be the head of our new PTV-ARMM. In other words, it's nothing new to PTV. But putting them in the national consciousness of those who watch news is a totally different story, and we did that with Princess here," he said.
According to Finlan, "She calls him Allah, I call him God, but at the end of the day they're all one and the same. She calls herself Muslim, I call myself Christian, but we're both Filipinos."
— KBK/HS, GMA News