Brigitte Bardot joins call for elephant Mali's release from Manila Zoo
Iconic French film star Brigitte Bardot has joined the campaign to transfer Manila Zoo's lone elephant, Mali, to a sanctuary in Thailand.
"Elephants are animals who are totally unfit for captivity," Bardot said in a letter to Cristina G. Ortega, the Philippine Ambassador to France, urging her to convey the message to Philippine authorities.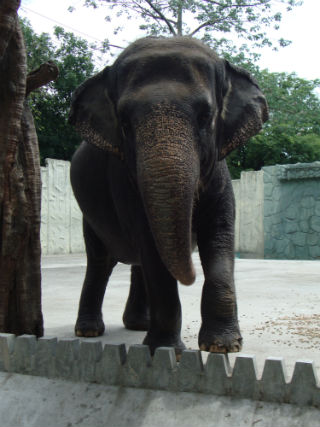 Mali has been in captivity at the Manila Zoo for 35 years. Photo courtesy of PETA
Bardot, a popular sex symbol in the 1960s, is the latest high-profile foreign celebrity to join the call of the People for the Ethical Treatment of Animals (PETA) for Mali's release, after British pop star Morrissey and 2003 Nobel laureate in literature J.M. Coetzee.
Both Morrissey and Coetzee had also written letters to the Philippine government asking for Mali's transfer.
In her letter, Bardot pointed out that elephants in zoos suffer both physically and psychologically when confined and separated from other elephants.
Mali has been confined to a small enclosure at the Manila Zoo for 35 years.
"The life expectancy of Asian elephants is estimated at 70 years, so Mali has lived half of her life, and after all these years of exploitation and slavery, it is a matter of duty to give her back her freedom," wrote Bardot.
Manila Zoo, on the other hand, has refuted this. According to Manila Zoo's veterinarian Donald Manalastas, Mali is better off at the zoo.
"With her condition at 'yung kanyang matagal na stay dito, kapag nilipat po hindi na siya mabubuhay,"
Manalastas said in a report last June
.
According to PETA, Mali, in her current environment, is denied everything that's natural and important to her, while in a sanctuary, she would have acres in which to roam, rivers and ponds to bathe in, and the crucial company of other elephants.
In May, President Benigno Aquino III
ordered
the Bureau of Animal Industry to evaluate if Mali should be transferred to Thailand.
A growing number of elephant experts, including Dr. Jane Goodall and world-renowned veterinarian Dr. Henry Richardson, who in June found out that Mali was suffering from potentially fatal foot problems, have been calling for Mali's transfer to a sanctuary, PETA said.
The call has also reached cyberspace: An online petition for Mali's release has garnered almost 40,000 signatures.
Even the Catholic Bishops' Conference of the Philippines (CBCP)
has also joined
the campaign last June.
— Carmela G. Lapeña/KBK, GMA News