Patok na bagong-usong salita sa 'Ang Pinaka'
ANG PINAKA
Patok na Bagong-usong Salita
Airing Date: October 21, 2012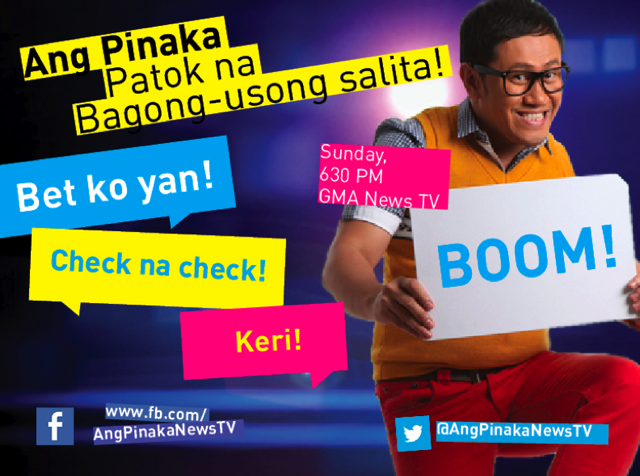 Sinotto. Beki. Nganga. Level-up. Boom!

Pinoys just love concocting new words or ascribing new meanings to already familiar words. Due to the pervasive influence of media and social media, these 'pausong' words have enjoyed widespread reach and usage that they've become part and parcel of Pinoy vocabulary and communication.

This Sunday, 2012 Catholic Mass Media Award (CMMA) Winner for Best Adult Educational/Cultural Program 'Ang Pinaka' brings you a list of some of the most colorful 'reinvented' words in the top ten 'Ang Pinaka: Patok na Bagong-Usong Salita.'

Joining host Rovilson Fernandez are guest panelistas: UP Professor Dr. Jovy Peregrino, podcast host Jake Galvez and 90.7 Love Radio deejays Chris Tsuper and Nicolehiyala. Also featured are field komentaristas Maey and Betong.

Find out the Top 10 "Ang Pinaka: Patok na Bagong-Usong Salita" this Sunday on 'Ang Pinaka,' October 21, 2012 at 6:30PM on GMA News TV.