Pedro Calungsod canonization a welcome respite for PHL church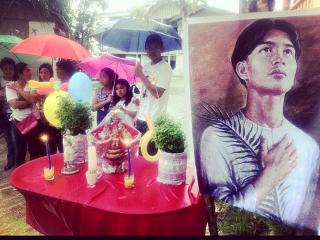 Ginatilan awaits native son Pedro Calungsod's canonization. Homes along rainy procession route in Cebu's Ginatilan town display mini Calungsod shrines. Howie Severino
(Updated 11:55 a.m., Oct.22)
Blessed Pedro Calungsod, a teenage Catholic missionary who died a martyr in Guam more than three centuries ago, officially became the second Filipino saint on Sunday in canonization rites officiated by Pope Benedict XVI in the Vatican.
Calungsod was proclaimed saint with six others during a public consistory, or an assembly of Roman Catholic cardinals, celebrated by the Pope at the St. Peter's Square.
It brought to a close years of anticipation after Calungsod was beatified and given the honorific "Blessed" in 2000. His sainthood also provides a welcome respite to a Philippine church that has had little to celebrate this year, particularly in deeply devout Cebu, said to be Calungsod's native province.
"We are not only relieved but inspired," said Rev. Gerry de la Victoria, parish priest in Ginatilan, the small Cebu town that claims Calungsod as its native son.
The Cebu church hierarchy was rocked by an international scandal just last month when a leading clergyman in the province, Monsignor Cristobal Garcia, was featured in a National Geographic cover story as having a large collection of religious figurines possibly made of ivory from recently slaughtered African elephants.
The controversy also led to revelations that Garcia had been suspended from ministerial duties by the Vatican as he is being investigated for sex abuse charges while a priest in California.
In addition, the church stand against reproductive health has been challenged by increasingly assertive pro-RH advocates, comprised of many avowed Catholics, including President Aquino.
Miracle attributed to St. Pedro
Those troubles have been temporarily set aside as many Filipinos rejoiced over the choice of one of the youngest saints ever, a new icon certain to appeal to a young population tempted by popular alternative religious groups or disillusioned by a conservative Catholic church that seems to many to be resistant to change.
Vice President Jejomar Binay
represented the Philippine government
at Calungsod's canonization rites.
Calungsod was made a saint a year after the Vatican officially recognized a second miracle attributed to him—the healing of a businesswoman from Leyte who fell into a coma in 2003.
Calungsod is the second saint to come from the Philippines, a predominantly Roman Catholic country. More than two decades ago, the Vatican proclaimed Lorenzo Ruiz, a missionary martyred in Japan in 1637, as the first Filipino saint.
The Archdiocese of Cebu explains the
act of canonization
as "an infallible and irrevocable decision of the Pope." It signifies that a person "now reigns in eternal glory" and must be accorded honor due to a saint by the entire Roman Catholic Church.
Aside from Calungsod, also proclaimed saints were: Blessed Kateri Tekakwitha, Blessed Maria Anna Cope, Blessed Jacques Berthieu, Blessed Maria Schaeffer, Blessed Giovanni Battista Piamarta, and Blessed Maria del Carmen.
Who is Pedro Calungsod?
Calungsod was a teenage native of the Visayas region who joined Spanish Jesuit missionaries, led by Fr. Diego Luis de San Vitores, to a voyage to evangelize natives of the Mariana Islands in 1668.
On April 2, 1672, Calungsod, believed to be 17 years old at that time, went to Tumon village in Guam to aid San Vitores in baptizing a newborn baby.
The infant's father and the village chief, Mata'pang, supposedly refused to have the sacrament performed based on the belief that the baptismal water was poisonous. The baby's Christian mother, however, still gave her consent to the missionaries to baptize her child.
Upon learning about the baptism, Mata'pang and another villager named Hirao supposedly assaulted Calungsod and San Vitores. The Filipino martyr was hit by a spear, and ultimately killed by a blow to the head with a sword.
San Vitores was also killed during the encounter. The bodies of the missionaries were supposedly thrown into the sea and were never recovered.
During Calungsod's beatification ceremonies in 2000, the late Pope John Paul II described the Filipino martyr as a "good soldier of Christ… who intercedes for the young, in particular those of his native Philippines."
How he became a saint
Calungsod qualified for sainthood last year when the Vatican verified a "major miracle" reported by a doctor from Cebu City who supposedly invoked the Filipino martyr to heal a 49-year-old patient.
The patient, a woman from Leyte who had undergone heart surgery, was reportedly no longer moving, speaking or responding to any stimuli when the physician prayed to Calungsod.
"Hindi ka puwedeng maging milagro ng isang santo, kung halimbawa, ako, may anak akong mamamatay, gusto kong hingin ng tulong, sabihin ko 'Sana pagalingin niyo 'yung anak ko todos los santos.' Hindi puwede yun. kailangan isang santo o isang blessed lang," Fr. Francis Lucas, executive secretary of the CBCP Episcopal Commission on Social Communications and Mass Media, explained in an interview on News to Go on October 19.
The woman supposedly experienced "rapid recovery" during the next 48 hours after the doctor's prayer, and is still living.
"Immediate dapat yan, pati 'yung pagpapagaling. Hindi dahan-dahan, bigla. Kasi kapag dahan-dahan, baka natural causes. Ang daming pinapagaralan, pati yung theological side," Lucas said.
The patient's recovery was reported to the Archdiocese of Cebu, which verified the incident as a "supernatural occurrence" in June 2005. The results were then forwarded to the Congregation for the Causes of Saints in Vatican City, which recognized the validity of the process in November 2005.
"Ang miracle kasi, 'yan ang napakahirap iprove din kasi it's not only techinical. Because a miracle means something supernatural intervened," said Lucas, noting that it is not the saint, but God, who performs the miracle.
"It is God who intervened through the saint. We have to understand that ang Diyos dahil sa kanyang pagiging loyal, at kasama na niya sa langit ang Diyos, ang nag intervene," Lucas said.
The results were then forwarded to the Congregation for the Causes of Saints in Vatican City, which recognized the validity of the process in November 2005.
"Masusing pinapagaaralan ang bawat document kasi baka may falsification, baka may pambobola. Matindi yan kaya it takes a long process," Lucas explained.

"Magpasalamat tayo sa Panginoon, na mayroon na namang panibagong santo na dapat nating tularan," Lucas said.
Calungsod's feast day will be commemorated every April 2. Malacañang has described the Filipino martyr's sainthood as a source of
"great spiritual joy and national pride."
— Andreo Calonzo and Carmela G. Lapeña/BM/HS/RSJ, GMA News