A bookstore in Boracay, the unlikeliest of places
Boracay is a rather unlikely place to find a good bookstore. After all, most people don't go to this hyperactive island to get lost in a good book.
And yet along White Beach there is one bookery, Boracay Books, which claims to be the island's "only dedicated bookshop."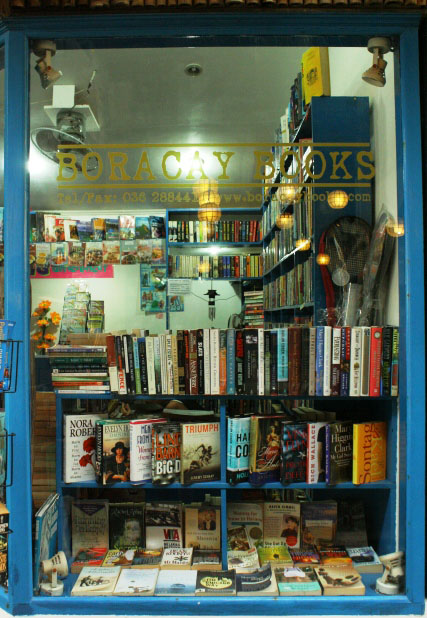 Nestled in a cozy corner amid restaurants, bars, and tattoo parlors, Boracay Books is a nice surprise for the unsuspecting bookworm. The store's window is enough to draw any hungry reader in.
Chancing upon the bookstore for the first time feels almost like falling victim to a desert mirage. First you walk down the length of Station 2 and pass through something of a commercial vortex: jam-packed big name restaurants, bars, souvenir shops, makeshift henna studios, braiding salons, and boatmen—all trying to get you to buy something of theirs.
And then you land on the bookstore, which is small, cozy, and, despite the lack of an over-zealous shop assistant—or perhaps exactly because of that—inviting.
Inside, the small store evokes the feel of a well-loved library, with soft lights, wall-to-wall bookshelves, and precarious stacks of paperbacks and hardcovers in the corners.
The store's exchange system allows patrons to bring in their old books to sell or trade for store credit. A book in "almost new condition" goes for P80, a slightly worn book for P60, and a very worn book for P40.
This system evidently works. A lot of the books bear marks of having been read thoroughly and well before they were shoved into the store's shelves: dog-eared corners, yellowed pages, worn covers, creased spines. Many are familiar bestsellers with titles in unfamiliar languages, brought in undoubtedly by the many foreign tourists that trawl the island's shores.
Of course, those without old books to trade can simply purchase the books, which cost anywhere from P100-P300 depending on the title. And there are many.
On Boracay Books' shelves, you can find all the book sale usuals: Nora Roberts romance novels, Anne Perry detective stories, Jonathan Kellerman psycho thrillers. There are also the classics: David Copperfield, and Anne of Green Gables.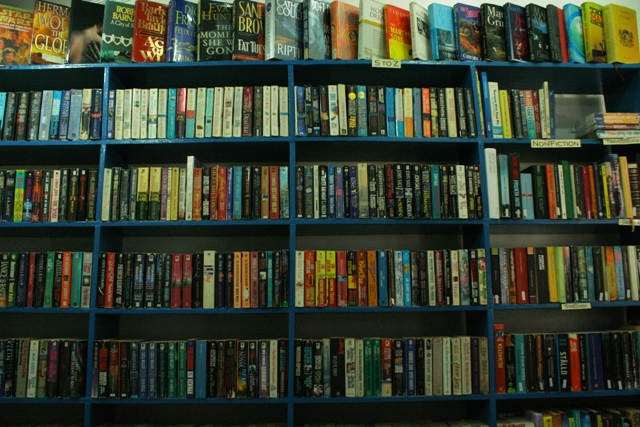 Wall to wall books evoke the feel of a library.
According to shop assistant Rachelle Oscares, they even get some mainstream bestsellers: "Harry Potter," "The Hunger Games," even "
Fifty Shades of Grey
" and "Twilight"—though these, she said, are inevitably snapped up almost as soon as they come in.
And then of course, there are the books from random authors whose names don't necessarily ring a bell, but whose stories nonetheless have the ability to satisfy any hungry bookworm.
Oscares shared that the bookshop is run by her boss and his family who used to live in Boracay, and who opened the store in 2008 simply because he loves to read. The store's patrons, Oscares shared, are mostly foreigners who are either traveling with Boracay as one of their stops, or have set up camp on the island and have become regulars at the cozy bookstore.
The store is most active during the summer months when European tourists come to the island, but even then, they don't get too many customers, even more so when it's low season.
Still, the store continues to stand even after several years. Maybe it's because of the simple fact that even if you don't go to Boracay with the intention of reading through the holiday, sometimes, a good book makes the best company when you're sunning on the island's white shores. –KG/HS, GMA News
Boracay Books is located at 12 Plazoleta, White Beach, Boracay Island, Malay, Aklan.