Boracay reaches 1-million tourist target ahead of schedule
(Updated Oct. 27, 2:50 p.m.)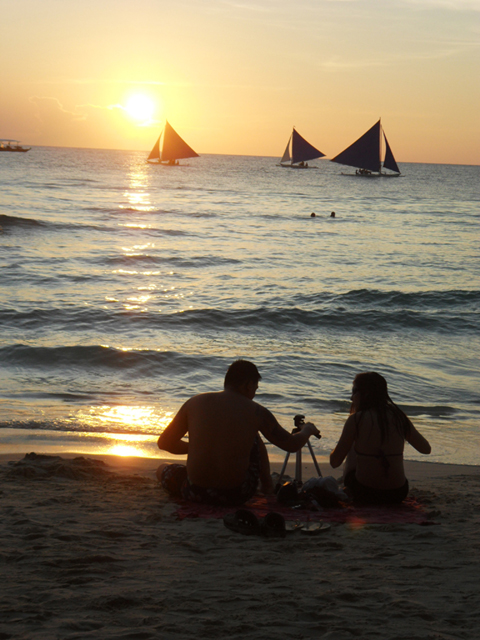 Boracay is famous for its white sand beaches and amazing sunsets.
Boracay keeps beckoning.
The tiny island known throughout the world hit its annual tourist arrival target of 1 million Friday afternoon, according to a report from Boracay-based multimedia group Boracay Informer.
The millionth visitor was South Korean Yuki Mau, who came to Boracay for the first time with her husband and two children, the report said.
It seemed apt but also unsurprising that a Korean would grab the plum, as Koreans and their culture now seem to be everywhere. The Boracay Informer did not mention if Yuki started dancing Gangnam Style when officials swarmed her as she hit the beach as the millionth tourist.
The local government initiated a countdown to the milestone once the arrivals reached 930,000 last September.
The bone-shaped isle with immaculate white sand beaches in Aklan province has already surpassed last year's total of 908,875.
Boracay's tourist arrivals are expected to reach 1.2 million by the end of the year.
Last July, readers of travelandleisure.com voted Boracay the
"world's best island"
in 2012, despite reports of overcrowding and the algae bloom along the beach, a sign of pollution.
According to the annual World's Best Awards of Travel + Leisure's online version, Boracay bested other famous islands such as Bali in Indonesia, Maui in Hawaii, and Australia's Great Barrier Reef Islands.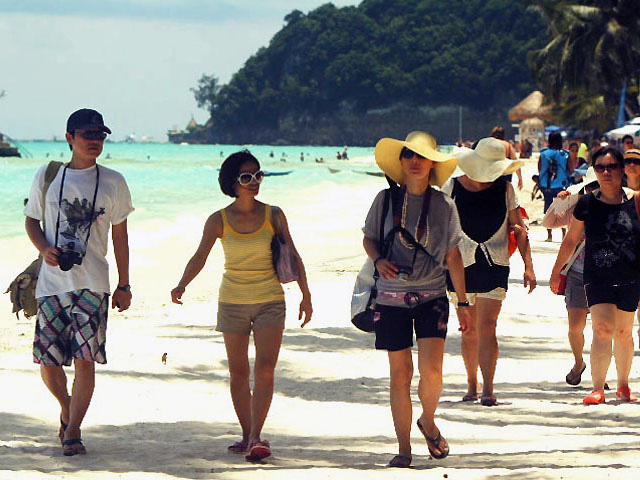 In an interview with GMA News Online, Councilor Jonathan Cabrera of Malay town in Aklan, attributes the accomplishment to stepped-up promotions.
"Halo-halo na yan ng lahat ng efforts both on private and government side," he said.
He also noted that roughly one third of the total number of foreigners who visit the Philippines also go to Boracay, with Korean nationals topping the list.
"Almost one-third of tourists yung destination is Boracay since 3 to 4 million ang national figure and Boracay has hit the 1 million mark. Of these visitors, pinakamarami ang Korean nationals." he added.
He said the Koreans tends to come as couples and families. "Profile ng Koreans kasi is family and couples. Number one ang Korean honeymooners sa Boracay."
The Tourism department said Wednesday that foreign visitor arrivals totaled 3.15 million from January to September.
Cabrera also noted that October 27 is the first time that one of the biggest cruise-line shipping companies in the world, Royal Carribean visited and toured the Philippines.
"Nandito sa Boracay yung MS Legend of the Seas, which has around two-thousand high end tourists and they will be staying until 6:00 p.m. today on the island. So this opens us (up) as an international cruise ship destination," he added.
Looking forward, Councilor Cabrera said, "the challenge will be on how to sustain this industry as regards infrastructure, environmental protection and tourism value."
— Amanda Lago/Andrei Medina/KBK/HS/ELR, GMA News