PBA
:

Aces on fire as Alaska cruises to win over Ginebra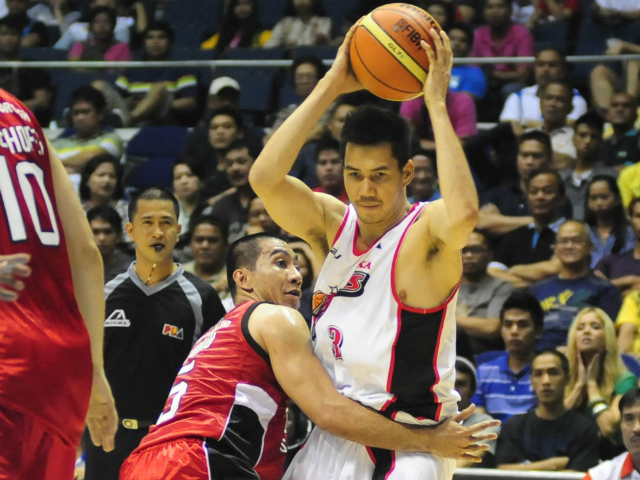 Once teammates, now rivals, LA Tenorio (left) tries to shackle Cyrus Baguio.
KC Cruz
(Updated 8:48pm)
Call it the rule of four.
The Alaska Aces won their fourth straight victory while Barangay Ginebra San Miguel suffered their fourth setback in a row, 87-69, Sunday at the Smart Araneta Coliseum.
The two teams figured in an offseason trade that saw Alaska ship their star point guard LA Tenorio to Ginebra, while getting 2011 first overall pick Jvee Casio from the team now known as the GlobalPort Batang Pier, and based on recent events, the Aces seemingly got the better end of the deal.
Another high draft pick, 2012 second overall selection Calvin Abueva, teamed up with Casio to deal most of the damage. The former San Sebastian Stag and NCAA MVP dropped nine points in a 25-22 first quarter to set the tone for his side, before finishing with 19 points, nine rebounds, three assists, a steal, and numerous hustle plays that go beyond box score categories.
"Nakakaintimidate siya," said Alaska head coach Luigi Trillo said about his prized rookie. "And to do it at the four spot is amazing to think 6'1'' lang siya."
The Aces held the lead for most of the game but Ginebra lurked behind and looked like they were always one run away from turning the tide to their favor. However, the Aces broke the game wide open in the fourth quarter. Cyrus Baguio and JV Casio connected on back-to-back threes to give the Aces a 79-61 lead. RJ Jazul then drove to the hoop for two at the 4:42 mark to make it an even 20 point lead for Alaska 81-61.
At that point, some of the Ginebra fans started trickling out of the Smart-Araneta Coliseum.
"We're lucky that Ginebra is not at their best right now," said Alaska head coach Luigi Trillo. "There are chemistry issues there, if you think about it, but we know they are capable."
Trillo said that they concentrated on stopping Ginebra's running game. "Ginebra is at it's best when they are pushing the ball," the former interim coach said. "Our keys were to take care of the basketball and play good defense."
The Aces allowed the Kings to score 22 points in the first quarter but they limited them to 16, 14, and 17 in the next three quarters, far from the kind of scoring that the Kings are capable of.
The young head coach also commended his side's ball movement. "We're the lowest in terms of assist but we did pretty well in this game with 16 assists," Trillo said.
Although getting a four-game winning streak was nice, Trillo said they still have a lot of work to do and it is centered on finding their team's identity. "Coach Tim Cone has been very influential and he has been in the organization for so long but we need to find our own identity, Trillo said. "Coach Tim has been influential on the way I coach but I didn't learn from just one mentor," he added.
While Casio was sensational, tallying 16 points, two rebounds, four assists, three steals versus no turnovers, his counterpart on the other team was less stellar. LA Tenorio was held to 3-of-11 shooting for 10 points, while dishing out just one extra pass. He also struggled to run the offense for Ginebra, turning the ball over a game-high six times.
"LA has so many memories with Alaska," Trillo said. "This trade helped both teams. It may not be now [for Ginebra] but he'll help Ginebra once LA gets his groove and the right combination comes."
Alaska pounced on Ginebra's errors, getting 25 turnover points on 19 miscues. The Aces on the other hand, made just 13 mistakes for seven Ginebra turnover points.
Dylan Ababou had 14 points to lead Ginebra, in his first game of the 2012-13 season.
- AMD, GMA News
The scores:
ALASKA 87 - Abueva 19, Casio 16, Baguio 14, Jazul 12, Thoss 12, Hontiveros 5, Espinas 4, Baracael 2, Dela Cruz 2, Reyes 1, Eman 0.
GINEBRA 69 - Ababou 14, Caguioa 12, Tenorio 10, Maierhofer 7, Mamaril 6, Cortez 6, Raymundo 5, Ellis 4, Wilson 3, Jensen 2, Helterbrand 0.
Quarter scoring:
25-22, 46-38, 64-52, 87-69