The many faces of comics world's Kent Williams
Any comic book geek has at least one artist or writer he's just dying to meet. For some, it's Alex Ross. For others, it's Frank Miller. A few might gush about Kent Williams.
Kent Williams would be the first person to tell you that he hasn't done much graphic novel work. That would be like saying James Dean only did a few movies, or that Jose Rizal only wrote two novels. What they might lack in quantity, however, they've sure made up for in legacy and undying fame.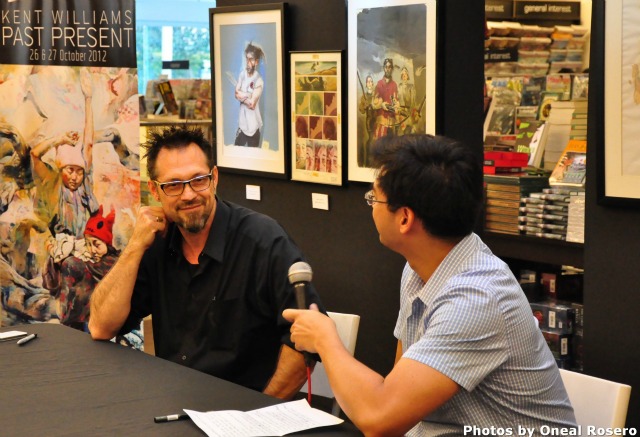 Comics artist Kent Williams at the artist's dialogue and book signing at Fully Booked on October 27, 2012. Oneal Rosero
Born in 1962, Williams started out with the Marvel Comics imprint, Epic Illustrated, while still in college. He graduated from the Pratt Institute in New York City, where he now teaches once a week. Throughout his career, he's done quite a few covers for Dark Horse, Vertigo, Marvel, IDW and DC. His name should be familiar to fans of Neil Gaiman's "Sandman" books. So when he says he hasn't done much graphic novel work, it's quite the understatement.
Graphic impressions
Perhaps the best way to describe Williams is to say that he isn't a comic book artist, but that he's a painter who has done comic book art. His comic book work is a far cry from the hyper-fantastic anatomies of superheroes, with rippling muscles and spandex suits. Females don't have bulging breasts and excessive cleavage. Males don't look like body builders in ridiculous action poses. In fact, his characters aren't marked by physicality, but are shaped by personality.
In "Havok & Wolverine: Meltdown," Logan isn't just this cigar-chomping, wild-haired short guy with bulging biceps and yellow tights. He's a creature, gruff and glaring, focused and feral, nothing like the Hugh Jackman Wolverine. On the cover of "Blood: A Tale #1," the first things you notice are the sinews, the fangs and the raging eyes. Slowly you realize that the entire cover is swathed in browns and reds, as if you were in a room covered not in darkness but in blood. On the cover of "The Spectre #43," Williams features a contrast to artist Tom Mandrake's muscled Spectre: his is a ghostly pale apparition, apparently emaciated, likely to wither away upon a gust of wind, but able to strike with the full force of his malevolence.
'Meltdown'
Williams often works with the writers in developing the stories of his graphic novels, whereas most artists have to interpret a story that isn't really theirs. He's been able to work this way on "Blood, A Tale," and "Tell Me Dark."
The 1988 four-parter "Havok & Wolverine: Meltdown" came about because Williams wanted to work with Jon J. Muth, and they developed the story with the writers. Williams worked on the Wolverine art while Muth did the Havoc art. It was a dream collaboration, but it wasn't easy.
"I was good friends with Jon Muth," recalled Williams. "He had just finished his first full graphic novel, 'Moonshadow.' I had just finished my first book, 'Blood, A Tale,' and we decided to do something together. Neither of us had ever done anything superhero-oriented. With Epic we could use mainstream characters, but we had the freedom to experiment.
"I didn't want to just draw some guy in superhero gear. If you notice he's mostly in a T-shirt, or naked. Wolverine was the character I could deal with the easiest, and that I would have more fun with. The character Jon was considering originally was Black Bolt, and later it became Havok," Williams said at a book signing and artist's dialogue held at Fully Booked in Bonifacio High Street in Taguig last October 27.
"We did a sample page just to see how it would work. Then we approached Walter and Louise Simonson about writing it. But while we were going to work on the art together, we knew that we couldn't do a 200-page book and do every page together. You're asking for trouble. So we did a story where the characters are together at first, then the storyline splits, runs parallel, and it comes back together in the end. So really our collaboration was just maybe 15 pages out of 200. And even doing those few pages we butted heads on some things."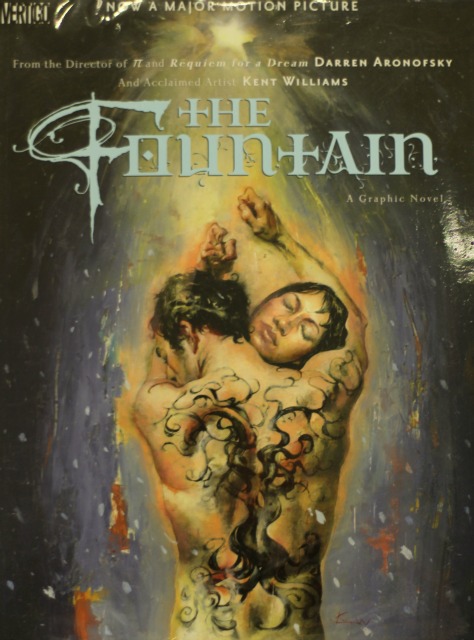 'The Fountain' graphic novel was based on the movie script by Darren Aronofsky. Fully Booked
'The Fountain'
While older fans might remember Williams' Marvel and Epic work from the 80s, younger fans probably know his name best for "The Fountain."
Director Darren Aronofsky originally intended for the film to star Cate Blanchett and Brad Pitt, but Warner Bros. eventually shut down the production. The graphic novel was based on Aronofsky's script and published in 2005. The movie, starring Hugh Jackman and Rachel Weisz, was released in 2006. While the graphic novel and the film have the same story, it was a separate production: not a movie adaptation or a merchandise tie-in.
"I took the screenplay, and I adapted it to the graphic novel format," related Williams. The writing and revisions went back and forth between Williams and Aronofsky. But an important factor in Williams' acceptance of the project was independence. "I knew I wouldn't want to do it if it was 'handled' or controlled by someone. We wanted it to be an independent book, a standalone from the film. It wasn't going to be a movie adaptation. It was going to be its own thing, whether the movie existed or not. No movie executive watching over me. It was just me, Darren and the editor at Vertigo."
Of course, Williams still went to see the movie. "One comment that I heard about it was, 'I don't know what I just saw, but I cried twice!'"
Habits in the digital age
So what's a day in the work life of Kent Williams? First of all, he's not a temperamental artist who broods and indulges in vices while waiting for inspiration to strike. He has a routine, just like anybody else. "I wake up early. There's something about the morning light and atmosphere that gives me charge, like electricity or something in the air. So I have my coffee and take a few hours to get everything moving. I start to work at around 9:30 or 10. I can work till 3 in the afternoon or 9 at night, depending on what I'm working on or how engrossed I am in the project. But I'm not a night person. I've never enjoyed working late into the night."
Primarily an oil painter, Williams has been leaning toward large canvases in his recent works. For graphic novels, he likes using mixed media. "I use a combination of about everything, including the kitchen sink! But I mainly use watercolor, ink wash, charcoal, pencil. I'm a big advocate of experimenting with materials."
More and more often, artists who list their tools of the trade mention drawing tablets, graphics software, and other digital art tools. But digital art just isn't for Williams.
"My personal feeling is that it doesn't exist. There's nothing tangible to hang on to. So even though I may initially be drawn to an image, I find myself never going back to it, because I know it doesn't exist in real life," he said.

"Even if I would never see that original piece of artwork, something about knowing it exists means something to me. That's the work I go back to and revisit, not work that's just digital. The other thing is, you're killing half your income, because you have no original to sell. Early on in my career, part of making my living was to sell the original works. So if I had to cut out, that would constitute half or more of my yearly income."
Kent Williams' paintings were shown at a recently concluded exhibit titled "AFAR: Paintings by Kent Williams from a Private Collection," at the Blanc Gallery of The Peninsula Manila. –KG, GMA News