GMA Network teams up with powerhouse partners for Eleksyon 2013 coverage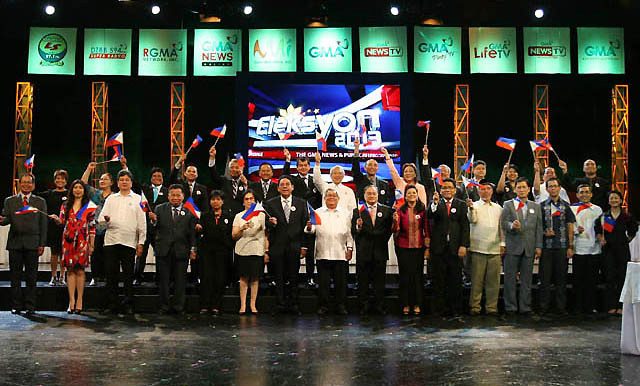 Photo by Roehl Niño Bautista
(Updated 4:47 p.m., Nov. 9, 2012)
"Innovative, game-changing and empowering."
This was how GMA Network Inc. chairman and chief executive officer (CEO) Atty. Felipe Gozon described the way the network plans to deliver the news on next year's elections with the help of various organizations tapped for its
Eleksyon 2013
coverage.
Gozon, together with GMA Network president and chief operating officer Gilberto Duavit Jr., led the signing of a memorandum of agreement with 21 prestigious names from government, the private sector, the media and the academe to deliver "up-to-date and accurate" information during the 2013 midterm polls.
"This is proof that we are keeping the bar for media coverage of elections high not only among us partners or our respective clients, but moreso for each and every Filipino whose right to vote is enshrined in our Constitution," he said.
"I believe that I speak for all of us when I say that in this partnership we are not only driven by a singular passion for excellence in our respective fileds of endeavor we are also in it for public service and the motivation to do what is right for our country and our people," he added.
In his speech before the signing of the agreement, Gozon used the recently concluded elections in the United States to demonstrate the power of the mass media in informing the public during polls.
"It was like a preview of things to come for the Philippines. Not only is it because American politics is as vibrant as ours, but also because technology has practically put America and the world right in the middle of our living rooms," he said.
He added that the US elections, which saw the re-election President Barack Obama, showed the power of technology to deliver real-time poll results to the electorate.
"It has indeed become necessary that the delivery of news be essentially in real time as information now flows fast and free in a world without borders," Gozon said.
Gozon vowed to deploy more news teams for the election coverage through the network's internal partners: GMA News and Public Affairs, GMA News TV, GMA International, GMA New Media Inc., GMA News Online, RadioGMA, dzBB, DWLS FM and the GMA Kapuso Foundation.
"Sa susunod na halalan mas i-aangat pa ang antas ng ating coverage...we are preparing for an unprecedented number of live points for the coming election coverage the count will be as if not more efficient [than the previous elections]," said Duavit in an interview after the signing.
"Gagawin naming benchmark 'yung previous elections so kung anuman yung speed [nung 2010] makakaasa ka at least na double, triple speed of the previous elections, the reach also of course with all the partners here obviously lalawak pa," added GMA NMI president Judd Gallares.
On Wednesday (Manila time), US television networks were among the first
to project Obama's re-election to the White House
.
'Free, transparent elections'
Among GMA Network's election partners are telecommunication giants Philippine Long Distance Telephone Company (PLDT) and Smart Communications, represented by chairman Manuel V. Pangilinan and CEO Napoleon Nazareno.
"So the technology that is available for election is much more extensive, much more flexible, at tsaka aabot ng maraming kababayan po natin," PLDT/SMART public affairs head Mon Isberto said in another interview.
Also teaming up with GMA Network are some of its partners in the media:
the Philippine Daily Inquirer, represented by its President and CEO Alexandra Prieto-Romualdez;
Inquirer.Net, represented by its President Paolo Prieto,
the Philippine Center for Investigative Journalism, represented by its executive director, Malou Mangahas
Catholic Media Network, represented by Fr. Francis Lucas
The media partners will share election-related content and help publicize advocacies for clean polls.
"We're really trying to do what we can to make the electorate more informed to make a more informed choice," said PDI president and CEO Alexandra Prieto-Romualdez in an interview.
"Yung monitoring natin is from Abra to Jolo to Tawi-Tawi, you cannot beat that and as I usually say our radio stations are in areas angels dare not tread," added CMN president and CEO Fr. Francis Lucas.
The AMA Education System, represented by Ambassador Amable Aguiluz, also signed the agreement with GMA Network to provide logistics and manpower during the election count.
"We got all of the technology that would generate the numbers that would provide credible and honest elections for the country," said Aguiluz.
To create a pool of election experts from the academe, GMA Network likewise inked an agreement with the following educational institutions:
the University of the Philippines (UP) College of Mass Communications, represented by Dean Rolando Tolentino,
the UP School of Economics, represented by Dean Ramon Clarete,
the Ateneo de Manila University, represented by Vice President for Social Development Atty. Jaime Hofileña,
De La Salle University, represented by its president, Bro. Ricardo Laguda,
University of Sto. Tomas, represented by Dr. Evelyn Songco
Also forging a partnership with GMA Network were:
the Parish Pastoral Council for Responsible Voting, represented by its National Media and Communications director, Ana de Villa-Singson,
Youth Vote Philippines, represented by its lead convenor Natalie Christine Jorge,
Rock Ed, represented by its founding director, Therese "Gang" Badoy,
Punongbayan and Araullo, represented by its partner for advisory services, Michael Gallego,
Philippine Chamber of Commerce and Industry, represented by its president, Atty. Miguel Varela
Chamber of Commerce of the Philippine Islands, represented by its president, Jose Luis Yulo,
Philippine Bar Association, represented by First Vice President Beda Fajardo,
Philippine Red Cross, represented by its director for special concerns Paul Gwun Pagaran
"We take care of the electorate, the voters in terms of helping them become responsible voters towards an informed conscience and then also we take care of the election process itself by being non-partisan monitors," said PPCRV chairperson Amb. Henrietta de Villa.
Commissioner Elias Yusoph of the Commission on Elections (Comelec), which is also one of GMA Network's election partners, commended the partnership between the network and various organizations.
"Our common goal is to have fair, free, transparent and peaceful elections come 2013. We have to guide our electorate towards an informed choice," he said.
— with Kimberly Jane Tan/KBK, GMA News