PBA: Ginebra downs mighty TNT for second straight win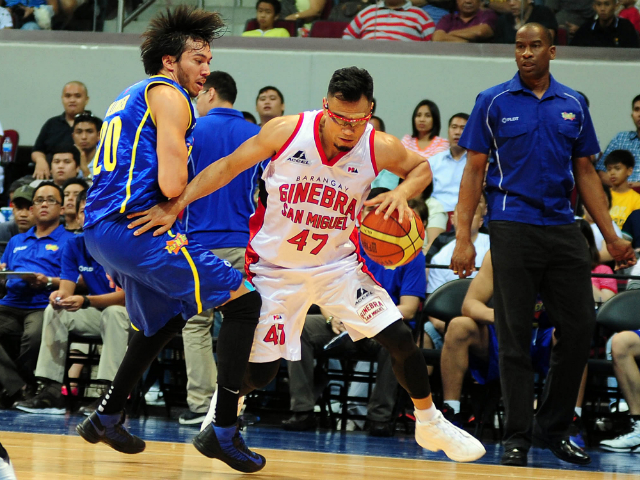 Jared Dillinger struggled to contain Mark Caguioa, who led Ginebra to its second straight win this week.
Photo by KC Cruz
The Barangay is finally clicking.
Mark Caguioa had 22 points and 11 rebounds while LA Tenorio added 21 as the Barangay Ginebra Kings defeated number one team Talk n' Text, 104-101, Sunday at the Mall of Asia Arena.
It's has been a long while but the Kings are happy to finally be in the proper side of a streak. A close win over the cellar-dwelling GlobalPort Batang Pier did not convince a lot of their fans that the old fire is back.
"It's heart e; it's our desire to win," said Ginebra head coach Siot Tanquingcen. "Somehow, yung aggression namin evident; our defense was better and our offense was more patient."
The Tropang Texters still had the shot at winning even if they played horribly most of the game, but the breaks did not go their way. Aaron Aban missed a point blank shot that would have sliced the Ginebra lead further. Larry Fonacier then banked in a three to keep the possibility of a comeback alive for the Kings. With three seconds left in the game, Rob Labagala missed two free throws which would have given Talk 'N Text a chance to tie the ballgame, but the Tropang Texters failed to get the rebound. Labagala got his own miss as the time expired.
"A few days ago, who would have thunk it?" said Ginebra head coach Siot Tanquincen after the biggest win of the season so far for his squad. "We got a good game for the players and we got a good win," he answered when asked how they were able to slay the goliaths of the season.
The Kings played with renewed energy on both ends of the court. They constantly found the open man and totaled 18 assists, but the key number was their 21-13 advantage in offensive rebounds. They converted this to an 18-12 advantage in second chance points.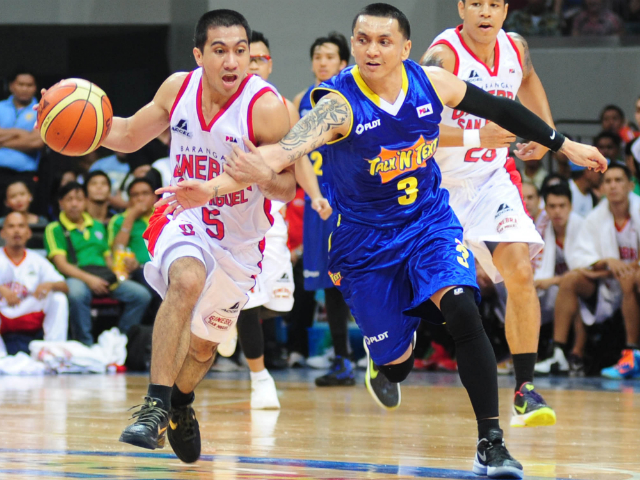 Jimmy Alapag tries to keep in step as LA Tenorio pushes the tempo on the break.
Photo by KC Cruz
The two teams came out firing in the first quarter, combining for 61 points. LA Tenorio led the Kings with eight points while Aaron Aban, Jimmy Alapag, and Ranidel de Ocampo chipped in five points each for the Tropang Texters. The Ginebra faithful fell silent after they saw blood oozing from Mark Caguiao's eye late in the first quarter. The injury was reminiscent of the injury that kept him off the court for an extended amount of time last year.
To the delight of the Ginebra crowd, Caguioa made it back to the game after his cut was butterflied and covered. Caguioa sank a three point shot at the 1:44 mark of the second quarter to give the Kings a 50-48 lead. He doubled this lead a few seconds later with a mid-range jumper. Rico Maierhofer followed this up with a layup to give the Kings a six point halftime lead.
"We need to involve everybody but not everyone can take shots right away," Tanquincen said. For the Ginebra head coach, this was one of the reasons why the ball often found its way to their team's veterans. Caguioa, Tenorio, Helterbrand, and Hatfield got most of the touches on offense and they delivered with a combined 66 points.
"Alam na kasi nila yung sistema pero at the same time, kinailangan pa rin namin ng tulong mula sa mga bata namin," Tanquinced explained.
The Ginebra veterans also got some help from Chris Ellis who played disciplined basketball throughout the game as he scored 11 points on an efficient 4 of 6 shooting from the field.
For Tanquincen, the biggest reason for Ginebra's win cannot be seen from the box score:

"The biggest part is heart; it's our desire to win," he said. "Alam mo naman ang Ginebra, since the time of Senator Jaworski, palaban talaga."
"Moving ahead, Alaska is a big challenge. We cannot let these two wins get a false sense of security," Tanquincen added. Hopefully, we can get back at Alaska."

It was a team effort for the Gin Kings, as Rudy Hatfield, Chris Ellis, and JJ Helterbrand were all in double figures.
"The guys are starting to understand that it has to involve everybody," added Tanquingcen. "The responsibility of knowing when your shots are coming, kelangan alam nila how the system goes; it's not gonna be asy, its a long way pa rin."
Ranidel De Ocampo had 20 for Talk n' Text, while the duo of Castro and Alapag combined for 35, but it was not enough to overcome Ginebra's 11-point advantage heading to the fourth.
- Carlo Pamintuan / Renee Fopalan, GMA News
The scores:
GINEBRA 104 - Caguioa 22, Tenorio 21, Hatfield 12, Ellis 11, Helterbrand 11, Mamaril 9, Maierhofer 6, Espiritu 5, Wilson 4, Taha 3, Labagala 0.
TALK N' TEXT 101 - De Ocampo 20, Castro 18, Alapag 17, Fonacier 16, Williams 11, Reyes 5, Aban 5, Peek 5, Ferriols 2, Carey 2, Gamalinda 0, Dillinger 0.
Quarters: 32-29, 54-48, 83-72, 104-101