Number 9 Dreams: a visual art tribute to John Lennon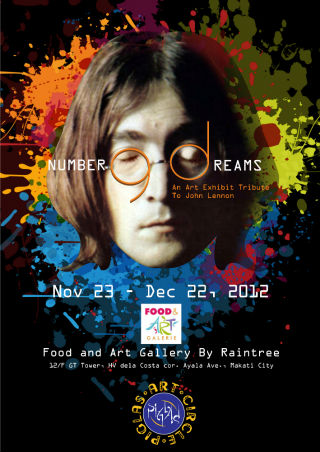 Singer, songwriter, dreamer — there are only a few who can match the genius and creativity of John Lennon. From his days with the Beatles, perhaps the most popular band in history, to his successful solo career, John Lennon gave the world his everything. And while his pacifistic beliefs may appear today as soft and meek, we should never forget that it was then the most subversive stance one can make.
John Lennon had no respect for the status quo.
He had no respect for authority.
He inspired a new generation of artists and musicians with his words and music.
And in his own way, John Lennon changed the world.
This is why Piglas Art Circle is giving our own humble tribute to a man who taught us to imagine and to dream.
Spearheaded by Ega Padrigon and Nestor Ong, Piglas Art Circle is a group of artists from different disciplines that are united by a deep passion for art and music. All of our exhibits give tribute to people and bands who have enriched our lives with their music. And just like John Lennon, we're also dreamers and we know that we're not the only ones.
This is why we're inviting everyone to Number 9 Dreams, a visual art tribute to John Lennon, featuring the paintings and sculptures of over 30 artists.
We're all hoping that you can join us.
Number 9 Dreams will run from November 23 to December 22, 2012 at the Food and Art Gallery, 12th flr., GT Tower, 6813 Ayala Avenue corner H.V. dela Costa Street, Makati City, Philippines

Press release from Piglas Art Circle
Go to comments