Sin tax bill a transparent way to raise revenues — IMF's Lagarde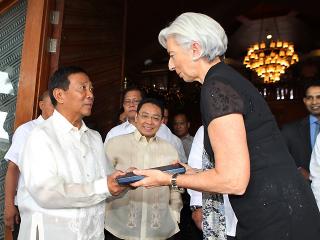 IMF grateful to PHL for $1B contribution. International Monetary Fund managing director Christine Lagarde on Friday tells Vice President Jejomar Binay that the IMF is grateful to the PHL for its US$1 billion contribution to the Fund's resources. She said the contribution helped ensure global and regional financial stability amid the Europe crisis. OVP/HO
Legislating a sin tax measure would be highly beneficial to the Philippines, International Monetary Fund (IMF) managing director Christine Lagarde said on Friday, citing it as a way to transparently raise revenues.
"The criteria for good taxation are, number one, a very broad base; number two, a very small rate," the IMF chief noted, saying. "This is a general principle, of course.
"Now, what matters of course is the possibility to raise revenue in as transparent a way as possible, with as much distributive effect as possible as well," Lagarde told reporters in a briefing at Malacañang Palace.
"If the so-called sin tax is voted on Monday, that will be great progress," she said.
The Philippines is now in the midst of defining legislation that will raise taxes on tobacco and alcohol products. Senate Bill 3299 or the Sin Tax Reform Bill seeks to raise P40 billion to P45 billion in additional revenues from cigarettes and alcoholic beverages.
Lagarde is in the country for a two-day visit to discuss the role of the Philippines in helping resolve the global economic situation with top policy makers and business leaders.
On Friday, Sen. Franklin Drilon, chair of the ways and means committee, said the Senate is expected to approve the bill on Monday.
President Benigno Aquino III certified the bill as urgent.
"The certification of the President will allow the Senate to have the second and the third reading on the same day," Deputy Presidential Spokesperson Abigail Valte said in a separate briefing at the Palace.
This is proof that he Aquino administration is serious about the passage of the bill, according to the Palace official.
"Ang dami po talagang bagay na importante sa pangkalusugang pangkalahatan po natin na puwedeng puntahan nung pondong 'yon. And the certification of the President only shows really the support for this particular measure," Valte said.
Asked about the prospect of raising of taxes on telecommunication services in the country, IMF's Lagarde said it satisfies her qualifications for "good taxation" but it should only be considered if the country would still need additional funds after sin tax is in place.
"If more revenue is needed, telecommunication will satisfy those two criteria [I mentioned earlier]. But you know, I personally, I'm in favor of having a good solid midterm vision, but moving one step at a time," Lagarde said.
Lagarde said she would like to see sin tax bill passed promptly paving the way toward increased revenues for the government.
"Let's hope that this bill will be voted on Monday, and that tax collections will result from this piece of legislation," she added. — VS, GMA News