PHL, Cambodia clash on 'ASEAN consensus' on sea disputes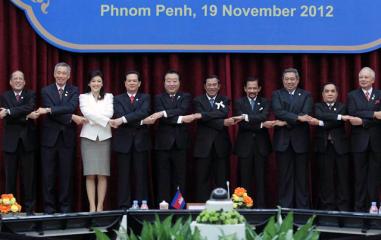 PNoy, ASEAN leaders in 15th Japan-ASEAN meet. President Benigno Aquino III (far left) links arms with other ASEAN leaders during the 15th ASEAN-Japan Summit on the sidelines of the 21st ASEAN Summit in Phnom Penh, Cambodia on Monday. Gil Nartea
(Updated 7:02 p.m.)
The Philippines openly disagreed with Cambodia that a consensus has been reached among ASEAN member nations about how to deal with territorial disputes in the West Philippine Sea (South China Sea), as Japan warned that the issue could directly influence "peace and stability" in the region.
Cambodian Prime Minister Hun Sen said Monday that all 10 members of the Association of Southeast Asian Nations—including claimants the Philippines, Vietnam, Malaysia and Brunei—agreed "not to internationalize" the territorial row during the ongoing summit in the Cambodian capital of Phnom Penh.
This was denied by the Philippines .
"At the ASEAN retreat yesterday, various views were expressed on ASEAN unity, which were translated by the chair into an ASEAN consensus," Foreign Affairs Secretary Albert del Rosario told GMA News Online in a text message.
He said, "This was not the understanding of both the Philippines and at least one other country," believed to be Vietnam, which has a history of violent confrontations with China over overlapping maritime claims.
A divided bloc
The failure of the association to come up with a common stance on the issue is an indication of continuing divisions in the regional bloc over how to deal with the West Philippine Sea conflict.
While some members like the Philippines and Vietnam are aligned with the United States and other Western countries in calling for a rules-based and multilateral approach to solving the territorial disputes, other members aligned with China like Cambodia and Laos toe Beijing's line by either not openly backing a multilateral approach or opposing it outright.
Last year, the Philippines and Vietnam separately accused Chinese vessels of intruding into their territories in and near the Spratlys off the West Philippine Sea or South China Sea and of disrupting their oil exploration activities. But China has claimed it has sovereignty in those areas on historical grounds.
The Philippines and China, along with Vietnam, Malaysia, Brunei and Taiwan, have long disputed ownership of certain islands, cays, reefs and atolls in the sea that straddle busy shipping routes and are believed to be rich in oil and gas.
Chinese and Philippine government ships began a standoff in April at Scarborough Shoal or Bajo de Masinloc, a sprawling offshore area claimed by both countries that is north of the Spratlys and off the coast of Zambales.
Japan challenges Cambodia
Japanese Prime Minister Yoshihiko Noda challenged efforts by summit host Cambodia to limit discussions on the matter.
A Japanese government statement released after Noda met with the ASEAN leaders said that the issue is "of common concern for the international community, which would have direct impact on peace and stability of the Asia-Pacific."
According to Reuters, as Hun Sen began to conclude the meeting between Noda and the ASEAN leaders, Aquino "abruptly raised his hand and tersely interjected" that no such "consensus" had been reached.
"There were several views expressed yesterday on ASEAN unity which we did not realize would be translated into an ASEAN consensus," he said. "For the record, this was not our understanding. The ASEAN route is not the only route for us. As a sovereign state, it is our right to defend our national interests."
Manila has considered elevating its disputes with China to a mediation body in the United Nations.
"While the Philippines was for ASEAN unity, it has the inherent right to defend its national interest when deemed necessary," Del Rosario said.
The Foreign Affairs chief said he conveyed the Philippine position in a formal letter to Cambodia and to all ASEAN Foreign Ministers.
US presence
US President Barack Obama will meet the ASEAN leaders Monday evening before sitting down with Chinese Premier Wen Jiabao on Tuesday. He is widely expected to raise the issue of South China Sea tensions.
China has repeatedly sought to reject involvement by nations outside Southeast Asia at a sensitive time, as Washington seeks an expanded military and diplomatic presence in the region under a so-called "pivot" from conflicts in the Middle East and Afghanistan announced last year.
China's assertion of sovereignty over the stretch of water off its south coast and to the east of mainland Southeast Asia has set it directly against US allies Vietnam and the Philippines, while Brunei, Taiwan and Malaysia also lay claim to parts, making it Asia's biggest potential military trouble spot.
The Philippines, Australia and other parts of the region have seen a resurgence of US warships, planes and personnel since Obama began shifting foreign, economic and security policy towards Asia late last year.
Cambodia has used its powers as ASEAN chair this year to limit discussion on the South China Sea, in line with Beijing's view the disputes should be discussed on a bilateral basis.
Cambodian foreign ministry official Kao Kim Hourn said on Sunday the ASEAN bloc had agreed to confine talks on a set of rules for operating in the South China Sea to its meetings with China.
Del Rosario, however, told reporters that Vietnam shared the Philippines' objections to Cambodia's statement. Vietnam officials were not immediately available to confirm that.
The tensions illustrate the difficulty of forging a Southeast Asian consensus over how to deal with an increasingly assertive China. Southeast Asia had hoped to avoid a repeat of an embarrassing breakdown of talks in July over competing claims in the mineral-rich waters, its biggest security challenge.
Washington insists its "pivot" is not about containing China or a permanent return to military bases of the past, but it has increased its military presence in the Philippines and other areas near vital sea lanes and border disputes in the South China Sea that have raised tensions with China.
Cambodian Information Minister Khieu Kanharith said Hun Sen had discussed the issue with China's Wen on Sunday evening but did not provide details. However, he said "China wants a peaceful resolution."
— with Reuters/BM/VS, GMA News