120 Pinoys having difficulty leaving Gaza – Israeli Embassy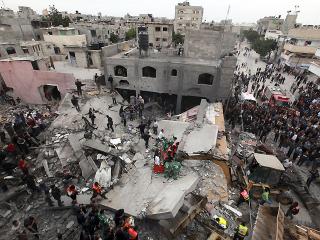 Casualties rise as Israel planes pound Gaza Strip. Palestinians search for victims under the rubble of a Hamas official's house after an Israeli air strike in Jabalya, Gaza Strip on Saturday. Israeli aircraft pounded Hamas government buildings after Israel's Cabinet authorized the mobilization of up 75,000 reservists as it prepares the ground for a possible invasion into Gaza. Reuters/Mohammed Salem
(Updated 3:40 p.m.) As tension flared anew between Israel and Gaza's Hamas militants, some 120 Filipinos in Gaza are reportedly being prevented by the Islamist militants from leaving the area, the Israeli Embassy in Manila said Wednesday.

At least, 12 of the Filipinos have already expressed their desire to be evacuated from Gaza. Four of them asked to be repatriated and the rest just wanted to be brought to neighboring Egypt, Foreign Affairs Secretary Albert del Rosario said.

"Israel has an open crossing for those who wish to leave Gaza – but is blocked by Hamas," the Israeli Embassy said in a statement.

"Hamas is also holding hostage a number of foreigners that would like to leave Gaza, amid the ongoing events. Even the 120 Filipinos in Gaza have difficulty in leaving," it said.

But Del Rosario said Philippine officials said there was "no indication" the Filipinos in Gaza, whom they are in touch with, are being used as human shield or being held by the Hamas.

"I don't think that's true. That indication has not been conveyed by our people there," he said, adding the Philippine government is trying to establish communication with the Hamas, which Manila views as a political group, "so we can properly protect our people there."

The escalation of violence between Israel and Hamas-controlled Gaza in recent days is the latest skirmish in the long-raging conflict between the Jewish state and the Palestinian territory.

Israel launched a military strike in Gaza on Nov. 14, 2012, in an offensive dubbed as Operation Pillar of Defense, following days of rocket attacks from Gaza.

The assault resulted in the assassination of Hamas military commander Ahmad Jabari, who had long been on Israel's most wanted list for several deadly attacks and the kidnapping of Israeli soldier Gilad Schalit in 2006.

Since Israel's military strike, at least five Israelis and 135 Palestinians have been killed, including children, according to both sides.

PHL response teams

Philippine crisis response teams are already in Israel and Egypt to prepare for the possible evacuation of the Filipinos living in Gaza should tensions escalate into a full-blown conflict.

Israel's Ambassador to the Philippines Menashe Bar-On said Filipinos and other foreigners from Gaza would be given passage to Israel.

"Our border is open," Bar-On told reporters in an interview at an embassy reception Tuesday evening. "Any foreigner who wishes to cross the border from Gaza to Israel and Israel to Philippines we will assist them.

"But we know that the Hamas is preventing foreigners... any foreigner, and I'm speaking not only of Filipinos, to leave Gaza. As I said they use their citizens and foreigners as human shields," he said.

Bar-On said the Philippine Embassy in Tel Aviv is coordinating closely with Israeli officials, and officials are in touch with the Filipinos in Gaza to see who want to leave the besieged city.

"Any assistance which the embassy needs or the Filipinos need we are ready to give," he said.

Human shields?

Israel has stressed that it is merely exercising its "right to self defense" as it accused Hamas of "committing double war crimes" for "aiming their rockets at Israelis while using the Palestinians as human shields."

The embassy said Hamas has launched rockets against Israel from residential areas, hospitals, and schools.

"We are assured that no country or government can accept such a disturbance of its everyday life and attack on its citizens. We thank those who have supported us in our right to self-defense," the embassy statement said.

The embassy said the government of Israel "regrets the loss of civilian lives in its operation directed at the terror organization, Hamas – who has grabbed power in Gaza."

Israel conducts surgical operations "to prevent civilians from being hurt, and carried out this operation to deter the 1,100 rockets that have been fired at Israel" since November 10, the embassy explained.

"Israel disengaged from Gaza last 2005 – seven years ago – in hopes that the people of Gaza are able to establish their own infrastructures and economy. Instead of choosing peace, it has been turned into a base for terror and extremism," the embassy said.

If the Philippine government-led evacuation pushes through, the Department of Foreign Affairs is considering Gaza's border with Egypt as an exit point as well as Jordan.

"We've had a chance to see the contingency plans and we think it's adequate and appropriate so we just have to see how things develop. We are prepared to meet the challenges that may develop," Del Rosario said.

Meanwhile, some 41,000 Filipinos in Israel working mostly as caregivers are "relatively safe," according to the Philippine government, noting there is no urgent need to evacuate them.

Bar-On assured Filipinos in Israel that they will be given the same protection Israeli nationals enjoy.

Del Rosario also said the government is reviewing the security situation in Israel to see if there is a need to impose a deployment ban.

"I think we're looking at that to see to what extent that situation is and whether or not we have to look at crisis levels for necessary adjustment," Del Rosario said.
— RSJ/YA/LBG, GMA News