The tasty and fiery flavors of Singaporean cuisine
When I think of Singapore, I think of chicken rice and hawker centers, barley juice and food courts in the basements of department stores. I think of this dim sum in a charming hotel, and chili crab at Clark Quay. I think of the spicy chicken wings at Singapore Botanical Garden, and coffee buns at kopi tiams.
When I think of Singapore, I think of food, and I found out I'm not alone. According to a survey done in October 2011 by the Singapore Tourism Board,
Filipinos go to Singapore
—in no particular order—to shop, watch concerts, go sightseeing, and eat.
But of course—with the multicultural vibe of the island nation, the food is a welcome mix of flavors, and who wouldn't want to partake of that? From the Indians and Arabs come the spices, from the Malays the use of many condiments, and from the Chinese the steaming process, among other things. Throw in the Western influence and you have fusion creations such as stewed pork chop in tomato sauce served with green peas and chicken chop (sautéed chicken served with buns).
The result of all these influences: a buffet of dishes that are never bland but always tasty, flavorful, and at times fiery.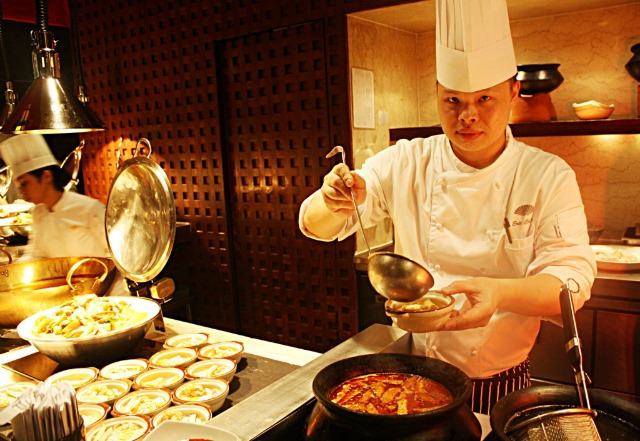 Chef Eric Cheam at the noodle station
This is what Mandarin Oriental Singapore's executive sous chef Eric Cheam has aimed to lay out daily at a special one-week-only Singaporean food festival dubbed "Sensational Singapore" running until November 25 at Mandarin Oriental Manila's Paseo Uno. Filipinos and expats who just can't hop on the next plane to Singapore tonight can thus have a taste of Singaporean cuisine right in the heart of Makati City.
"Singaporean food is a mix of cultural influences. There is Indonesian, Malaysian, Indian, Chinese. We exchange all these and combine them into making Singaporean food," Cheam told me on Nov. 19, the first day of the food festival.
Asked what the typical Singaporean food is, he quickly puts Hainanese chicken rice and laksa on top of the list.
"For chicken rice, we eat just-cooked chicken and use lots of different spices like ginger, garlic, onion, and chicken fat," he said.
Meanwhile, the Singaporean laksa is different from the versions of neighboring areas. "Penang laksa uses more tamarind. In Indonesia, it's not so spicy and there's not much chili oil. Singaporean laksa has more dried shrimp and coconut milk," he explained, pointing out that the laksa on the Mandarin buffet table is the authentic Singaporean taste—fiery and spicy.
But there is more to Singaporean food than just chicken rice and laksa.
Cham said the Singapore Rojak with Shrimp Paste salad is a traditional street food that features their version of our bagoong alamang along with calamansi, ginger flower, and youtiao (Chinese deep-fried dough). It complements another salad, the Prawn and Mango Kerabu with Plum Sauce, which has a sweet taste. Heaped on your plate, both salads are like yin and yang, sweet and salty.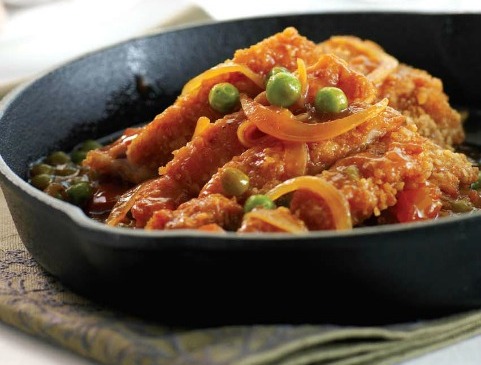 Hainanese pork chop
Last Monday, aside from the laksa and the chicken rice, the buffet spread also had, among others, tender beef rendang stewed in coconut milk, grilled chicken and beef satay, roti john (bread with meat and onions), crispy ngoh hiang which is somewhat like a meat roll, and sin chew fried noodles which is definitely not like the fried noodles of Binondo.
Not to be missed are other crowd favorites such as the Singapore fish head curry, Hokkien prawn noodle soup, and of course, chili crab.
In fact, the chili crab will be the star of the show at a cooking class Cheam will conduct on Saturday, Nov. 24, at 9 a.m. "I will also teach how to cook Bak Kut Teh—pork rib cooked in Chinese herbal broth, and Cheng Teng. I like to share with everybody how to cook Singapore cuisine," Cheam said.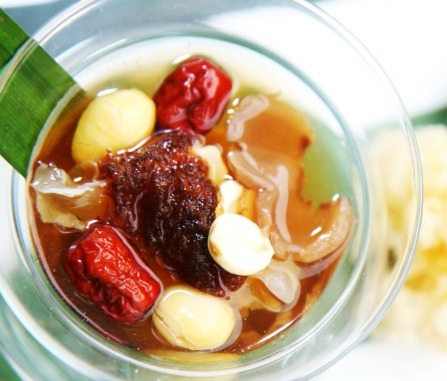 Cheng teng
That last dish—Cheng Teng—is interesting. It's a hot soup taken as dessert, somewhat like tea, but with fruits. "It can relieve the heat element. It has lotus seeds, red dates, dried longan, pandan leaf, and rock sugar," Cheam explained. It is mildly sweet and somehow comforting.
But for those who long for a familiar taste, the ice kachang is a must-try—Singapore's version of the Pinoy halo-halo. Cheam said he personally brought in the palm seeds for the ice kachang, as well as other ingredients for the other dishes, on his flight to Manila via Singapore Airlines, and the airline was gracious enough to grant him a lot of baggage allowance.
I made sure I had enough room in my tummy for the Gula Melaka Sago, which turned out to be everyone's favorite dessert on our table. It's sago with coconut milk served in shot glasses. One may not be enough; try two or even three. After all, the sweetness helps balance out the fiery and flavorful tastes of the whole meal. –
YA, GMA News
All photos courtesy of Mandarin Oriental Manila

The "Sensational Singapore" food festival will be offered at Paseo Uno at the Mandarin Oriental, Manila until November 25. Diners will have the chance to win a trip to Singapore inclusive of roundtrip airfare and accommodation.
For details on the cooking class or for reservations, call (02) 750-8888 ext. 2411 or email momnl-paseouno@mohg.com