Why Cardinal Tagle cried during his installation at the Vatican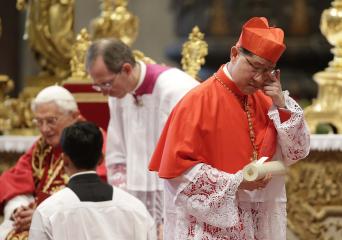 Cardinal Tagle wipes away tears at the Vatican. New Cardinal Luis Antonio Tagle of the Philippines stops momentarily to apparently wipe away tears after receiving a red biretta from Pope Benedict XVI during a consistory ceremony in Saint Peter's Basilica at the Vatican November 24. Pope Benedict XVI installed six new Roman Catholic cardinals from around the world on Saturday. Reuters
News agencies worldwide captured Manila Archbishop Cardinal Luis Antonio Tagle crying soon after he was installed as cardinal along with five other non-European clergy at the Vatican on Saturday.
Asked why he became emotional after receiving his ring and red biretta from Pope Benedict XVI,
Tagle
, the world's second youngest cardinal at 55 years old, told the news site RomeReports.com: "I cry easily."
"I guess when you're before a great mystery that you know is beyond you -- a calling, a grace, a mission -- then you tremble and at the same time you're happy," Tagle explained.
Many people responded positively to the RomeReports.com video. Some of the comments on the video were:
ppbjacksonsite:
His tears during the consistory shows how humble he really is. We really need more Cardinal Chito Tagle in our church. He is great role model not only for the Filipino Catholics but to all the catholics worldwide. Congrats Cardinal Chito!!! You made me realized that it is not only more fun in the Philippines but it is also MORE FUN BEING A CATHOLIC! You made me proud. HABEMUS CARDINALEM! Rejoice Philippines! We have a new Cardinal!! Glory to God!!
jeffsign21
: CONGRATULATIONS OUR BELOVED CARDINAL TAGLE!!!! WE FILIPINO CATHOLICS LOVE YOU SO MUCH!!! WE ARE VERY HAPPY FOR THIS GREAT BLESSING & GRACE FROM GOD!!! WISHING & PRAYING YOU'LL BE THE FIRST FILIPINO POPE SOMEDAY!
shutuplawrence
: Oh, give him a break. I would be bawling like a baby if I was made a cardinal.  His Eminence need not be embarassed
Khristian James Calderon
: mabuhay ang bagong kardinal ng pilipinas!!!
chacha buraga:
we love you so much Cardinal Tagle. thanks for being an inspiration to many.
One commenter said he hoped Tagle was a "better person" than Australia's Cardinal George Pell.
GowanBray
: I hope that he is a better person than Cardinal Pell
"Australia's most senior Catholic showed a "sociopathic lack of empathy" in dealing with victims who were raped by clergy, an inquiry has heard. He told the inquiry that Cardinal Pell, then the Archbishop of Melbourne, had told him, "If you don't like what we're doing, take us to court," and did not appear to be distressed by the incidents." See sbs com au. This is the problem when organisations and people think that they are above the law.
Tagle's installation
On Saturday, the five other prelates elevated to cardinals along with Tagle were:
America's James Michael Harvey, 63;
Lebanon's Bechara Boutros al-Rahi, 72;
India's Baselios Cleemis Thottunkal, 53, the youngest to be named cardinal;
Nigeria's John Onaiyekan, 68, and
Colombia's Ruben Salazar Gomez, 70.
The new cardinals, who will be counted among the frontrunners for future pope, assume their positions of responsibility at a critical time in the Catholic church's history, when worshippers are declining in Catholicism's traditional European bastions, including Pope Benedict XVI's native Germany. The last decade has also seen a series of shocking revelations of sexual improprieties committed by priests around the world, including the Philippines.
The number of cardinals worldwide now stands at 120, including:
62 European cardinals;
14 North Americans;
21 South Americans;
11 Africans, and
11 Asians.
In the Philippines, aside from Tagle, there have been six other cardinals:
Gaudencio Cardinal Rosales, 80, of Manila;
Ricardo Cardinal Vidal, 81, of Cebu;
Rufino Cardinal Santos (deceased);
Julio Cardinal Rosales (deceased);
Jaime Cardinal Sin (deceased); and
Jose Cardinal Sanchez (deceased).
A priest for 30 years
Ordained as a priest on February 27, 1982, Tagle has been a man of the cloth for 30 years.
He was ordained as a bishop on December 12, 2001, the Catholic feast day of Our Lady of Guadalupe, Patroness of the Philippines.
The Catholic Bishops' Conference of the Philippines (CBCP) said Tagle was born in Manila on June 21, 1957.
He then took his philosophy and theology studies at the San Jose Major Seminary at the Ateneo de Manila University.
He earned his doctorate in sacred theology from the Catholic University of America in Washington D.C. in the United States from 1985 to 1992.
Since 1997, Tagle has also been a member of the International Theological Commission of the Vatican.
He was also bishop at the Imus Cathedral in Cavite province for about 10 years before he was installed as the 32nd Archbishop of Manila in December last year, succeeding Gaudencio Cardinal Rosales.
Papal contender?
In October last year, there have been media reports about Tagle being a possible papal contender.
At the time, Tagle was not yet a cardinal, meaning he was not yet eligible to be elected as a pope. When a pope passes away, a new pontiff is elected from the so-called
College of the Cardinals
or the group of all the Catholic cardinals worldwide.
Cardinals 80 years old and above no longer have voting power when electing a pope.
As the Philippines' two other living cardinals -- Gaudencio Rosales and Vidal -- have reached the 80-year-old age threshold, only Tagle will have voting power and will be eligible to become a pope.
In a blog post last year, CNN Senior Vatican analyst John Allen Jr. said Tagle, known for his simplicity and humility, was "a rising star in the Asian Church" and a "papal contender."
Allen said "a striking number of people who know Tagle believe that this is a guy who, one day, could be pope."
The Vatican analyst said Tagle was also known for inviting poor beggars outside the cathedral to share a meal with him.
- VVP/HS, GMA News