Lawmakers: China's new e-passports 'laughable,' a form of 'provocation'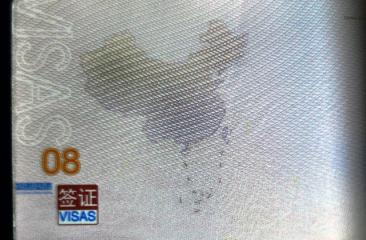 New Chinese e-passport shows sea map of areas claimed by PHL, Vietnam. A page from a Chinese e-passport in Kunming, Yunnan on Nov. 23 displays a Chinese map which includes an area in the West Philippine Sea inside a line of dashes representing maritime territory claimed by China. The Philippines and Vietnam condemned Chinese passports containing a map of China's disputed maritime claims on Thursday, branding the new design a violation of their sovereignty. Reuters/Stringer
Two party-list lawmakers on Thursday criticized China's move to issue new electronic passports bearing the controversial nine-dash line map, which includes areas within Philippine territory.
Akbayan party-list Rep. Walden Bello, chairperson of the House committee on overseas workers affairs, even described the new Chinese passports as "farcical."
"Apart from being contemptible, China's latest move is also laughable. No country or international legal platform recognizes the nine-dash line map," Bello said in a statement.
He added that by including the nine-dash line map on its passports, China "exposed the simple truth" that it has "no firm basis" for claiming areas in the West Philippine Sea (South China Sea) that are part of the Philippine territory.
Last week, Beijing released a new batch of e-passports bearing a map of the entire West Philippine Sea, including territories where the Philippines, Vietnam, Malaysia, Brunei and Taiwan have overlapping claims.
The Philippine Department of Foreign Affairs has already sent a diplomatic note to China
protesting the new passports
with the nine-dash line map.
On Wednesday, the Philippine government also announced that
it will not be stamping its entry visas
on the new e-passports.
China, for its part, said other countries
"should not read too much into"
the new passports. Chinese Foreign Ministry spokesperson Hong Lei said the passports are only aimed at giving convenience to Chinese nationals to enter and leave their country.
'Provocation'
Bayan Muna party-list Rep. Neri Colmenares, for his part, saw China's issuance of new e-passports with the controversial map as an "imposition" and a form of "provocation."
"It [issuing the new passports] is wrong because it only increases tension rather than encourage peaceful resolution," Colmenares said in a separate text message.
He likewise urged the Philippine government to continue pushing for a multilateral solution to territorial disputes on the West Philippine Sea, as opposed to China's proposal to take a bilateral approach to the issue.
Bello, for his part, urged President Benigno Aquino III "not to take China's latest antic lightly."
"While China appears to be a jester, it remains a regional bully. The issue on the passports indicates the new Chinese leadership's predisposition to bullying tactics and intimidation," the Akbayan lawmaker said.
"This tells the world that the Chinese government has no intention to break with the old leadership's absurdity, and instead is ready to take insolence and irrationality to a higher level," he added.
— BM, GMA News